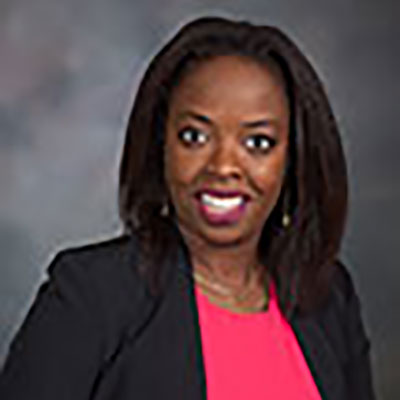 Temitayo Oyegbile, MD, PhD
Temitayo Oyegbile, MD, PhD, is a pediatric neurologist at MedStar Georgetown University Hospital. Her practice and research focus on epilepsy and sleep disorders in children and young adults, and include functional neuroimaging research on children with epilepsy. Her research is contributing to an understanding of the basis for cognitive dysfunction in children with neurologic disorders. Dr. Oyegbile also lends her expertise as a faculty member in the Georgetown University School of Medicine, where she is responsible for graduate-level medical education.
Dr. Oyegbile is actively involved in the field of neurology. She is a member of the American Academy of Neurology (AAN), where she serves on the Science Committee, the American Academy of Sleep Medicine and the American Epilepsy Society. Dr. Oyegbile has received significant professional recognition, including selection for the AAN Diversity Leadership Program, an invitation to participate in the AAN's Palatucci Advocacy Leadership Forum, the Minority Faculty Career Development Award from the Association of American Medical Colleges and the Sleep Health Policy Advocacy Award from the National Sleep Foundation. She is also on the board of Georgetown Women in Medicine and has extensive experience advocating for medical issues at the national level.
Dr. Oyegbile's work crosses borders. She serves as an adjunct faculty member at University College Hospital in Ibadan, Nigeria. There, she consults with local residents experiencing neurological disorders and shares her expertise in pediatric neurologic disorders with students and residents from the University of Ibadan College of Medicine.
An avid educator, Dr. Oyegbile frequently gives invited lectures and keynotes. She has given neurology Grand Rounds lectures in several prestigious hospitals as well as lectures at the annual meetings of the American Academy of Neurology, American Academy of Sleep Medicine and American Epilepsy Society.
Dr. Oyegbile holds a BS in psychology and molecular biology, an MD, and a PhD in neuroscience, all from the University of Wisconsin–Madison. She completed her medical training at NewYork-Presbyterian Hospital (Cornell) and Northwestern Memorial Hospital, and currently lives with her husband in Washington, DC, and San Francisco.