By Grace Jacoby

Kathmandu, Nepal, Nov. 17 — More than 100 health care providers gathered at the Paropakar Maternity and Women's Hospital to celebrate World Prematurity Day and learn about the causes, challenges, and ways forward for the 15 million preterm babies born each year worldwide.
Hosted by Jhpiego and The Midwifery Society of Nepal (MIDSON), this event  brought together medical professionals, students, and health care administrators with the intention of sharing knowledge and raising awareness on preterm birth.
As part of the activities, Sangita Bista, Jhpiego Nepal's Monitoring, Evaluation and Research Officer, discussed and demonstrated best practices such as Kangaroo Mother Care (KMC) and the use of Laerdal Global Health's CarePlus baby wrap for low birth weight newborns.
Chandra Rai, Jhpiego Nepal's Country Director, said Jhpiego planned the event to inspire health care providers to use best practices for low birth weight babies and encourage their colleagues to do the same.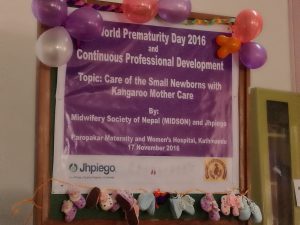 Following the event, Ms. Rai,  accompanied by the president of the midwifery society,  presented a care package made up of a knit hat, socks, and blanket to a first-time mother of a 2-day old baby who weighed less than 5 pounds at birth. The baby was born about a month before the mom's due date.
The new mother was pleased to receive the gift as well as a brief training on swaddling and skin to skin contact.
In addition, 200 care packages donated by individuals, women's groups, Jhpiego, and the midwifery society were presented to the hospital for new mothers.