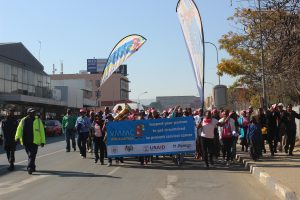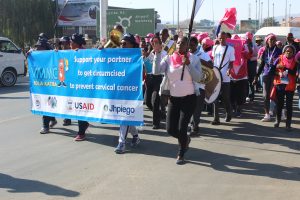 Maseru, Lesotho — The Hon. Liteboho Kompi, Lesotho's Deputy Minister of Health, joined HIV prevention activists in a march to raise awareness of voluntary medical male circumcision's beneficial impact on women's health.
The event, supported by Jhpiego's team in Lesotho, drew attention to the health benefits of medical male circumcision in reducing transmission of HIV and the human papillomavirus (HPV), which can cause cervical cancer. Supporters, including Ms. Kompi, urged women to encourage their spouses and male relatives to undergo circumcision to prevent HIV.  VMMC is shown to reduce the risk of female-to-male HIV transmission by 60%.
Women who are HIV positive are at greater risk for cervical cancer.
Joining Ms. Kompi were Dr. Mahali Phamotse, the Minister of Education and Training, and the Hon. Likeleli Tampane, Minister of Tourism, Environment and Culture, and several women members of parliament.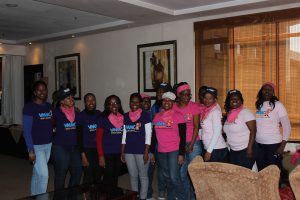 Photos: Jhpiego/Polo Motsoari