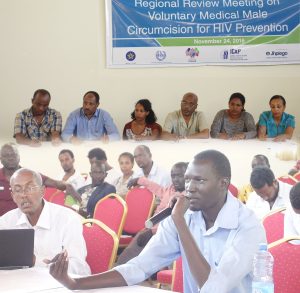 By Muna Ibrahim and Abebe Shume
More than 65,500 men and youth in the Gambella region of Ethiopia have received comprehensive voluntary medical male circumcision services as part of the government's ongoing commitment to prevent the spread of HIV in the East African country and to save lives.
This highly-effective additional HIV prevention strategy was first implemented in October 2009 in Gambella region, where the adult HIV prevalence rate was three times the national average (6.5 percent). The 2005 Ethiopian Demographic Health Survey, the basis for the introduction of the  male circumcision program in Gambella, put the national male circumcision prevalence at 93 percent, compared to 46 percent in this ethnically diverse region of the country.
In partnership with the Federal Ministry of Health, Gambella Regional Health Bureau, Surgical Society of Ethiopia and other partners, Jhpiego has been providing comprehensive voluntary medical male circumcision (VMMC) services, including HIV counseling and testing, detection and treatment of sexually transmitted infections, condom promotion and other male reproductive health services for the past seven years. The President's Emergency Plan for AIDS Relief funds the VMMC program through the US Centers for Disease Control and Prevention (CDC) Ethiopia, and ICAP  at the Columbia University.
Over 40 observational studies showed that circumcised men have a lower prevalence of HIV infection than uncircumcised men, and three randomized clinical trials conducted in Kenya, Uganda and South Africa prove that VMMC can reduce the risk of female-to-male sexual HIV transmission up to 60% In addition, VMMC is cost effective and fairly easy to implement.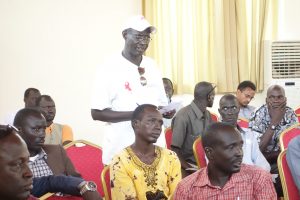 "We have seen that the (voluntary) MC  intervention has played a great role in reduction of HIV incidence in our region. On the other hand we also noticed that traditional circumcision has an increased risk of acquiring tetanus and transmission of HIV and other life threatening blood borne pathogens. The introduction of voluntary medical male circumcision has made the traditional one obsolete," said Didumu Abula, one of the participants attending a regional male circumcision review meeting held in Gambella  on November 24.
In March 2007, the World Health Organization and Joint United Nations Programme on HIV/AIDS (UNAIDS) issued recommendations to implement VMMC as an additional HIV-prevention strategy in areas with high HIV prevalence and low rates of circumcision. Ethiopia (based on numbers in the Gambella region) is considered among the 14 priority countries identified in Eastern and Southern Africa.
Modeling studies estimate that a maintained VMMC prevalence of 80% in these 14 priority countries would prevent 3.4 million new HIV infections by 2025. According to the National VMMC technical working group, in order to reach 80% VMMC coverage in Gambella, a total of 124,425 males (age 10 and above) must be circumcised by 2019. As of end of Sept. 2016, 65,539 males have been circumcised, with a remaining 58,886 men and youth needing circumcision.
Jhpiego Ethiopia initiated VMMC services in three facilities in 2009; the number of supported facilities has  grown to 31, the Gambella Referral Hospital and selected health centers across 11 Districts. The support ensures coverage to the diverse populations of Gambella Region.
In addition, Jhpiego in collaboration with partners, has trained 107 VMMC providers in the procedure  and has bought and distributed all the medical equipment and supplies necessary for ensuring quality VMMC services.
Abebe Shume is the VMMC project team leader in Jhpiego's Ethiopia office; Muna Ibrahim is a Communications and Knowledge Management Specialist.