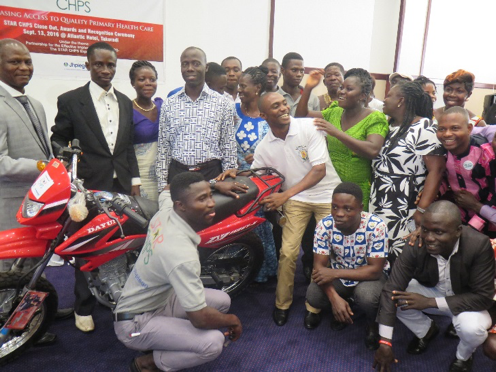 A recognition and awards ceremony marked the end of the five-and-a-half-year STAR CHPS project, with district health directorates, community health volunteers (CHVs), community health management committees (CHMCs), chiefs, individuals and organizations who have excelled and supported the implementation of the high quality CHPS concept in attendance.
Nana Adu Kwaw II, Chief of Nzema Akropong in the Western region, spoke at the ceremony, recognizing the dedication of health workers in his region, and the support he's received throughout the community—and even his own family!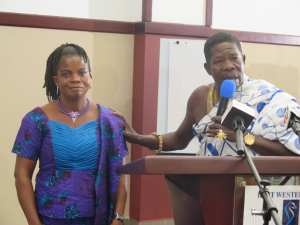 The colorful ceremony was attended by dignitaries including representatives of the Minister of Health, the Regional Minister, Jubilee Partners, the Director General of Ghana Health Service, Dr. Ebenezer Appial-Denkyira, and traditional chiefs and queen mothers.
In all, 62 representatives of implementing CHPS facilities received certificates of recognition, weighing scales and equipment. The overall best performing facilities—the Ellembelle district, Jomoro district, the Ahanta West district, and Nzema East—received motorbikes and other key equipment. Eight other top-performing facilities took home a motorbike each.
The STAR CHPS Project, in collaboration with the Ghana Health Service, Western Region, provided technical support to strengthen and revitalize 62 CHPS zones.
Notable project achievements include:
Revitalized 62 existing CHPS zones by building the capacity of 321 community health officers (CHOs), 401 CHVs), and 413 CHMCs on the CHPS concept, enabling them to carry out activities in the community to improve higher-quality, basic primary health care.
Facilitated NHIA accreditation of 59 (out of 62) CHPS zones.
Reached 801,684 individuals in the project area with high-quality, basic primary health (as of April 2016).
Strengthened and supported six district health management teams and their health management information system.
Activated CHMCs in all 62 CHPS zones, with 413 committee members trained.
Active involvement of 401 CHVs working in 62 CHPS zones and catchment communities.
Provided home visiting bags containing basic medicine stock to CHOs and CHVs for performing community outreach activities.