By Mary Rose Giattas and Charles Wanga
Morogoro, Tanzania — Halima Dibwe joined a group of women at the Ngerengere Health Center recently to participate in cervical cancer screening and treatment services. Initially, she was anxious because some neighbors had tried to discourage her from attending. But after learning about the services during an announcement at her church and recognizing the benefits for a woman her age, the 50-year-old mother decided to attend the screening.
"I am so happy," she said. "The test was fine. There was no problem at all. I will live my life without worry and will encourage my children and other people to come for screening."
Cervical cancer is the most common cancer in Tanzania and is the leading cause of cancer-related disease and deaths among women in the country.  Globally, more than 260,000 women die of this cancer, which is preventable and treatable if caught early. Eighty percent of these deaths occur in developing countries. The Tanzanian government has been working, with the support of Jhpiego and other partners, to provide prevention and treatment services throughout the country and close to where women live so they can easily access them.
Through this partnership and with the support of the United States Agency for International Development, Jhpiego has helped build the foundation of Tanzania's national program, develop a network of skilled health workers who can provide prevention and treatment services safely and effectively and lay the groundwork for a sustainable effort. Nurses Mary Hoza and Beatrice Mlewa are leading the screening services on this day at the Ngerengere Health Center. They have learned how to deliver the single visit approach, which uses acetic acid – basically, vinegar – to swab the cervix to identify any precancerous lesions. If the result of a screening is positive, a woman is offered same day treatment with cryotherapy.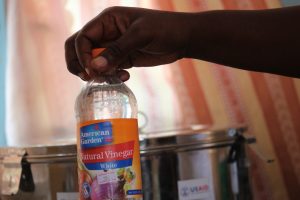 During Halima's visit, Howza and Mlewa first explained the process to women in a group education session. As many as 44 women were screened that day in late January.
Jhpiego supports three areas to prevent cervical cancer in girls and women —  vaccinating youth against against human papillomavirus (HPV), the virus that can lead to cervical cancer; offering screen and treat services in one visit so women aren't lost to care; and referring more serious cases to the appropriate treatment facility.
In marking World Cancer Day, February 4, Jhpiego is dedicated to ensuring girls and women most at risk and in remote areas receive access to high quality prevention and treatment services so no one is left behind and every woman every where has access to  lifesaving care.
Dr. Mary Rose Giattas is the Cervical Cancer Prevention Advisor in Jhpiego's Tanzania office. Charles Wanga is Jhpiego's Africa Regional Communications Specialist, based in Tanzania.