Jhpiego's India Team
Jhpiego India has a strong team of more than 300 professionals working tirelessly to better the lives of women, children and families. Here are the people who lead team India.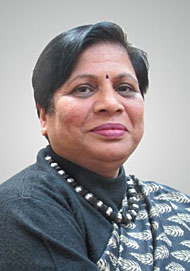 Bulbul Sood, MBBS, MNAMS, MPH
Country Director
Dr. Bulbul Sood is a public health professional with more than 40 years of experience and was the Professor of Preventive and Social Medicine at Delhi's Medical College for 23 years. Dr. Sood has been Jhpiego's India Country Director since 2009. She is a respected figure in the public health field, known for her experience in international health and development, and has effectively demonstrated her ability to take programs forward in a holistic manner. Dr. Sood has strong technical expertise in reproductive health, extensive program management experience, and is well-known in the fields of family planning (FP), maternal health and reproductive health—both in India and internationally. She also has demonstrated skills in advocacy, negotiation and diplomacy.
As Jhpiego's India Country Director, Dr. Sood has successfully led the revitalization of the Postpartum FP / Postpartum Intrauterine Contraceptive Device (PPFP/PPIUCD) program in India, leading to the Government of India (GoI) scaling up PPFP and PPIUCD services in more than 20 states and at all district-level facilities in the country's six high-focus states. Similarly, strengthening of the Pre-Service Nursing and Midwifery Education program started in a couple of states and is now being scaled up by the GoI in more than 10 states in the country. Dr. Sood was the Co-Chair of the White Ribbon Alliance for Safe Motherhood in India from 2003 to 2010 and was successful in advancing the country's safe motherhood agenda by working collaboratively with the GoI, bilateral and multilateral donors, UN organizations, and international and national nongovernmental organizations (NGOs). Before joining Jhpiego, she served as Country Director for the Centre for Development and Population Activities (CEDPA) and as Program Coordinator with AVSC International (now EngenderHealth).
Dr. Sood is a member of the World Health Organization's (WHO's) Family Planning Medical Eligibility Decision-Making Committee; a member of the INFO Editorial Advisory Committee of Johns Hopkins Bloomberg School of Public Health Center for Communication Programs; a peer reviewer for the US Centers for Disease Control and Prevention's Division of Reproductive Health in Atlanta; a technical advisory group member of the Maternal Health Task Force of the Harvard School of Public Health; and a member of the Reproductive, Maternal, Newborn and Child Health Coalition and Maternal Health Task Force of the Ministry of Health and Family Welfare, GoI.
Neeraj H. Agrawal, MD, DPH
Deputy Country Director
Dr. Neeraj Agrawal is a health professional with more than 12 years of professional experience. In these years, he has fulfilled a variety of roles—including Manager, Technical Advisor, Team Leader and Director—in various assignments with USAID's Maternal and Child Health Integrated Program, PATH, UNICEF, WHO's NPSP and corporate companies like Chengdu Institute of Biological Products, IPCA International, McCann Health and Indegene Lifesystems. His competencies in the health care sector include epidemiology, field research and biostatistics; health programming; disease surveillance; and collection and analysis of statistical data. Dr. Agrawal has, during his years in public health, liaised with and provided technical support to the GoI and various state governments. He possesses excellent health communication skills and is adept at engaging and networking with key opinion leaders and stakeholders.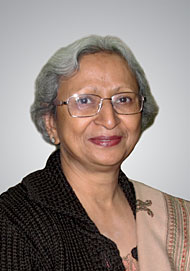 Rashmi Asif, MD (Obs/Gyne), MD (Community Medicine)
Director, Clinical Services and Training
Dr. Rashmi Asif has over 38 years of national and international experience in the areas of MNCH and reproductive health. She is an ob/gyn specialist and has a public health background. During her service as Lecturer in the Departments of Obstetrics & Gynecology and Community Medicine at J.N. Medical College, Aligarh, and as Senior Consultant and Lecturer in the Department of Obs/Gyn at Al-Jalah Hospital, Al-Fateh University, Tripoli, she taught and trained undergraduate and postgraduate students.
Working in the development sector since 1996, Dr. Asif has developed curricula and competency-based training materials for doctors and paramedic staff on FP, including PPFP, infection prevention, midwifery and newborn care. Acknowledged as a technical expert, she helped the GoI develop national guidelines for skilled birth attendants and emergency obstetric care for doctors, operational guidelines for 24/7 primary and community health centers, and quality assurance for reproductive and child health services. On several occasions since 1992, Dr. Asif has assessed sites for their readiness to provide services and training. She has also conducted needs assessments for training, training of trainers activities, and clinical trainings for FP counseling and IUCD, PPIUCD and midwifery services for doctors, nurses and auxiliary nurse midwives. She has mentored and built the capacities of trainers and service providers for quality of care in MNCH and FP.
Dr. Asif has worked with reputable international NGOs like IntraHealth, CEDPA, Ipas and PATH, and provided technical and managerial leadership in individual countries and throughout the Asia / Near East region as well as with the GoI, both at the national and state levels. As an international training expert, she provides technical leadership and support to Jhpiego's in-country programs and also supported the Government of Afghanistan to initiate the PPIUCD program in their country.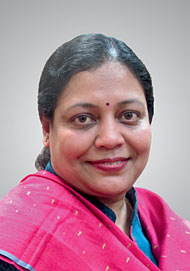 Dr. Saswati Das, MBBS, MPH
Program Director, Jhpiego, India
Dr. Saswati Das has been working with Jhpiego India since 2010. In her 25 years of experience in public health, Dr. Das has provided technical and managerial leadership in maternal and child health, FP, reproductive health, HIV prevention, quality of care, learning resource package development, and transfer of learning. Prior to joining Jhpiego, she worked with other international organizations, including Population Services International as Director of Medical Services and Training and IntraHealth International as Country Clinical Manager, and led major public health programs on Family Planning, Maternal Health and HIV Prevention in India. A well-known clinical and public health expert, Dr. Das has numerous presentations and publications to her credit. She has presented in many national and international forums, and has been a member of several technical advisory groups with government and international health organizations. She has also been recognized as an International Training Expert by Jhpiego head office, Baltimore, USA and provides technical assistance to countries aside from India, especially other South Asian and African countries. She is also one of the international reviewers for several reputed global conferences and peer-reviewed journals relevant for public health. Dr. Das has Master degree in Public Health from Jawaharlal Nehru University, New Delhi, India. She obtained her bachelor degree in medicine and surgery (MBBS) from Calcutta University, India and had received 'Certificate of Honor' in Community Medicine.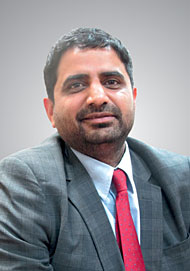 Vivek Yadav, MBBS, MPH
Program Director
Dr. Vivek Yadav is a public health professional with more than 12 years of experience. He holds a Master's degree in Public Health from Hebrew University, Jerusalem, and received his medical degree in Armenia. He began his career as a medical practitioner at government-run hospitals in New Delhi. Thereafter, he joined the State Health Services and worked as Medical Officer in the interiors of Haryana. Prior to joining Jhpiego in 2010, Dr. Yadav worked with the National Polio Surveillance Project, a joint initiative of the WHO and the GoI, serving for six years in remote pockets of Bihar. He provides national-level management to some of Jhpiego's key programs that strengthen PPFP (including PPIUCD) services in India.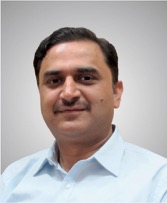 Vineet Kumar Srivastava, MBBS, MBA, MPH
Program Director
Dr. Vineet Kumar Srivastava is a public health professional with more than 13 years of experience in strategizing and implementing national and state – level public health programs. He holds rich experience in designing program strategies; project management; monitoring, research and evaluation; capacity building and documentation. A skilled advocate for safe motherhood, reproductive and adolescent health, and family planning programs, he is known for managing diverse funds, and facilitating multi-sectoral stakeholder partnerships. Dr. Srivastava's approach draws on his extensive education in Public Health. He is a medical graduate, with an MBA in Healthcare Management and a Master's degree Public Health.
Prior to joining Jhpiego, Dr. Srivastava has served some of the most reputed national and international public health organizations, namely PATH, UNICEF, WHO and the World Bank.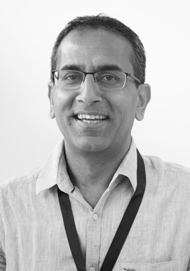 Ashfaq Bhat, MBBS, MHCM, MPH
Program Director
Dr. Ashfaq Bhat, has 20 years of experience in public health and has several years of experience of working at sub-national and national levels, as well within multilateral and bilateral agencies. Prior to this, he was working in the capacity as a Senior Maternal and Child Health Technical Advisor Health, Ministry of Foreign Affairs, Royal Norwegian Embassy, New Delhi and as a Project Coordinator for the Norway India Partnership Initiative (NIPI). It involved providing technical advisory services on the various Maternal and Child health innovations in the USD 1 billion health initiative between Government of Norway and Government of India. Dr. Bhat has extensive experience in forging partnerships, consensus building and has excellent leadership and coordination qualities.
Dr. Ashfaq has also worked for more than 10 years in WHO as part of Global Polio Eradication Initiative and strengthening of country's routine Immunization systems.
He is also one of the international reviewers for Saving Lives at Birth (SLAB), an innovation partnership between Government of Norway, BMGF, USAID and Grand Challenges Canada for supporting groundbreaking innovations. Ashfaq also acted in a documentary on Global Polio Eradication "The Final Inch" which was nominated for the Oscar Academy Awards in 2008.
Dr. Ashfaq is a postgraduate in Health Care Management from University of Surrey, England, United Kingdom and is currently pursuing Masters from Harvard School of Public Health. He completed his graduation in Medicine from Government Medical College, Srinagar, Jammu and Kashmir.
Indu Malhotra, MBA
Director, Human Resources
Indu leads the HR function at Jhpiego India. Over the last seven years, she has not only contributed to the setting up of the HR function at the India office but has also been instrumental to Jhpiego India's incredible growth story during all these years. With her leadership and support, Jhpiego has expanded operations from three states and 35 staff in 2011 to 13 states and close to 400 staff today. She has worked closely with the Senior Management Team in developing and institutionalizing processes, systems and policies.
With her profound HR experience and multifaceted expertise, she has been able to spearhead several interventions. Some of her key achievements include introduction of a comprehensive HR manual for the India office, streamlining and inclusion of staff benefits package, leading various talent acquisition campaigns, managing staff engagement activities, establishing staff retention strategies and leading a team of HR professionals. Indu is a peoples' person and well respected by her colleagues in India and other country offices of Jhpiego.
Indu has also contributed to Jhpiego Global HR team by supporting the Ghana and Philippines office and building the capacity of HR staff in Indonesia.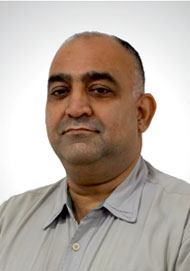 Rohit Ratna
Director, Finance and Administration
Rohit is a Chartered Accountant from the Institute of Chartered Accountants of India, New Delhi. He graduated in Commerce from Sydenham College of Commerce and Economics, Mumbai. With a rich experience of over three decades, he has worked across the corporate and development sectors in reputed organizations such as Deloitte, KPMG, Emirates Airlines, Population Services International and World Health Organization working in the field of compliance, consulting and operations verticals.
At Jhpiego Rohit is responsible for providing leadership and direction as part of the senior management team, as well as, day-to-day management of the finance, information technology, and administration functions for the organization. This position builds and sustains the capacity of the finance and administration department and provides stewardship through the establishment, monitoring and improvement of accounting, finance, IT and administrative systems and procedures. It also plays a critical role in partnering with the senior leadership team in strategic decision making and operations to enhance Jhpiego's quality programming and build capacity, establishes and implements internal controls, finance policies and procedures, administrative and IT systems to ensure that the organization's day-to-day operational activities are efficient and effective, and are in-line with approved strategic initiatives and budgetary allocations.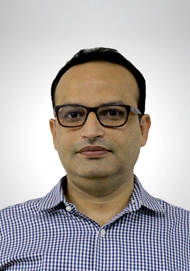 Dr. Kamlesh Lalchandani, MBBS, MD (Community Medicine)
Program Director
Dr. Kamlesh Lalchandani is a public health professional with over 12 years of experience in the public health domain, having worked with government systems, international donors, non-profits, and private sector partners. His expertise includes assessment of knowledge gaps, designing and implementing technical programs for both local governments and partner agencies. He is especially skilled at time-bound advocacy strategies that result in sustainable achievement of program goals. He has developed and led interventions for improvement in several public health focus areas, especially with regard to quality in family planning and nutrition, and that too in hard to reach areas. Currently, he is leading Jhpiego's family planning programs across India. Previously, Dr. Lalchandani was associated with USAID's flagship Maternal and Child Health Integrated Program (MCHIP). Before joining Jhpiego, Dr. Lalchandani was Nutrition Officer at UNICEF, monitoring and managing their RI/IMNCI, ICDS, and IYCF initiatives, and with the State Government of Gujarat.
Dr. Lalchandani holds a Masters' degree in Community Medicine from M. P. Shah Medical College, Jamnagar, Gujrat and is a Medical graduate from the same institution.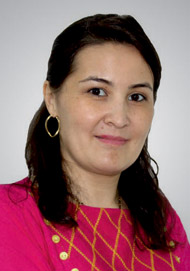 Dr. Gulnoza Usmanova, MBBs, MD (Preventive Medicine and Epidemiology), MHA, MPH
Senior Advisor – Monitoring, Evaluation and Research
Dr. Gulnoza Usmanova has over a decade of international and national experience in managing and leading global health efforts including various government and donor funded maternal and child health projects in developed and developing countries. She serves as the Senior Clinical Advisor, Monitoring Evaluation and Research at Jhpiego's India office.
Dr. Usmanova holds an MD from The Second Tashkent Medical institute, Uzbekistan and has a dual Masters in Health Administration from Tashkent Medical Academy and the other in Public Health from Braun School of Public Health and Community Medicine, Hebrew University, Israel. Born and brought up in Uzbekistan, Dr. Gulnoza Usmanova settled in New Delhi and has extensively worked in the country.
Her past experience involves reviewing Family Planning programs as a consultant with the Population Foundation of India. She also worked with the UNDP as a National Consultant for Midterm review of GAVI Health System Strengthening project. Prior to joining Jhpiego, she was working as an Associate Director – Monitoring, Innovation and Research with MAMTA – Health Institute for Mother and Child.
Dr. Usmanova has a rich experience in international projects to her credit including GAVI Full Country Evaluations in Uganda, Bangladesh and Mozambique, Evaluation; Monitoring of Salud Mesoamerica 2015 Initiative in eight Central American Countries; Design and adaptation of Verbal Autopsy (VA) survey instrument for the Institute of Health Metrics and Evaluation, University of Washington.