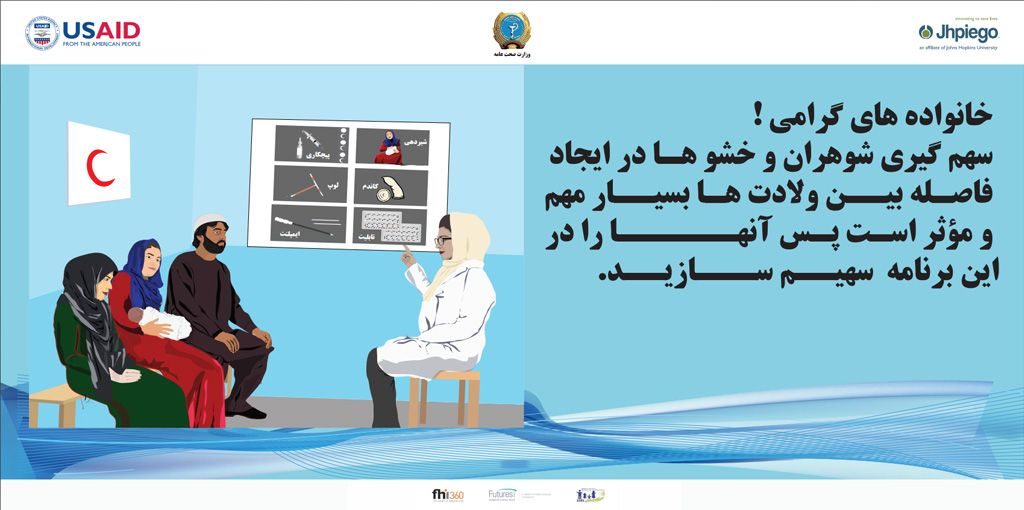 Large billboards dotting the skyline of Kabul and other Afghan cities are sparking public awareness of a very private matter—family planning. The public health messages on the billboards emphasize the direct impact of spacing pregnancies every 3 years: fewer maternal and newborn deaths. And they encourage the involvement of the most influential family members—husbands and mothers-in-law—in planning how many children couples should have, and when.
The billboards also highlight the risks of giving birth at a young age and the happiness quotient associated with family planning. For example:
Pregnancy at a young age (under 18), and over the age of 35 increases the risk of maternal and child mortality; using family planning methods can reduce this risks.
Dear parents! Healthy spacing of at least three years between births improves your health and the health of your children . . . and keeps your family happy.
The billboards, strategically located above city centers, public health directorates, maternity hospitals and other high-traffic areas, are among the efforts under way by the Afghanistan Ministry of Public Health to increase access to high-quality reproductive health services, including family planning, to prevent the needless deaths of women and their newborns.
A billboard in Herat reads:
Dear Families! Healthy birth spacing reduces maternal and child mortality because giving birth in intervals of less than three years is associated with high risks of maternal and child mortality.
Families in Afghanistan have an average of 5.3 children. The national family planning goal, as stated in Afghanistan's Family Planning 2020 commitment, is to increase the modern contraceptive prevalence rate among married women to 30% by 2020. The present rate, according to the 2015 Afghanistan Demographic Health Survey, is 20%. To achieve its ambitious target, the country has committed to allocating 25% of its overall health budget to reproductive health.
"Afghan families deserve the highest possible standards for health care service provision, including maternal, neonatal and child health," said Dr. Ahmad Jan Naim, Deputy Minister of Policy Planning. He added, "The Ministry of Public Health considers reducing maternal, child and neonatal deaths and improving the quality of health services, especially Reproductive, Maternal, Newborn and Child Health services, among its top priorities."
Helping Mothers and Children Thrive (HEMAYAT), a U.S. Agency for International Development–funded project led by Jhpiego, is working with the government and other partners in 23 Afghan provinces to increase access to, utilization of and demand for high-quality, gender-sensitive and sustainable maternal, newborn and child health services in the public and private sectors.
An important objective of the HEMAYAT project is to build awareness among families and communities of the merits of smaller families and well-spaced pregnancies. In addition to the billboards, the project is using other mass media channels to amplify family planning messages. A television series incorporating family planning messages is being aired across various channels during prime time. Local media representatives are being educated on the need to increase awareness of the importance of family planning to keeping women healthy and thriving. An award has been established to recognize the local TV, radio or social media channel that airs the best family planning messages.
Sayed Sarwar Agha, head of Kandahar Press Club, praised the government's initiative to include media in sharing the health benefits of family planning. "I am very happy that after a long time, I see that a project called HEMAYAT is connecting health with media, and that is the best approach of ensuring health for people," he said.
Mobile applications like m4RH (Mobile for Reproductive Health) and MAMA (Mobile Alliance for Maternal Action) are ready to be piloted with messages in Dari and Pashtu, the two leading languages in Afghanistan. Community leaders have also committed their support to these efforts.
In addition to generating demand, HEMAYAT is simultaneously implementing a comprehensive strategy to ensure that the health system and its workforce are ready to serve the communities in the best way possible. The strategy includes:
Supporting the Ministry of Public Health in updating technical guidelines and training materials, ensuring that they are up-to-date and aligned with international standards;
Ensuring that national and regional training and resource centers are fully equipped and functional;
Assisting the ministry in developing a family planning strategy;
Educating providers on various methods of family planning, including implants and postpartum intrauterine contraceptive devices (PPIUCDs); so far, 37 national trainers have been prepared for family planning services, 136 midwives have undergone PPIUCD training, and 241 midwives from the private sector and the same number of men at health facilities as well as 144 pharmacists have received family planning counseling training;
Ensuring the supply of family planning commodities; and
Training community health workers to provide postpartum family planning services.
These efforts are beginning to show results. In the village of Nimruz, for example, Lajwar, a mother from Padaki village, delivered her fourth child at home and was brought to the district health clinic by the community health worker in a state of shock following heavy postpartum bleeding. At the clinic, Sitara, a Jhpiego-trained midwife, immediately recognized the signs of postpartum hemorrhage and worked to manage the complication. Soon she was able to stop the bleeding, and within 3 hours, Lajwar started feeling better.
Sitara advised the mother and father to return for a follow-up visit. When the couple returned, the midwife counseled them on the merits of family planning, birth spacing and avoiding unintended pregnancies. With her husband's consent, Lajwar chose an IUCD. The couple, who had been averse to even visiting a health center, has today joined hands with the imam of the village mosque to encourage community members to adhere to the community health worker's advice and give birth at the health clinic instead of at home.
As of September 2016, 523 women have accepted the IUCD as a long-term, reversible family planning method from Jhpiego-trained midwives. As a result of the concerted effort by the ministry, frontline health workers and the media to extol the health advantages of family planning, many more women, children, families and communities are certain to benefit.
As Minister of Public Health H.E. Ferozuddin Feroz has said, the HEMAYAT project serves an important role in strengthening the health of Afghan families: "HEMAYAT generates the demand for health care services and simultaneously supports the Ministry of Public Health and the implementers to provide the quality services. It focuses on family planning and thus builds upon the past experiences and programs. It focuses on child health care with more emphasis on newborn care."
Kamran Osmani is the Family Planning Advisor in Jhpiego's Afghanistan office. Indrani Kashyap is the Asia Regional Communications Specialist.
Jhpiego believes that when women are healthy, families and communities are strong. We won't rest until all women and their families—no matter where they live—can access the health care they need to pursue happy and productive lives.
Donate now!