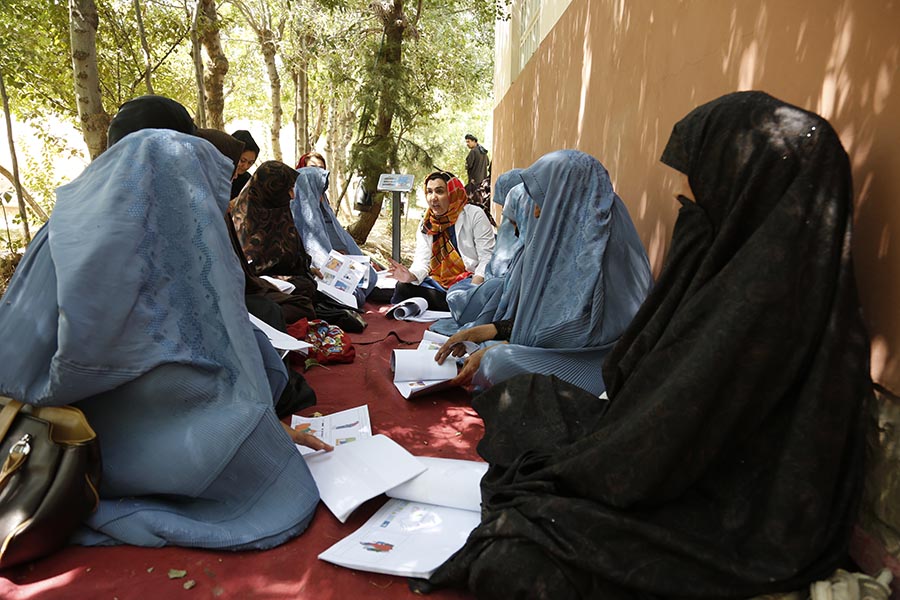 Naw Abad, Afghanistan—Rahila was weeks away from delivering her fifth child when she started to leak amniotic fluid. A mother with four successful home births in her past, she could have delayed, called for a traditional birth attendant in her community or leaned on family and hoped for the best.
But she recognized the sign and knew that if she didn't seek care, both she and her baby could be in danger of infection.
Rahila made the right decision: a familiar trek to her local health facility for a check-up with Midwife Suraya.
The 25-year-old mother had been to Naw Abad Clinic in Herat, Afghanistan a number of times during her pregnancy for an innovative style of care—Group Antenatal Care (G-ANC)—with other local women who were also at a similar stage of pregnancy. Together, they learned about the importance of giving birth in a health facility, danger signs to watch out for during pregnancy, the importance of family planning and so much more.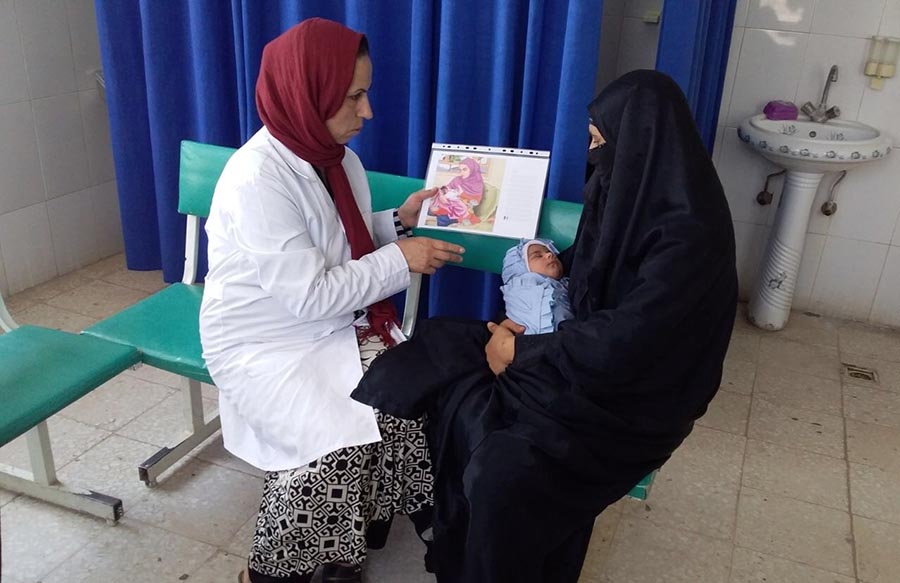 Midwives like Suraya prefer G-ANC in the same way their clients do. Group antenatal care is useful for us midwives, so we can fully counsel many pregnant women at one time. We're encouraged by the increased awareness of women in Naw Abad to give birth in the facility.
Every G-ANC meeting includes a one-on-one consultation with the midwife, group participation and joint learning. Women work in smaller groups with their peers and take each other's blood pressures and weight. They are given the opportunity to share their experiences of staying well in their pregnancy over the weeks since the last meeting, encouraging each other and offering suggestions for personal and family matters. Rahila and her fellow pregnant women call each other "sisters," a nod to the deep bonds formed through their sessions.
Successful solutions to pressing problems

Group antenatal care helps ensure all Afghan mothers and newborns have the best chance of survival by helping solve a number of seemingly insurmountable problems—high newborn mortality, high maternal mortality, substandard skills and knowledge amongst health care providers, and sociopolitical barriers that include ongoing conflict and harmful gender norms. It was introduced into 3 health facilities through a Jhpiego-led consortium that has worked for the past five years to reduce preventable deaths and improve health care services across the country. The partnership with the Ministry of Public Health and the United States Agency for International Development—through the Helping Mothers and Children Thrive (HEMAYAT) project—prioritizes evidence-based interventions that improve health outcomes and build self-reliance among women, families and health care providers.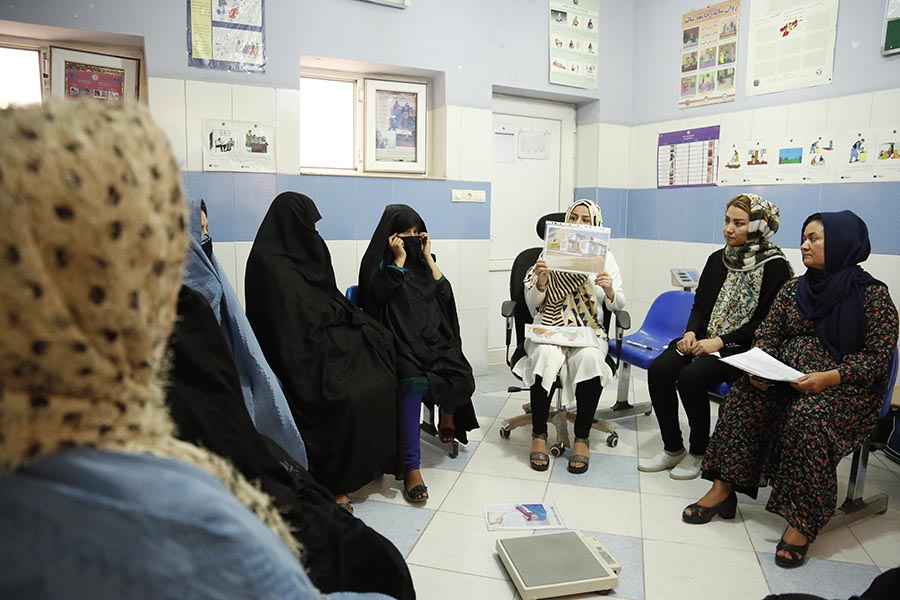 After demonstrating positive results for mothers and newborns in sub-Saharan Africa, G-ANC was adapted to the Afghanistan context and rolled out in Herat Province as an urban health intervention. Through partnership with the Agency for Assistance and Development of Afghanistan, a local organization supporting health service delivery in communities like Naw Abad, midwives were trained and supported to start G-ANC in early 2019. Jhpiego staff provided some additional mentoring during monthly G-ANC meetings and helped facilities gather data to inform the government G-ANC's success in Herat. All three facilities are planning to continue G-ANC after support ends, a sign of sustainable success.
Other innovative interventions—like a mama-messaging service that provides health advice and timely reminders via text message to pregnant and new mothers—are similarly sustaining success long past the end of their project lifecycles.
"The promise of G-ANC is high: across multiple trials and countries, evidence shows that women receive more care, better care, and experience greater self-efficacy compared to individual ANC," said Jhpiego's senior maternal health advisor, Sheena Currie. "In Afghanistan—a culture that can too often isolate women and hinder care-seeking—G-ANC offers women a chance to bond, share experiences and gain greater agency over their own care. "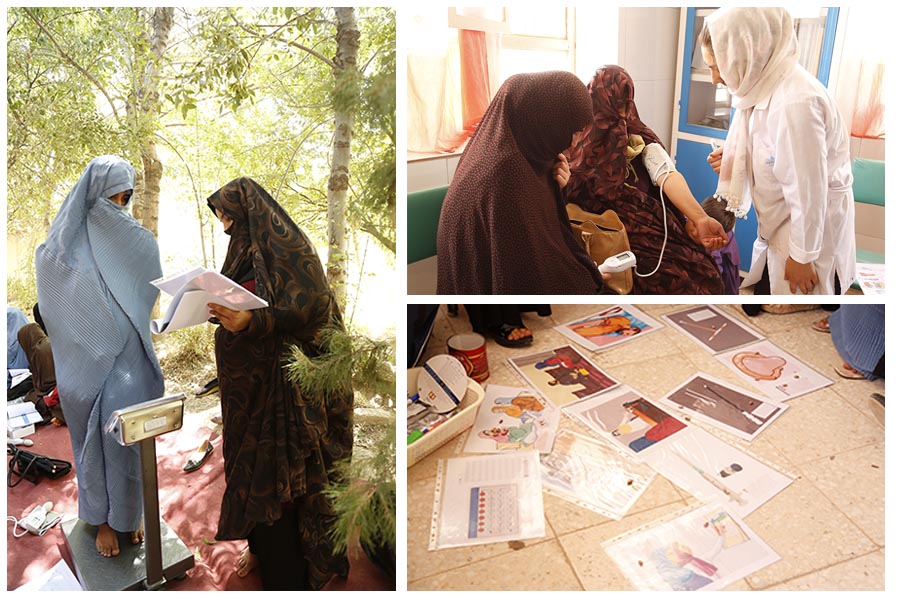 Powerful progress and content clients
When Rahila showed up at the clinic in labor after her water broke, Midwife Suraya examined and quickly admitted her. She delivered a healthy baby girl, 8lbs 1oz, later that day and named her Tayeba.
I was planning to give birth at home, but after attending group antenatal care, understanding the danger signs and seeing the respectful behavior of the midwives, I decided to give birth at the health facility, the mom recalls. I was so happy with my birth—I felt comfortable with midwife Suraya.
Tayeba's birth highlights 3 remarkable improvements in maternal and newborn survival in this context: improved care-seeking for childbirth, successful birth outcomes for mother and baby, and a highly satisfied client. G-ANC clearly is not business-as-usual.
From 2010 to 2015, the proportion of women receiving even one antenatal care contact across Afghanistan remained stagnant at 59%. Likewise, the proportion of women receiving four or more ANC appointments increased only 2% in that five-year period, from 16% to 18% (AMS 2010, DHS 2015).
In contrast, 92% of women in G-ANC have completed four ANC visits.
In Afghanistan, a national survey found that fewer than half of individual ANC clients received counseling on the danger signs of pregnancy and childbirth (National MNH Quality of Care Assessment, 2016). In the first G-ANC cohort at Naw Abad Clinic, not only did every woman who attended the group receive counseling on these danger signs, every one of them could remember and name at least four out of the eight signs by memory. More than half could name six out of eight.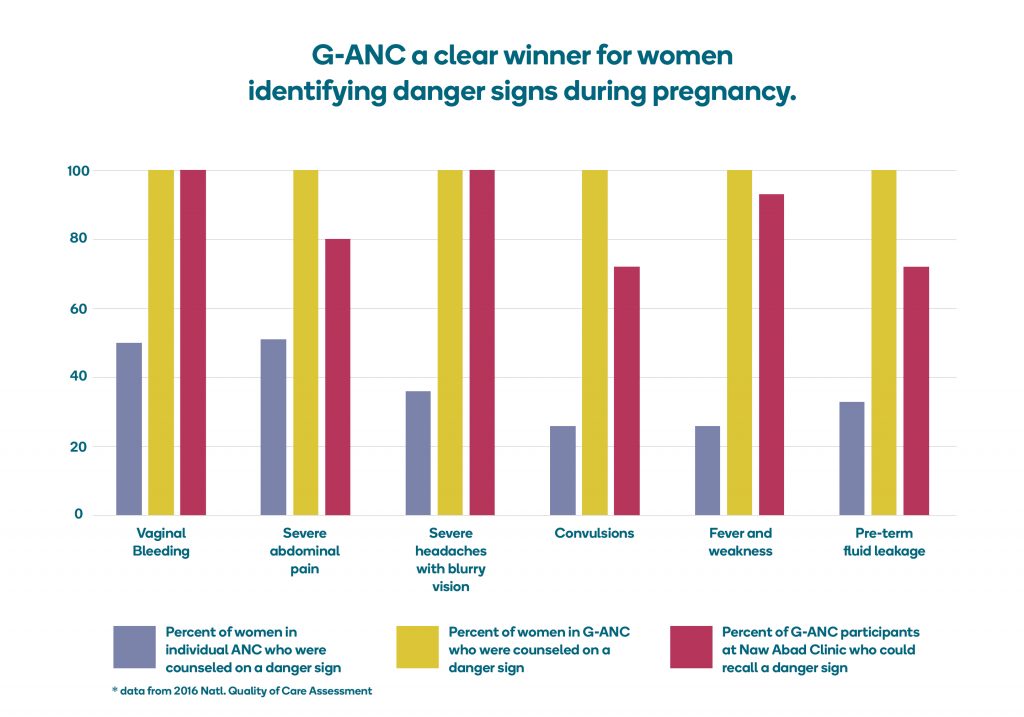 While the model of care deployed in countries like Kenya and Nigeria was adapted for Afghanistan—condensing meeting length to accommodate for security concerns, adding screening for antenatal depression, and more explicitly addressing gender barriers—similar results, including higher client satisfaction and better quality care, are likely. Some Afghan women have ended their final G-ANC session in tears, sad to leave the social benefits of the sisterhood they've created over the months of care. Many more list their new knowledge and skills among their favorite aspects of G-ANC.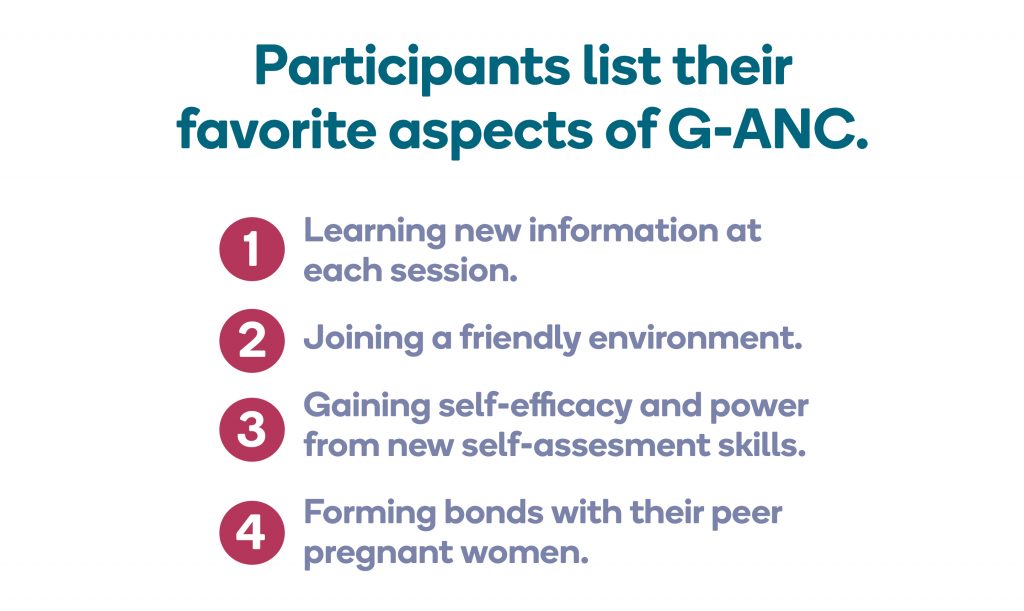 Rahila left Naw Abad Clinic with a healthy baby girl, a postpartum family planning method that was right for her, and a gratitude for her antenatal, labor and postnatal care experiences—a continuum of skilled care, all provided by Midwife Suraya. Many more women from her G-ANC cohort and beyond are having similar experiences, turning the tide towards measurably better care and more lives saved in their communities, now and for years to come.
Jhpiego believes that when women are healthy, families and communities are strong. We won't rest until all women and their families—no matter where they live—can access the health care they need to pursue happy and productive lives.
Donate now!