The photo of Myanmar health workers, several wearing surgical masks, appeared on Facebook with this question: What are YOU doing to keep your work going?
A provocative question? Not to these midwives and nurses, champions in their professions who have been leading the government's effort to build a 21st century health workforce to deliver quality health services to women and families in Myanmar.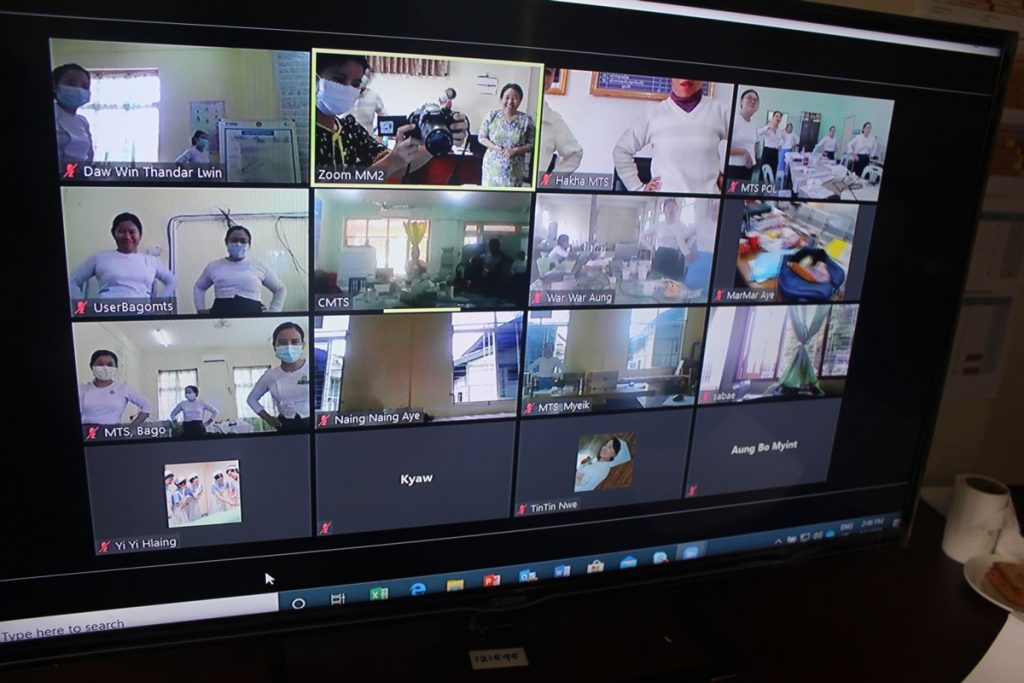 Now, as the world confronts an infectious disease pandemic, Myanmar's frontline nurses, midwives and instructors are updating their infection prevention and control skills to prepare for cases of COVID-19. As of June 8, 2020, 243 of the country's residents had tested positive for COVID-19, six had died and 156 had recovered from the disease.
NanNan Aung, Jhpiego's deputy technical and program director, said, "In this COVID-19 crisis, we can see the unity and collective strength of the health workforce team. Nurses and midwives together with other health professionals [are] recognized as 'health heroes' for protecting the public at the frontline." She continued, "Obviously, they should be well equipped with professional competencies during pre-service and in-service time to protect the people and to raise their health status."
To this end, five years ago, Myanmar set out to build a nursing workforce for the 21st century. Today, in collaboration with the Myanmar Medical Council and Myanmar Nurse and Midwife Council, it has introduced the first-ever accreditation system for basic medical education and nursing and midwifery education programs at 62 institutions.
Although their roles differ, an aspiring midwife, a senior nurse and the principal of a midwifery school share a common goal—providing the best possible care to their clients. And they have the support of the Government of Myanmar, which has been leading the effort to strengthen and revitalize a cadre of competent and confident nurses and midwives—a timely commitment as Myanmar, along with the rest of the world, faces the COVID-19 pandemic.
Thanks to the government's initiatives, enhanced by Jhpiego's expertise, graduates of Myanmar's midwifery schools are more prepared than ever to make the leap from student to professional health care provider.
The midwifery student
Cho Cho Lwin at Bago Midwifery Training School is one of those soon-to-be graduates. During a self-learning practical session, Cho Cho Lwin and her classmates huddled around a tablet as the midwifery instructor discussed a new topic. The students were honing their skills before graduation under a curriculum endorsed by Myanmar's Ministry of Health and Sports, and supported by Jhpiego, emphasizing the use of anatomic models for learning. After rotations in clinical wards to practice her newly acquired skills, Cho Cho Lwin will be ready for her first job after graduation.
Swe Zin Moe, a second-year midwifery student at the school, said, "I liked the normal birth clinical station in our school's skills lab. I had tried even 15 times in that station to achieve competency so that I am ready to be assigned to do my practical sessions in the wards." Her practice has paid off: "When I was firstly posted in a ward to do my first-ever delivery , my 15 times [of] practice in the skills lab made me confident and helped [me] to deliver the child without any major difficulties."
The senior nurse
These initiatives are not limited to pre-service education—practicing health care providers are also reaping the benefits. Myint Myint Win, an experienced senior nurse in Kyangin Township Hospital in the Ayeyarwady region, was inspired to invest her time and efforts to improving the quality of services at her health facility through the Essential Health Services Project, funded by the U.S. Agency for International Development.
The project aimed to increase access to high-quality maternal, newborn and child health services, as well as other vital services, such as TB care, for vulnerable populations in selected townships in Myanmar. Through project support, the Kyangin Township Health Department conducted quality improvement assessments, including those related to infection prevention and control practices, which are so critical in the provision of safe and high-quality health care, for the most vulnerable families in the township.
The infection prevention and control practices included emphasizing the necessity of wearing proper personal protective clothing, developing flow charts on proper waste disposal and ensuring appropriate waste management. Myint Myint Win said, "We better understand and are more clear with every step in instrument processing, including the needs of wearing PPE [personal protective equipment], such as utility gloves and boots."
Myint Myint Win appreciates the ongoing investment in her midwifery colleagues, saying, "I thought that it would be good if all health care providers are familiar with the quality improvement tools and standards so that they understand and can apply [them]."
The school principal
Moe Thet Thet Mon, principal of Pyin Oo Lwin Midwifery Training School, spent the first decade of her career as a midwife in government service, but dreamed of becoming a mentor to the next generation of midwives. For the past 20 years, by ensuring the competency of midwifery students and building the teaching skills of instructors, she has been fulfilling this dream.
Since 2018, 846 midwives have graduated from her school. Moe Thet Thet Mon has witnessed great changes made by the school's faculty and staff, with government and Jhpiego support through the Access to Health Fund. These changes included revising the midwifery curriculum to align with global midwifery competencies and enhancing learning and teaching methodologies through more vibrant and participatory lesson plans.
The curriculum moved from teacher-centered to student-centered education with an emphasis on building clinical leaders. School faculty also found a way to share resources between the school and clinical teaching sites so students have a chance to use modern equipment at their practical sites. In addition, a network of state-of-the-art clinical skills labs across the country was established to provide hands-on learning for students and tutors, along with regular Skype meetings to support implementation of the midwifery curriculum.
Moe Thet Thet Mon summed up the approach, saying, "Previously, we mainly focused the exam questions on knowledge assessment of the students. But, now we realized that it also needs to include the decision-making and application skills in the exam questions so that the students' critical thinking skills are improved."
Committed to quality health services for women and families in Myanmar, the government has strengthened 22 midwifery education institutes. The benefits of this investment are evident. The schools are graduating a steadily increasing percentage of students who are able to pass standardized knowledge and skills assessments—from 24% in 2016, to 60% in 2017 to 72% in 2018 of sampled students.
The student, veteran nurse and school principal represent the present and future of Myanmar's health care system—ready with the skills they need to face a pandemic like COVID-19 or any other health crisis that comes their way.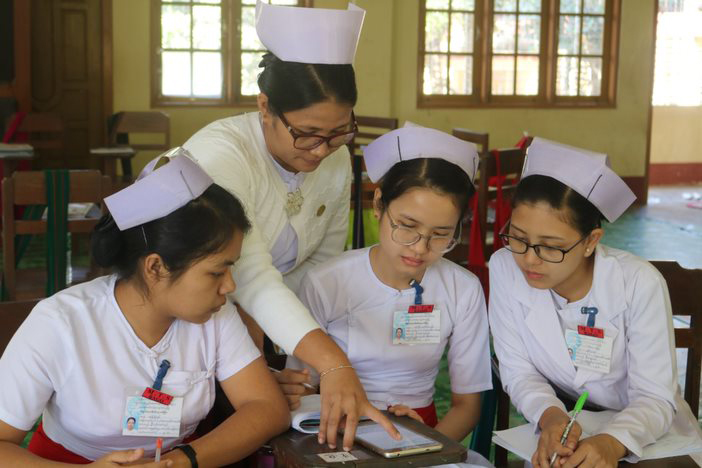 Thura Kyaw is a Senior Knowledge Management, Learning and Documentation Manager for Jhpiego, Myanmar. Alisha Horowitz is a Senior Editor.
Jhpiego believes that when women are healthy, families and communities are strong. We won't rest until all women and their families—no matter where they live—can access the health care they need to pursue happy and productive lives.
Donate now!