While going door-to-door during his monthly home health visits in Subuku, a community in the Nakuru Central District of Rift Valley Province in Kenya, Community Health Worker (CHW) Albert Waweru heard an increasing number of residents complaining about malaria. What he saw concerned him even more.
Soon after arriving in Subuku, Waweru met a woman who was taking her two children to Rift Valley Provincial Hospital for a follow-up visit after their recent hospitalization for severe malaria. In another home visit, he found a father shivering in bed with a fever, waiting for his brother to take him to the local health center on a bicycle. Waweru helped this man reach the Piave Dispensary only to find yet another client, a pregnant woman looking sickly and lining up for treatment.
Moved by their suffering and the surge in malaria complaints, Waweru shared his concerns with Susan Otieno, the nurse in charge of the Piave Dispensary. Together, they documented the upsurge in malaria cases during that April in 2009 and asked community leaders to hold a "dialogue day" to discuss the situation.
Bringing community leaders and residents together to discuss a serious public health issue is a strategic way to build capacity within a community so residents can manage their own health—a targeted goal of the AIDS, Population, Health, Integrated Assistance (APHIA) II Rift Valley Program. The objective of APHIA II and its six partners—Jhpiego, Family Health International (FHI), World Vision Kenya, Catholic Relief Services (CRS), National Organization of Peer Educators (NOPE) and Social Impact—is to promote healthier behaviors and increase use of high-quality HIV/AIDS, reproductive health (RH)/family planning (FP) and maternal child health (MCH) services.
Working in partnership with the Ministry of Public Health and Sanitation (MOPHS) and Ministry of Medical Services (MOMS), Jhpiego has focused on the capacity-building of community health extension workers and community health workers, and development of a community-facility referral system and a community-based health information system (CBHIS).
That kind of civic engagement to improve health care was on display at the Subuku community meeting.
At the "dialogue day" meeting, attended by 35 CHWs and the health committee, Waweru discussed the increase in malaria cases and Otieno offered several ideas on how the community could address it. Residents and other local leaders agreed to identify malaria as the community's number one health problem and post this information on CBHIS chalkboard, which serves as the community notice board.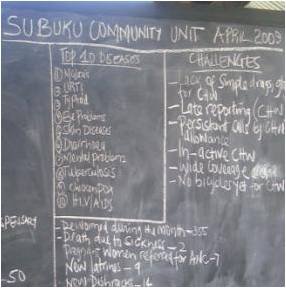 Participants cited several reasons for the high prevalence of malaria—low coverage of households in past indoor residual spraying (IRS) campaigns, a lack of insecticide-treated nets (ITNs) and numerous pools of water that serve as breeding grounds for mosquitoes.
The Community Health Extension Worker explained that fewer households were sprayed due to a lack of funds to pay pump operators. The health committee suggested that community members volunteer to ensure wider coverage during the next IRS campaign and raise money to buy ITNs for community members.
Following the meeting, Mr. Joseph Ng'ang'a, District Public Health Officer, and Dr. Kariuki, District Medical Officer of Health, agreed to support the community in the scale-up of IRS coverage during the campaign in the latter part of April. To further expand IRS coverage, Waweru and eight community health workers volunteered to be trained as pump operators. The campaign hit a target of 100%—surpassing the previous year's target of 78%. The community thanked Waweru and his team for their support by providing small monthly monetary awards to the CHWs.
APHIA II Rift Valley also discussed the lack of ITNs with Population Service International (PSI), which provided 4,000 nets at a subsidized cost to the community.
The impact of the CHWs has been tremendous, and the community's participation in community health activities has increased. To complement the community efforts, the MOPHS provided rapid diagnostic test (RDT) kits to the nearby Piave Dispensary and other facilities in the district to support malaria diagnosis and treatment.
Community members and health care workers from the Subuku community have shown that by working together, residents can count out malaria one step at a time.