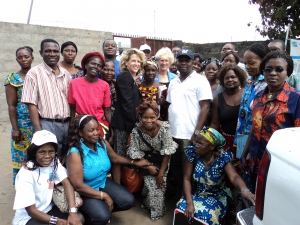 Kinshasa, Democratic Republic of Congo — We arrive at N'Djili International Airport late on an August night. It is a beautiful evening, the vast African sky is welcoming. We learned before our arrival of the recent rape of 200 women by rebels in Eastern Congo. Walking through a dark parking lot, I'm guarded—and thankful that our Congolese colleagues from MCHIP, the U.S. Government's flagship program for maternal and child health led by Jhpiego, are here to welcome us.
In Congo, more than half a million children under the age of five die each year. Their killers? Diarrhea, measles, respiratory infections, malaria, pneumonia, HIV/AIDS and malnutrition. MCHIP has been working to improve health outcomes for children in Congo through supporting immunization, helping prepare new mothers to care for their newborns and advising health authorities on providing quality care. We are here to visit staff, assess the state of maternal and child health, and support our MCHIP colleagues in their life-sustaining work.
In one of my very first meetings, the impact of Congo's turbulent times on health services is acknowledged. We climb four flights up in a concrete-block building to meet Pierre Lokadi Otete Opetha, Secretary General of Public Health. He explains that the DRC has just finished a very dark period, 25 years when almost all of the country's health care was responding to emergencies. Now, a national plan for health care has been developed and the very first need is to develop the country's human resources potential. Congo needs more doctors, nurses and midwives—and funding for infrastructure and information systems— to build a service delivery system for newborn and maternal health care, to prevent infections and treat diseases, he says. This new strategic plan envisions a multi-sector health system that will serve clients from the facility to the community.
Our next stop, at the U.S. Agency for International Development, is to talk about the health challenges in Congo and efforts to improve care. But first we have to get into the building. Passport checks, security gates, metal detectors, pat downs—the security is extensive. Once inside, we meet with staff who lay out the geographic realities of traveling across the country—the land mass of Congo is a quarter the size of Europe and the system of paved roads covers only about 2,000 miles. Reaching people outside of Kinshasa is a logistical challenge and often risky. Two days before our arrival, a plane carrying a team of five health workers to a remote area for an immunization project crashed.
Poor or nonexistent roads and infrastructure often impede efforts in developing countries to improve or increase health care services. Building a network of locally based community health workers, as is being done in Congo, is a practical, efficient way of meeting the basic health needs of women and families. I have seen the life-changing work of such health workers in Rwanda, Afghanistan and Nepal. Trained in basic methods of assessing clients, they are helping women and families in villages and towns confront diarrheal disease, malaria, infection and malnutrition. With a kit of basic supplies, they provide a basic level of care in the most remote locations. Their work can build support for reducing maternal deaths and, at the same time, raise awareness about the impact a lower maternal mortality rate will have on newborn lives.
At Roi Baudouin Hospital, a small but busy facility with more than 300 births a month, there is plenty to be proud of, even with the hospital's limited resources. I notice many positive infection prevention strategies—buckets with bleach for cleaning instruments, sharps boxes and other infection prevention tools. Staff in the maternity ward show off its recent installation of air conditioning in the labor and delivery room, an achievement most appreciated on this 100-plus-degree day.
During the visit, I am introduced to Dr. Ebondo Ngoie. Now, my favorite question to ask as I travel the world and meet with physicians, nurses and midwives fighting to keep women and their families alive in these difficult places is: "Have you been trained by Jhpiego?" Dr. Ngoie proudly answers, yes—he was trained in Burkina Faso by Dr. Blami Dao, one of Jhpiego's veteran master trainers. I ask what improvements he has made since that training. He points to a metal pole in the labor room from which he will hang a curtain to provide privacy and stop cross-contamination as women give birth on the five delivery tables that are side by side, with only a foot or two between them.
No curtains yet, but recognizing the need for them is a small step forward. He tells us that he is now talking to women during labor—trying to interact with them—to offer them information and feedback while they are giving birth. This is a new skill. He also permits women to give birth in a position they find comfortable and does not force them to deliver on their backs because they often prefer to give birth in a seated or squatting position. Many African women often refuse to deliver in a health care facility—even though that's where they can get help if complications arise—because they are restricted in their birthing position.
A facility with competent providers intent on doing things to make women safer and more comfortable while giving birth—there is reason to be hopeful here. As we head for the hospital exit, we pass a cleaning crew in an examination room. The workers are sweeping needles and gauze, syringe vials and used cotton into an open gutter in the middle of the compound—a vivid reminder of the work Jhpiego and partners have yet to do here.
At St. Joseph Hospital, the maternity ward is one of the far-off buildings. I always notice that the maternity space is usually in the most distant, least tended part of any hospital. As we pass through a final gate, a sign warns, "No firearms allowed." A woman physician, young, energetic, immaculate in her white clogs and coat, enthusiastically greets us. We enter the delivery area to the heartening sounds of a crying infant. A small but apparently healthy baby is on the scale getting its first weigh-in. The baby is flailing and howling—a wonderful sign—and the nurses and midwives are all smiles.
After the baby girl is weighed, she is dried and dressed, a little pink hat placed on her head and her umbilical cord is perfectly managed—all standards of good practice. I am warmed to see this beautiful child tended to by competent caregivers.
Jhpiego's reputation precedes us as the doctor introduces me to several staff who have been trained by Jhpiego. She has heard such wonderful things from her colleagues; she wishes she too had been trained by us. As we chat, a pregnant woman in a wheelchair is rushed into the ward. Her ankles are swollen and her blood pressure is very elevated. For almost five days, the woman has been trying to reach a health facility. She is in grave condition, apparently suffering from severe pre-eclampsia, very likely to deteriorate into life-threatening eclampsia—the No. 2 killer of women in the developing world. We quickly exit the ward to allow everyone to attend to this dire situation.
Before the day is over, we meet another Jhpiego alumnus at St. Joseph's who has proudly displayed his Jhpiego training certificate at every job site in the past 20 years; we hear again about the difficulty in reaching Congolese families in the far corners of this vast nation; and we meet with more than 300 Congolese health care providers whom we've trained and toast their efforts in fighting against great odds to care for their countrymen and women. And, I learn that I can't leave Congo without a CD from Papa Wemba, the country's greatest musician.
Congo, novelist Joseph Conrad's "heart of darkness": The contrasts in this richly resourced, violence-weary country can disarm the toughest cynic, perpetuate feelings of despair and yet engender an unlikely spirit of hope. Consider our visit to Mama Yemo Hospital. Limited resources mean infants are doubled up in incubators, women labor in beds without mattresses and illness permeates the facility. Even in these circumstances, nurses are teaching new mothers about family planning and how to care for premature infants: Tuck them in a sling nestled on mother's chest, skin to skin, incubating in a mother's warmth, a knitted cap placed on the baby's head. A primal, life-affirming solution to save newborns.