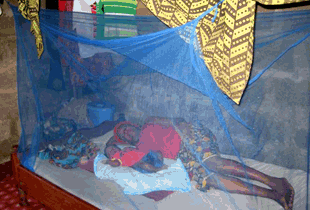 During an assessment visit to Akwa Ibom State in 2006, Jhpiego found that health care providers were unfamiliar with intermittent preventive treatment of malaria for pregnant women (IPTp). They also did not have stocks of insecticide-treated bed nets (ITNs) to give to pregnant women and children. Attendance at local government area (LGA) antenatal care (ANC) clinics, where IPTp and ITNs should have been available, was less than 20% of pregnant women in the area. Community members complained of poor-quality ANC services. Finally, the ANC staff had not been trained in malaria in pregnancy (MIP) control as part of ANC services.
Fortunately, the ExxonMobil Foundation provided Jhpiego with support to address these gaps in MIP services. Intervention started in 2007 with a detailed needs assessment. Four LGAs and 15 primary care health facilities (PHCs) and their surrounding communities were chosen for interventions to improve MIP services. Twelve PHCs in three other LGAs were chosen as control communities. Staff in all seven LGAs and 27 PHCs received supplies of sulfadoxine-pyrimethamine for IPTp and basic MIP training from a team of core trainers that Jhpiego formed from among State Ministry of Health and partner organizations so they would start off on even footing.
The intervention LGAs received two additional inputs. Staff were trained to use Jhpiego's performance quality improvement tool, Standards-Based Management and Recognition. Staff were also trained in community mobilization including how to implement the community-directed interventions (CDI) approach that the African Program for Onchocerciasis Control had found so successful. CDI links communities and clinics in the provision of basic health commodities, health education and referral. Jhpiego used CDI to extend the provision of MIP services through community-directed distributors (CDDs) who were selected by their kin groups and trained and supervised by the PHC staff.
Over the intervention period, 734 CDDs were trained and given kits containing sulfadoxine-pyrimethamine for IPTp, record books and health education materials. CDDs also distributed ITNs, as they became available, to pregnant women. They referred pregnant women to ANC to receive all the other basic ANC services such as additional doses of IPTp, blood pressure monitoring and tetanus toxoid immunization. Over the course of the project, 368 PHC staff trained in MIP and 43 state and local government core trainers were put in place, and 28,000 pregnant women received IPTp from ANC clinics and CDDs.
Baseline (2007) and endline (2010) surveys compared the effect of the MIP interventions. At baseline the two areas were similar in terms of coverage with the required two doses of IPTp: 28% for women who were recently pregnant in the intervention area and 32% in the control. Two years later, 77% of intervention area women had received IPTp twice compared to 50% in the control area (see figure below).
Percentage of Women Taking Two Doses of IPTp: Baseline and Control
In addition, ITN use by these recently pregnant women increased from 44% and 46% in the intervention and control areas at baseline to 73% and 58% respectively. Contrary to concerns that community service delivery might detract from ANC attendance, ANC registration at LGA clinics increased from 75% to 86% in the intervention area while it decreased slightly from 88% to 79% in the control communities.
The Akwa Ibom project marks an important demonstration that NGOs, private corporations, communities and state and local governments can work together to scale up malaria services close to the people who need them. The CDI approach that links communities and clinics can now add MIP control to its successes in efforts to eliminate other tropical diseases.