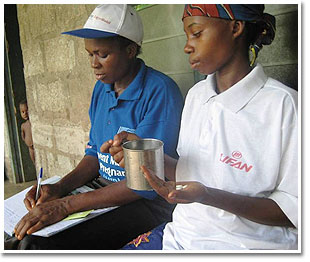 Akwa Ibom State in Nigeria is among the highest malaria transmission areas in the country, and yet malaria control interventions have been late in reaching the State. Jhpiego, with support from the ExxonMobil Foundation and in collaboration with the State Ministry of Health, has been working to reduce the burden of malaria for pregnant women in selected local government areas (LGAs) using two key strategies: to improve the quality of services in antenatal care (ANC) clinics, and to involve communities, through community-selected volunteers, in reaching out to pregnant women. Essential to both strategies is the process of counting—that is, monitoring and evaluating program inputs, outputs and outcomes based on standard indicators.
A 2007 survey, administered in the communities surrounding 39 local government health facilities that provide ANC services in seven LGAs, counted the number of pregnant women who had received malaria in pregnancy (MIP) services. The results of the survey indicated that: 1) only 6% of recently pregnant women had received the two recommended doses of intermittent preventive treatment during pregnancy (IPTp); 2) merely 23% of pregnant women reported having slept under an insecticide-treated bed net (ITN) during their most-recent pregnancies; and 3) only 14% reported sleeping with their new babies under an ITN the night before they were surveyed. These figures are well below the Roll Back Malaria MIP coverage targets of 60% for 2005 and 80% for 2010. Among the 39 surveyed clinics, 17 offered the recommended treatment regiment, two reported providing ITNs to pregnant women and only six ANC clinics had copies of the national malaria in pregnancy (MIP) guidelines.
Intervention started in the catchment areas of 15 ANC clinics in four of the LGAs. Basic MIP training courses were provided to 135 staff working in the 15 facilities. Of the 135 staff, 32 were further trained on how to involve the surrounding villages using a community-directed intervention (CDI) approach, which enables communities to organize themselves for the distribution of basic health commodities like medicine.
In early 2008, the 32 health workers trained in CDI surveyed 91 communities surrounding the ANC clinics, and identified 459 ekpuks, or clan groups, as potential sources for community volunteers. Subsequently, 37 meetings were held with community representatives to introduce the CDI approach. The communities then chose 734 community members—an average of two per ekpuk—to serve as community-directed distributors (CDDs). Once identified and trained, the CDDs conducted a census in each ekpuk and discovered more than 7,300 pregnant women in need of MIP services.
Jhpiego's MIP Program was officially launched in July 2008, and 43,000 doses of sulphadoxine-pyrimethamine (SP) were procured for use in IPTp by ANC staff and CDDs. Control clinics were provided with basic MIP and SP training activities, so that the Program could guarantee equal access to basic skills and materials, regardless of the intervention type.
In the first six months of the MIP Program, improved recordkeeping documented that the intervention clinics had distributed 1,349 doses of IPTp1 and 659 doses of IPTp2 to ANC clients, compared to zero doses distributed prior to intervention, while the control ANC clinics distributed 763 doses of IPTp1 and 377 doses of IPTp2. The CDDs, who were supervised by and obtained SP supplies from CDI focal persons at their nearest ANC clinic, distributed a total of 10,985 doses of IPTp1 and 8,185 doses of IPTp2 in their communities.
The procurement of ITNs posed one serious problem: the promised supply from the World Bank-supported Malaria Booster Program to Akwa Ibom State did not materialize. However, a partner organization, NetMark, kindly provided 5,000 ITNs as a short-term remedy, and the CDDs immediately distributed the ITNs to eligible pregnant women.
Jhpiego's Standards-Based Management and Recognition (SBM-R) approach to quality improvement was applied to the intervention ANC clinics. A baseline audit of the 15 intervention clinics found that, on average, the clinics met only two of the 16 ANC performance indicators. A few months after intervention began, however, these ANC clinics met an average of eight performance standards.
The counting will continue with regular SBM-R audits, clinic exit interviews, improved health service data collection and ultimately a follow-up survey of recently pregnant women in the Program areas, which is scheduled for October 2009. This combination of data collection methods will allow Jhpiego to count down toward Roll Back Malaria targets and count malaria out for pregnant women in Akwa Ibom State.