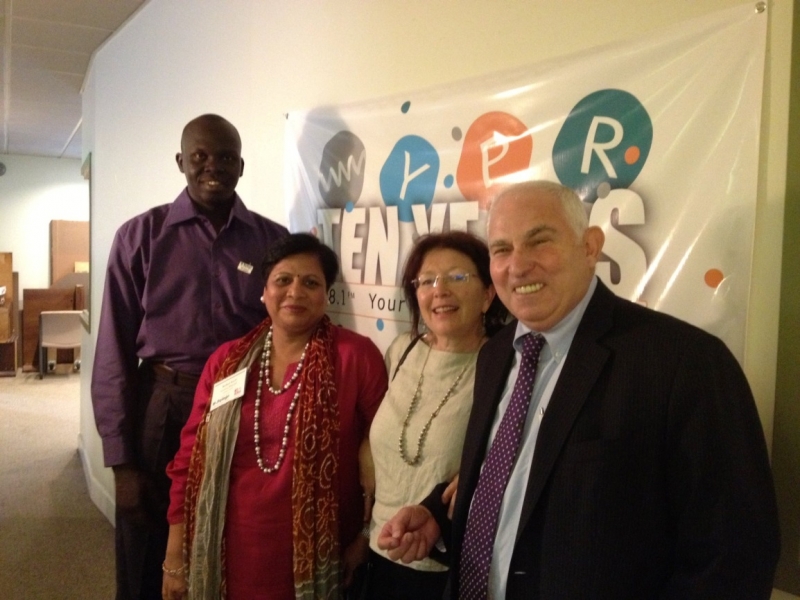 As part of Jhpiego's 40th Anniversary Celebrations, global health leaders —Dr. Edward Luka, program director in South Sudan, Dr. Bulbul Sood, India Country Director,  midwife Sheena Currie and Dr. Ron Magarick, Vice President, Technical Leadership Projects and Special Projects —appeared on the WYPR Midday with Dan Rodricks show on June 20, 2013, to discuss Jhpiego's work to save the lives of women and children around the world.
Here are excerpts from the show:
Question to Dr. Ron Magarick: How many countries does Jhpiego have a presence in and what is the scope of your staff? How many employees does Jhpiego have?
Dr. Ron: Historically, Jhpiego has worked in 150 countries around the world. Currently, we're in 50 countries in Africa, Asia and Latin America, with country offices in approximately 35 countries, like in Kenya, India, Zambia, Ethiopia. We have approximately 1,600 employees working around the world; 200 or so of these are in the U.S., and the vast majority are in the countries where we work. Interestingly, some years ago, Jhpiego was largely staffed by Americans. There has been a change in the last 10 years or so, and now, by and large, over 95% of our staff working in countries are, in fact, staff and individuals who are from the respective country or from an adjacent country or from the region. One of our major goals is capacity-building and sustainability. And in fact, having people who work and live in their own countries, we find that is the best way to accomplish that.
Question to Dr. Ron Magarick: Statistics from WHO talk about daily deaths of women, in developing countries mainly—a thousand a day. But there has been progress. So in the 30 years that you've (Dr. Ron has been with Jhpiego for more than 30 years) been affiliated with Jhpiego, there has been some progress in these countries?
Dr. Ron: One of the most important elements in the difference between if a woman dies from childbirth and she doesn't die from childbirth is having a skilled health provider with the woman when she delivers. And over the last four or five years, Jhpiego has been working in Afghanistan to strengthen midwifery training. When we started our work in Afghanistan, there were only 467 midwives in a country of 22 million, and only one functional midwifery school. Today, more than 3,000 midwives have graduated—largely with the assistance of Jhpiego—from 29 accredited community and hospital midwifery schools in Afghanistan. The Afghanistan mortality survey that was released recently has shown that maternal mortality has dropped in Afghanistan from 1,400 per 100,000 live births, which were reported in 2008, to down to approximately 227. So, remarkable progress.
Question to Sheena Currie: What difference does a midwife make—a skilled attendant at birth. What is the difference a midwife makes?
Sheena Currie: Anyone can deliver a baby, but not anyone can manage a complication. And what makes someone skilled is the ability to manage a complication that might be unexpected. (In) many complications, we don't know who is going to have a problem at the delivery. So, many women die from too much bleeding after birth. That is something that can be managed by a midwife. (Women) also die from obstructed labor. In Afghanistan, it is a very common cause of maternal death where the baby, for whatever reason, is not able to pass through the mother's pelvis. So the labor becomes obstructed; the uterus (or the womb) ruptures. So the midwife is there to predict when things aren't moving well. She can also resuscitate the baby if it's born with breathing problems. So she has many skills. She also has skills in family planning. She is able to offer women a full range of reproductive health services, and more recently, that also includes mental health.
Question to Dr. Sood: Dr. Bulbul Sood is the head of Jhpiego's programs in India, where the organization focuses on maternal health (as it is in other countries), reproductive health and women's rights to family planning services, a particularly interesting thing to talk about.  Dr. Sood, again, thank you so much for being with us on Midday.
Family planning services—can you talk about that a bit—Jhpiego's effort to get women and families to think about planning their families, both men and women?
Dr. Sood: Thank you, Dan. In fact, India was the first country in the world to have a program to take care of limiting family size and taking care of (family planning), providing information to couples and women to choose a contraceptive method. We have gone a long way in India. However, we still have some challenges, I would say. We are 1.2 billion people and the projection is by 2030 we are going to be the number one in the world; we would be above China (in population), which is about 1.6 billion.
In India, family planning has been in the minds of the policymakers, but somehow for a long time it has been more focused on the terminal methods—which is sterilization—and if you look at the contraceptive use in the country, you would find that the (birth) spacing is missing—spacing between the first and the second baby or second and third baby. The typical scenario is, especially in the rural areas, where you would find that the women are married by the age of 15 or by 18, (and) you'd find that they would have at least one child, and then the second child would be within a year or so. It's not that they don't want to; if you ask the women, majority would say that they would want to space the child, i.e., plan a family. And when you say "family planning," (it) doesn't mean no child. Family planning means when a woman has a right to choose how many children she wants to have, when she wants to have (them) and what should be the difference (in age) between the two. For some time, when we talked about family planning, everybody thought it is (population) stabilization. That's not what it is. Family planning is now being seen as a maternal, newborn and child health initiative.
Dan: I'm curious to know what has been the reception to this; and how do you present this, by the way? How does Jhpiego present the idea of family planning? Do you announce a class, do you announce that you're offering a program or lecture? Do you go to individual homes? How do you present it?
Dr. Sood: Jhpiego has been working very closely with the government of India. In fact, they have a very robust family planning program, but with the limitation that it was focused a lot on sterilization. Since the last two to three years, I would say, that the focus has now shifted to spacing. We work very closely with the government and we train the doctors, nurses and other providers to talk more about the spacing methods.
Dan: What has been the reception to that among doctors? Is it something they didn't speak to women about?
Dr. Sood: It's not that they were not aware about the spacing methods, but somehow over a period of time, they were not counseling women so much on the different methods, and they would just say, "If you want to have contraceptives, why don't you come back," especially after delivery.  You would find that 10 women would say I would want to come back, but only one of those 10 would come back. Somewhere there was a barrier to accessing the contraceptive methods.
Dan: In terms of women's health and maternal mortality, what difference does that make, family planning?
Dr. Sood: Family planning saves lives. Family planning can prevent 30% of the maternal mortality and also 10% of child mortality. People are never thinking that it's the children also (who are affected). If the mother survives, then the children are taken care of. And also, the health of the newborn would be better. You have to link family planning to maternal, newborn and child health survival, and that's what we're doing in the country. And I see very positive results happening. In fact, the intrauterine contraceptive device (IUCD) was a method which was in the system for a long time, and evidence was showing that you could give this method within 48 hours of delivery of the baby. Fortunately, in India, almost 50% of the deliveries are now happening in the public institutions. So, it was felt that if a woman walks out of the hospital and has a method given to her (during her stay at the hospital), then a lot of unwanted pregnancies could be prevented. And I'm happy to say that within a very short time, we find that almost 10–15% of women are opting for this postpartum IUCD method. So when they walk out of the hospital (after childbirth), they have an option not to have a child immediately. The option of a permanent family planning method is also available to a woman, if she has completed her family.
Dan: Dr. Sood, what is the most satisfying part of your work with Jhpiego in India? Why do you do this work?
Dr. Sood: I think at the end of the day, what makes you happy is that you're making a difference.
Dan: How do you see it?
Dr. Sood: I see that, you know, the program where we were working with the government to revitalize the postpartum family planning program, I see that within a period of two years now we're working in the entire country. The government of India is scaling up the program because they saw the value of it. (More than) 100,000 women have accepted the postpartum IUCD. This means that these women are going to be having their next child when they want to, and not unplanned. I feel happy that the learning that we have in India is being used in the region, in fact in several (countries)—in Afghanistan, in Pakistan, in Bangladesh, in Philippines, in African countries. So, you feel at the end of the day, what you're doing is making a difference, and at the end of it, that's what all of us work for.
Dr. Ron Magarick: We at Jhpiego feel privileged to do the work that we do every day.
Listen here to the show:
http://programs.wypr.org/podcast/jhpiego-40-thursday-june-20-12-1-pm