The USAID-flagship Maternal and Child Integrated Program (MCHIP) Voluntary Medica Male Circumcision (VMMC) Project led by Jhpiego, this week held its first end-of-program results-sharing event for Iringa and Njombe regions at Makambako Town. Hallmark MCHIP en-of-program events will be held on 2nd October (National Technical Forum to Discuss Project and Research Results) and 3rd October (Summation of Project Results, Guest of Honor Remarks, and Recognitions).
Iringa Regional Commissioner Hon. Asseri Msangi (in dark suit, hands on the table) listens to MCHIP-trained Illuminata Sanga, one of more than 200 nurses providing safe medical circumcision in the southern highlands of Tanzania, as she explains PrePex, a new medical device and procedure being developed to facilitate non-surgical VMMC of adults as part of a comprehensive HIV prevention strategy.
Addressing delegates, Hon Msangi acknowledged  "the fight against HIV in our regions is not an easy one. But we are going to fight to the best of our ability. The introduction of VMMC is a huge boost to our HIV prevention efforts."
USAID Advisor for Programme Intervention in Iringa and Njombe Joan Mayer presents a gift to Njombe Regional Commissioner Hon Msangi in recognition of his leadership and support to the scale-up of VMMC in his region. Looking on are Njombe Regional Medical Officer Dr Samwel Mgema and Iringa Regional Medical Officer Dr Salim Robert Mahimbo.
"Given the potential for high impact of VMMC on HIV prevention, USAID is committed to support the Ministry of Health and Social Welfare, the regional administrations and implementing partners to further scale-up this intervention," added Ms Mayer.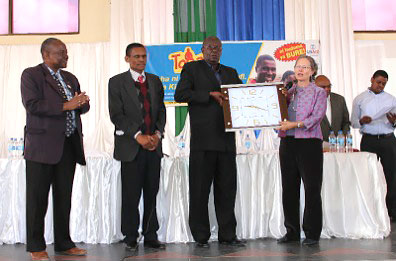 "USAID is very pleased with the success the Tanzania VMMC program has had over the past five years. As of the end of August this year, the MCHIP/Tanzania program supported the MOHSW to provide 394,741 VMMCs in the Iringa, Njombe, and Tabora regions, with Njombe and Iringa contributing a huge 67% to that success. This makes MCHIP/Tanzania the VMMC partner with the greatest number of circumcisions in Tanzania, and one of the highest in sub-Saharan Africa. Hongera sana kwa kazi nzuri!"