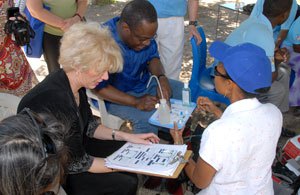 Maputo, Mozambique—The community health workers grab their signature blue backpacks, hoist them over their shoulders and head down the dirt roads of Mumemo. The things they carry will make a difference in the health of families in this southern African country that has one of the highest HIV prevalence rates on the continent.
Walking six to 10 miles a day, Rosalina Antonio Tamela carries 15 pounds of supplies and forms in her back pack, everything she needs to share information about prevalent health issues and to test a villager for HIV, provide counseling and a referral for treatment. She consults a color-coded map to find the day's clients—green indicates homes of families where all members have been tested, yellow pinpoints homes where a few have been tested and red signals a refusal to test. But Tamela is not deterred by the number of red houses on her map. She lost her parents and all of her siblings to HIV/AIDS, and she doesn't want anyone else to suffer. Volunteers like Tamela say, "We must test all—we must make sure that ALL who need services receive them."
With help from Jhpiego, Mozambique has expanded community-based HIV counseling and testing services throughout the country, reaching provinces where people have limited access to essential health services and facilities. In a country of 20 million, less than 25 percent of adults are aware of their HIV status. Jhpiego worked with the Ministry of Health to develop a national HIV prevention and treatment plan with the goal of providing HIV counseling and testing services to all citizens and helping link them to health facilities. In 2007, Jhpiego developed a pilot program to use community volunteers to counsel and test Mozambicans in their homes and villages.
The pilot was so successful—its testing rate is less expensive and accurate—that it is being replicated through a collaboration with nonprofit organizations and other partners. Since the program began and expanded to 10 provinces, 441,134 Mozambicans have been counseled and tested for HIV, with 192,500 from October 2010 to March 2011, a considerable increase. That's impressive progress in a country where 11.5 percent of adults and 13.5 percent of pregnant women are living with HIV.
In Mumemo, a Franciscan nun, Sr. Susana Custodio, has been a big supporter of the Home and Community Counseling and Testing for Health initiative (CCT). She knows firsthand the need for such a program—the orphanage she runs is populated by children whose parents have died from HIV/AIDS. The first act of prevention is to get tested, and the community volunteer program brings testing to a family's doorstep.
The volunteers learned the essentials of health counseling including HIV testing from Jhpiego health professionals who helped design the program. Communities were studied and mapped to identify families who need services. Volunteers—who routinely work long hours and in all weather—carry backpacks that contain HIV rapid testing equipment, supplies, forms, condoms, other HIV-prevention materials and rain gear. Some carry the packs on their head, if their children accompany them on their route.
On any given day, a volunteer will visit five to 15 houses and test about 15 people. On Thursdays in Mumemo, the 10 volunteers, who receive a small monthly stipend, focus on houses with yellow and red codes and check on HIV-positive clients to ensure they are taking their medicines. In conjunction with the Ministry of Health's emphasis on an integrated health systems approach, the volunteers assess clients for a variety of health concerns—for example, tuberculosis, malaria and hypertension—and make referrals, if necessary.
When a household refuses testing, community workers focus on counseling and testing neighbors. Once surrounding neighbors have been tested, a worker will return to the "red house" and approach the family again about following the good example of nearby residents. Program staff report that, in most cases, members of that family will reconsider participating in testing.
This mission "has put something in our hearts," says Judite Cardoso, a Jhpiego CCT program coordinator.
Adds Tamela: "We put ourselves in their place. If we can't help, our hearts are not free."
On one recent Saturday, counselor tester Alfredo is sitting under a leafy green tree, his equipment and supplies laid out on a tray. A young mother named Sabina arrives with her 12-year-old son Frederico and her new baby. The mother tells Alfredo that her son is old enough to decide if he wants to be tested. He says he does. The boy is curious and nervous. With a prick of the 12-year-old's finger, the volunteer begins the test. The mother sits nearby, quietly nursing her baby.
The boy's test is negative and everyone is relieved. Frederico is asked to leave so his mother can receive her test results in private. The news is heartening—Sabina also is negative. Alfredo counsels her on ways to prevent contracting HIV and advises her to seek care for her high blood pressure. As the two are talking, a neighbor wanders by. The man asks the health worker to please visit his family so they can be tested, a request befitting the program's motto: "Never leave anyone behind."