When Jane Otai walks through the Nairobi slums of Korogocho and Viwandani, she is no stranger. No stranger to the women living in corrugated-metal shacks or worse, no stranger to the poverty, overcrowded conditions and health problems devastating families.
"I really lived within the urban slum growing up,'' says the 47-year-old mother of three and Jhpiego's urban health advisor. "I was one of seven kids. My mother saw education as the way out. She believed if one got educated, we can break out of the cycle of poverty."
Raised in a churchgoing family, Jane got the opportunity to go to school, but recalls that as a young girl she had neither shoes nor a uniform. As an adolescent, she was wary and watchful because living in an urban slum "you can't really protect yourself.''
Upon finishing high school, she attended Makerere University in Kampala, got her master's degree from United States International University in Nairobi and then went to work for a non-profit, with the hope of improving the lives of women and families in Nairobi's urban settlements. It is work she finds rewarding and essential to the future health of the planet.
More than 50 percent of the world's population live in urban areas. While Asia has the largest number of urban slum residents, Africa is urbanizing faster than any other continent and, according to a 2007 report by the United Nations Population Fund, 72 percent of city residents in sub-Saharan Africa live in slums. The pace of urbanization is intensifying health issues of the urban poor.
So when Otai says, "the new face of Africa is urban slums," she knows what's at stake. "Very soon, more Africans will live in urban areas – generally in slums than in rural areas,'' says Dr. Pamela Lynam, who directs Jhpiego's programs in Kenya. "We are going the way of Asia and megacities without the infrastructure to support it."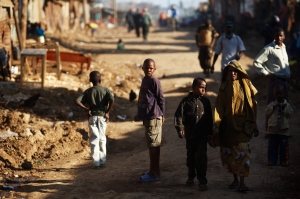 Residents of urban slums live on the margins. They have less access to good health care. Unemployment in their communities is high. Adequate housing and education are unaffordable. Violence is prevalent and families are at risk, physically and emotionally.
Otai has experienced some of these very same hardships. "She is a voice for the urban poor,'' says Lynam. "We often say we want to clone her. But she must continue as a leader in this work . . . developing other voices and champions within these communities."
When Otai talks to mothers from Korogocho about the health of their families, the threat of HIV, the importance of family planning, the need for good nutrition, she speaks from experience – personal and professional. "Everyone calls her Jane. When she speaks, people listen," says Jhpiego colleague Stuart Merkel.
When she encourages women to get involved in their community, to take control of their health and seek help for their families, Otai explains the benefits of taking such a step and the consequences of failing to act. Two of her siblings have died from HIV-related causes; she gently but firmly urges families to move forward.
As part of Jhpiego's urban health initiative, Otai has worked to overcome the suspicions of residents who won't go to a public health center for lack of money or out of fear. Prenatal health and birth spacing, HIV counseling and testing, screening for cervical cancer and sexual abuse, immunizations and legal rights, sanitation and water quality are issues that deserve community attention and, with the support of Jhpiego, residents are encouraged to be part of the solutions.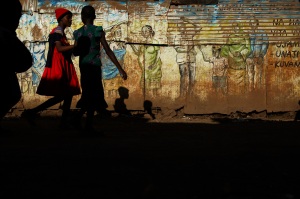 Working in partnership with government officials and faith-based organizations, Otai and Jhpiego's Kenya team have also helped health care providers identify ways to improve overcrowded conditions, obtain needed infection prevention equipment and improve poorly maintained facilities.
But the thrust of Jhpiego's urban health program has been to involve community members in their own health care and support Kenyans to provide services competently and with sensitivity. To that end, Jhpiego initiated a program that trains people living with HIV to serve as peer educators to bridge the gap between provider and patient. More than 250 community health volunteers trained by Jhpiego are serving as go-betweens, and building a solid foundation for a health prevention network.
"They didn't think the community had anything to offer them," Otai says of local health providers. But a recent workshop sponsored by Jhpiego had community members training service providers on sexual violence and assault issues and also working with police. "For me that was really a success. They were able to talk about health and how it should be improved," says Otai.
The child mortality rate in Nairobi's slums is twice that of the city's and also exceeds that of rural Kenya. When a mother of five tells Otai about the difficulty of feeding all of her children, "this is not a story I'm trying to imagine," says Otai, whose empathy belies her street sense. "I have lived it."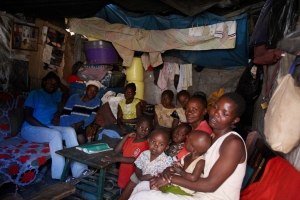 Often the challenge for Otai and other urban health workers is convincing a single mother to protect herself against HIV/AIDS even though a man may pay her more money to have sex without a condom. Or to persuading impoverished parents to keep a daughter in school rather than marry her off because they need the money a dowry would provide.
And yet for the woman or parents who want more for their children, Jane is proof of what's possible. She conveys unbounded optimism and a spirit of success.
"Maybe from growing up there and having succeeded, I have a lot of hope," she says. "I know that something can happen."