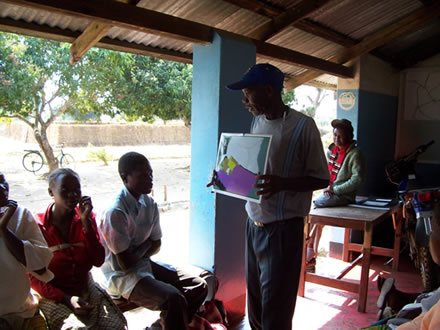 As countries scale up their prevention and control of malaria in pregnancy (MIP) programs, there are critical lessons learned and promising implementation practices to be considered, adopted and applied based on the contextual needs of each country. With support from the President's Malaria Initiative, MCHIP developed a case study—including a desk review and interviews with key stakeholders—to gain a better understanding of MIP programming in Zambia, specifically:
Best practices and strategies that have supported MIP programming success;
Existing bottlenecks in MIP program implementation and how these were addressed; and
Lessons learned that can inform future MIP programming.
The Zambia case study will also contribute to the development of a standardized framework for analyzing country level outcomes, best practices and challenges in MIP implementation. The findings were analyzed according to the MIP Readiness Scale, a framework developed by Jhpiego and USAID's Malaria Action Coalition partners to determine a country's stage of MIP program implementation and guide actions to strengthen MIP prevention and control. The framework examines eight key areas of MIP programming: integration; capacity building; policy; community awareness and involvement; commodities; monitoring and evaluation (M&E); quality assurance; and financing.
Key best practices identified in Zambia include:
Integrating the MIP program into the Ministry of Health (MOH) Reproductive Health Unit;
Rolling out MIP through a focused antenatal care(ANC) package;
Distributing insecticide treated nets (ITNs) through ANC;
Integrating focused ANC/intermittent preventive treatment for pregnant women into the prevention of mother-to-child transmission of HIV in-service curriculum;
Using provincial focused ANC mentorship teams that provide support to facilities through supervision; and
Involving communities through Neighborhood Health Committees and Safe Motherhood Action Groups.
For the Zambia program to meet its target of having these MIP interventions accessible to 80% of pregnant women, the following is recommended:
Seek funding from within MOH/National Malaria Control Centre and/or from partners to hire a MIP program officer;
Revive Malaria Task Force or initiate similar forum;
Develop clear procurement plan for sulfadoxine-pyrimethamine and ITNs to include in the overall MOH procurement plan;
Strengthen existing M&E systems and surveys to better capture key quality MIP data;
Critically review malaria interventions, evaluating impact and cost-effectiveness;
Strengthen comprehensive quality assurance program;
Develop guidelines for the role of community volunteers in concert with the community health workers' strategy being developed by the MOH; and
Design more nuanced malaria information, education and communication materials for the community to address fevers and related expectations for treatment.
Zambia is the first country to document and analyze its MIP implementation best practices and bottlenecks utilizing a combination of the framework and stakeholder interviews. This exercise will not only help the country to analyze its current status of implementation readiness, but also to identify lessons learned that can inform future efforts. Using Zambia's case study as a model and adapting it to specific local situations, other African countries can evaluate their progress in MIP prevention and control and determine next steps in counting malaria out for pregnant women. MCHIP is supporting a similar documentation process in Senegal.