Cameroon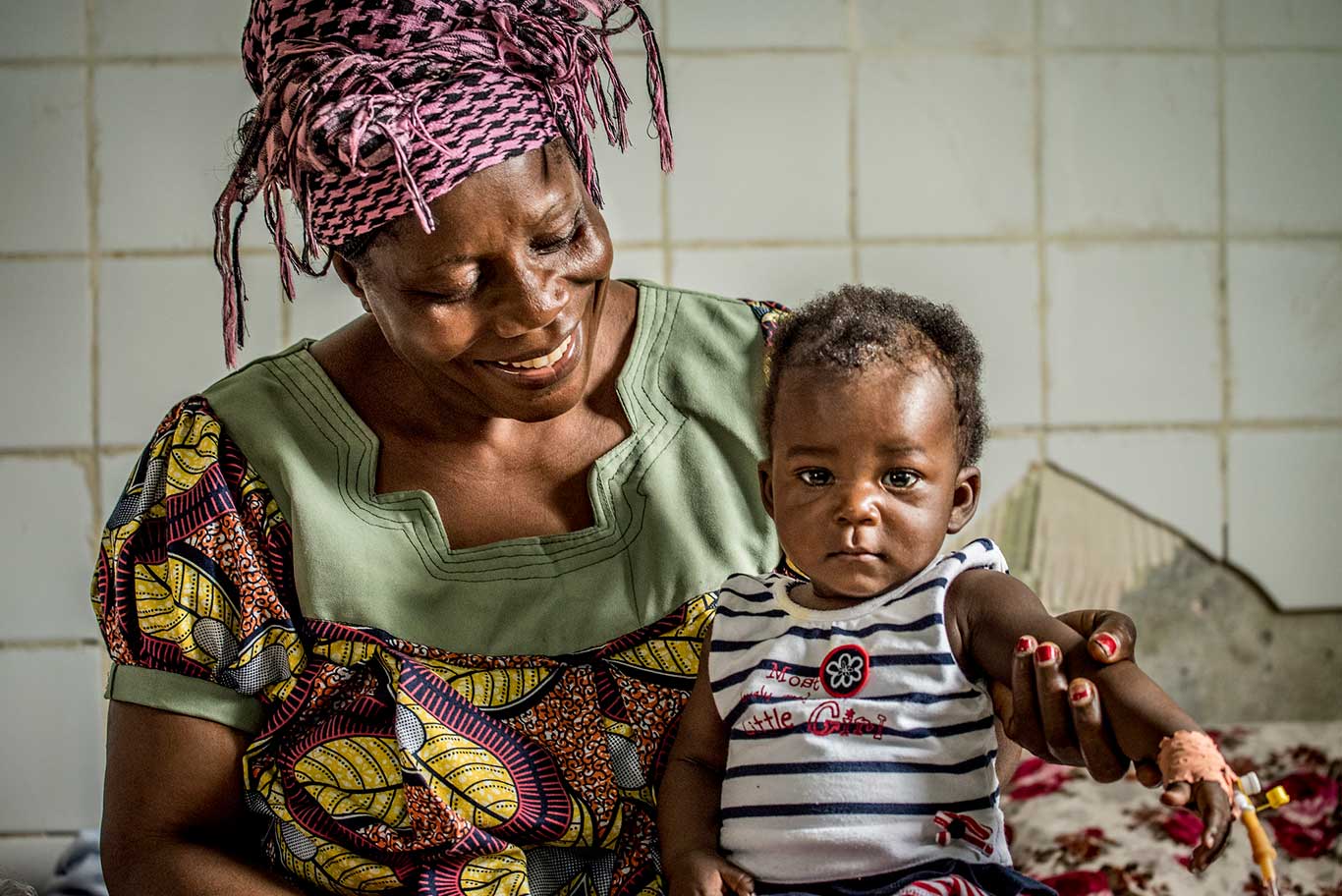 Country Contact
Eric Tchinda, Country Program Manager
Quartier Etoudi
à côté de Fokou Etoudi, Immeuble Ancien ECOBANK
Tel: (+237) 679 74 57 04/699 65 47 69
BP: 11805 Yaoundé, Cameroon
Current and Recent Donors
CDC
ExxonMobil Foundation
Global Fund to Fight AIDS, Tuberculosis and Malaria
Noble Energy
USAID
Helping to keep families healthy and free from malaria since the mid-1980s.
From 2016 to 2022, more than 924,000 confirmed cases of malaria were treated with artemisinin-based therapy, as recommended by the World Health Organization.
From 2016 to 2022, more than 1.3 million pregnant women received intermittent preventive treatment of malaria—thereby receiving protection from the dangers of malaria in pregnancy.
In response to an epidemic of Marburg Virus Disease (MVD) in neighboring Equatorial Guinea, Jhpiego supports the National Public Health Laboratory to identify and purchase laboratory consumables for sample collection, transportation and testing for suspected cases of MVD, as well as providing technical assistance to develop and update MVD investigation forms, standard operating procedures and a preparedness and response plan for viral hemorrhagic fever.

Our Work in Cameroon
Impact Malaria
Impact Malaria is a global project of the U.S. President's Malaria Initiative to reduce mortality and morbidity caused by malaria. Implemented by a consortium of organizations led by PSI, the project is funded by the U.S. Agency for International Development. In close collaboration with the National Malaria Control Program, other sections of the Ministry of Health and various implementing partners, Impact Malaria is designed to improve malaria service delivery via the following objectives: 1) improve the quality of and access to malaria case management and prevention of malaria in pregnancy; 2) improve the quality of and access to other malaria drug-based approaches and provide support to pilot/scale up newer malaria drug-based approaches; and 3) provide global technical leadership, support operational research and advance program learning. To reduce malaria morbidity and mortality in Cameroon, Impact Malaria supports the National Malaria Control Program to improve malaria service delivery in the North and Far North regions.
Reaching Impact, Saturation, and Epidemic Control (RISE)
RISE is a five-year global project funded by the U.S. President's Emergency Plan for AIDS Relief (PEPFAR) and the U.S. Agency for International Development (USAID). RISE works with countries to achieve a shared vision of attaining and maintaining epidemic control, with stronger local partners capable of managing and achieving results through sustainable, self-reliant and resilient health systems by 2024. RISE's contributions to this work will lead to fewer new HIV infections, decreased HIV-related morbidity and mortality, and increased quality of life for people living with HIV. With USAID PEPFAR investments, RISE supports countries to achieve and maintain epidemic control by providing strategic technical assistance and direct service delivery to improve HIV prevention, case finding, treatment programming, and viral load suppression. The primary objectives of the RISE project are to: 1) attain and maintain HIV epidemic control among at-risk adult men, women and priority populations; 2) attain and maintain HIV epidemic control among key populations; 3) strengthen health systems including improved program management, health information systems, human resources for health and financial systems to ensure attainment and maintenance of epidemic control; and 4) support the transition of direct funding and implementation to capable local partners to meet the PEPFAR goal of 70% of funding to local partners by 2020. The project is led by Jhpiego with the following partners: ICAP at Columbia University, Management Sciences for Health, Anova, BAO Systems, Johns Hopkins University Center for Public Health and Human Rights, and Mann Global Health. RISE is currently active in several countries, including Cameroon.
In Cameroon, RISE provides technical support in global health security and universal health care (UHC). For the first, RISE through Jhpiego and subcontractor MSH is: 1) conducting a national AIDS spending assessment to estimate resources and expenditures needed for HIV prevention, care and treatment for 2021 and 2022; 2) providing technical and logistical support to the National AIDS Control Committee to implement an HIV sentinel surveillance study among pregnant women in all 10 regions; 3) developing a costed strategic plan for the Global Fund Country Coordinating Mechanism (CCM); 4) developing an advocacy and communication plan for the CCM; and 5) evaluating the contribution of the state in the response to four diseases (HIV/AIDS, TB, malaria and COVID-19). In the second area, RISE through MSH is: 1) providing technical assistance to the Ministry of Public Health and UHC technical working group to operationalize regional communication, advocacy and sensitization plans to drive enrollment for Phase 1 of Cameroon's UHC efforts; and 2) providing technical assistance to the Ministry to strengthen UHC stakeholder coordination and collaboration at national and regional levels.
Enhancing Global Health Security: Expanding Efforts and Strategies to Protect and Improve Public Health Globally
Funded by the U.S. Centers for Disease Control and Prevention (CDC), this five-year project builds upon activities funded by CDC to support Global Health Security through implementation of programs and activities that focus on protecting and improving health globally through partnerships with Ministries of Health and other institutions. With an initial emphasis on addressing the COVID-19 pandemic, the project is supporting countries—including Cameroon—and carrying out regional work in West Africa and South America to improve prevention of avoidable epidemics, including naturally occurring outbreaks and intentional or accidental releases of dangerous pathogens, and to improve ability to detect threats early and respond rapidly and effectively to public health threats of international concern. The project is being implemented by a Jhpiego-led consortium that includes the Johns Hopkins Center for Health Security, the Johns Hopkins University Applied Physics Laboratory, Global Scientific Solutions for Health, and Johns Hopkins University Center for Global Health. In Cameroon, Jhpiego is leveraging its existing relationships with the National AIDS Control Committee, the Public Health Emergency Operations Center and the Directorate for the Fight against Disease, Epidemics and Pandemics to reinforce national policy and ensure compliance for established Ministry of Health tools for COVID-19 surveillance, infection prevention and control and diagnostics.
Technical Assistance for HIV Differentiated Service Delivery
Jhpiego has been contracted by the Global Fund to Fight AIDS, Tuberculosis and Malaria to support their country programs to leverage evidence, learning and best practices about differentiated service delivery (DSD). DSD refers to a client-centered approach that simplifies and adapts HIV service across the cascade of services to better serve individual needs and reduce unnecessary burdens on the health system. Jhpiego supports standardization of approaches and innovations, and develops country-specific technical briefs, training materials and tools that leverage the latest DSD science and best practices relevant to country contexts. Through this project in Cameroon, Jhpiego is providing technical assistance to: conduct a situational analysis of DSD in Cameroon and produce a report; develop national guidelines, a performance framework and an operational plan for DSD implementation; and update training and mentoring materials for DSD.
The people we serve
Country Contact
Eric Tchinda, Country Program Manager
Quartier Etoudi
à côté de Fokou Etoudi, Immeuble Ancien ECOBANK
Tel: (+237) 679 74 57 04/699 65 47 69
BP: 11805 Yaoundé, Cameroon
Current and Recent Donors
CDC
ExxonMobil Foundation
Global Fund to Fight AIDS, Tuberculosis and Malaria
Noble Energy
USAID