Bangladesh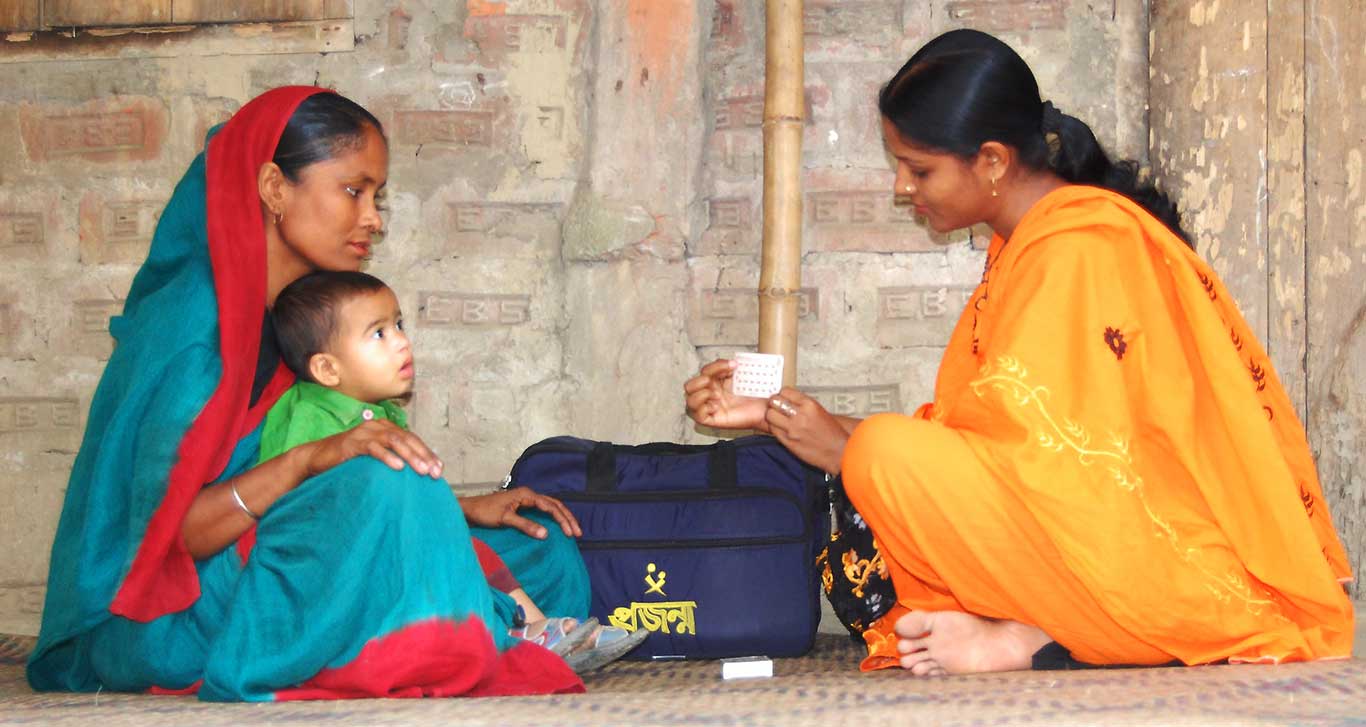 Country Contact
Setara Rahman, Technical Director/Country Lead
Email: Setara.Rahman@jhpiego.org
House #10/B, Apt #3, Road #90
Gulshan-2, North Dhaka 1212
Bangladesh
Current and Recent Donors
Bill & Melinda Gates Foundation
Foreign, Commonwealth & Development Office
Gavi, the Vaccine Alliance
Margaret A. Cargill Philanthropies
UNFPA
USAID
Since 1999, our goal in Bangladesh has been to protect women's health.
With the Obstetrical and Gynecological Society of Bangladesh, Jhpiego introduced use of injectable magnesium sulfate for management of severe pre-eclampsia (a condition of pregnancy characterized by high blood pressure and protein in the urine) and eclampsia (the onset of seizures in a woman with severe pre-eclampsia). This lifesaving intervention has been rolled out to 140 health care facilities.
Jhpiego's advocacy efforts resulted in a national policy—signed by the Directorate Generals of Health Services, Family Planning (FP) and Nursing and Midwifery—addressing district and upazila (subdistrict) health facility managers to ensure that all midwives in antenatal care units and labor rooms are offering FP services and have FP commodities and supplies available.
As a result of support under the MaMoni Health Services Strengthening project, 417 Union Health and Family Welfare Centers are now providing 24/7 delivery services in program areas (as compared to 11 at the beginning of the project)—thereby ensuring many more women deliver babies safely in health care facilities. Additionally, 101 Upazila Health Complexes are now providing midwifery-led care services.
Our Technical Areas in Bangladesh
Our Work in Bangladesh
Achieving Universal Access to Sexual and Reproductive Health in Host Communities of Cox's Bazar
The purpose of this project is to improve maternal, newborn and child health outcomes through increased access to quality postpartum family planning (FP) services. With funding from UNFPA, Jhpiego is enhancing the capacity of six targeted upazilas within Cox's Bazar District, to increase demand for, and supply of, FP information and services within integrated sexual and reproductive health care. The three overarching areas of focus are: 1) strengthening facilities to provide services; 2) building capacity of health care providers; and 3) creating demand for FP, with special attention on ensuring that counseling uses a rights-based approach and highlights the importance of women making choices best suited to their own needs and comfort. The project also supports implementation of a national FP program with quality service delivery of all FP methods at community, union, upazila and district levels in Cox's Bazar. This includes tracking uninterrupted availability of supplies and commodities through an electronic logistics management information system and building the capacity of providers on FP clinical skills. To improve the quality of services in health facilities, this project promotes use of basic infection prevention measures and effective counseling in compliance with clinical standards. To identify eligible couples and promote FP use, the project uses mobilization of community-based skilled birth attendants, existing volunteers, community support groups and local government bodies, as well as establishing an effective referral system from community to the service delivery point with a sustainable mechanism for referral compliance tracking, monitoring and evaluation.
The Gates Immunization Project: Implementation Research for Future Delivery of New Vaccines to Pregnant and Lactating Women
The Johns Hopkins Bloomberg School of Public Health's International Vaccine Access Center and Jhpiego are conducting implementation research to inform the future delivery of new vaccines to pregnant and lactating women, specifically vaccines for respiratory syncytial virus (RSV) and Group B Strep (GBS). The goal of this project is to develop appropriate implementation recommendations, strategies and tools to ensure demand for new RSV and GBS vaccines among pregnant and lactating women in low- and middle-income countries, and to understand the potential impact of introducing a new maternal vaccine on antenatal care services, coverage, quality and equity.
Country Learning Hub Partners for Immunization Equity in Bangladesh
With intensified focus to reach zero dose and under-immunized children and their communities, the Gavi Identify, Reach, Monitor, Measure and Advocate (IRMMA) framework ensures a more systematic approach to reach zero dose children and missed communities. To support this, Gavi is setting up Zero Dose Country Learning Hubs to ensure increased and timely availability of evidence to meet needs prioritized by country-level stakeholders. The goal of this project, funded by Gavi and led by the International Centre for Diarrhoeal Disease Research, Bangladesh (icddr,b), is to establish Zero Dose Country Learning Hubs to provide systematic and robust monitoring and learning for the IRMMA interventions. Jhpiego's role in this project is to support implementation research, contribute to the development of learning products and participate in the development of a monitoring and learning plan.
Community Nutrition and Health Activity
This project, funded by the U.S. Agency for International Development and led by CARE International, seeks to: (1) strengthen community health systems to deliver nutrition, family planning and health services; (2) improve household nutrition and health behaviors; (3) enhance leadership and governance for improved nutrition; and (4) increase the resilience of communities and households to potential nutrition shocks. As a partner on this project, Jhpiego is providing technical leadership to improve the quality of nutrition, family planning and maternal and child health services at community clinics. Jhpiego is also leading health provider capacity building and training, and the integration of quality improvement at the community health system level.
Country Contact
Setara Rahman, Technical Director/Country Lead
Email: Setara.Rahman@jhpiego.org
House #10/B, Apt #3, Road #90
Gulshan-2, North Dhaka 1212
Bangladesh
Current and Recent Donors
Bill & Melinda Gates Foundation
Foreign, Commonwealth & Development Office
Gavi, the Vaccine Alliance
Margaret A. Cargill Philanthropies
UNFPA
USAID