When cases of the coronavirus disease (COVID-19) started showing up in her community, midwife Taslima Akhtar knew that her work could not stop. Despite having little in the name of personal protective equipment (PPE) to keep her safe from infection, she continued to serve the pregnant and laboring women who came seeking care at the Sarail Upazila Health Complex in Brahmanbaria, Bangladesh.
In consultation with the health facility manager, Taslima and her colleagues made cloth masks for protection and soldiered on.
Taslima is among the hundreds of frontline health care workers in Bangladesh who received training from Jhpiego on postpartum family planning (PPFP) services for women in their communities. Prior Jhpiego research in Bangladesh showed that postpartum women often misunderstand return of fertility after childbirth and delay adopting contraception. Some will become pregnant when they did not intend to.
Through Jhpiego's Accelerating Access to Postpartum Family Planning project, health care providers attended refresher training and were able to update their skills on infection prevention with a focus on continuing health services for women and families despite the pandemic.
Although she took precautions, Taslima, the mother of a 2-year-old, contracted COVID-19. Her recovery was hard, spanning over a month. But soon after testing negative, despite feeling weak, she was back at work. The facility was understaffed, so Taslima took on extra work on the general ward, in addition to providing reproductive health services. Taslima was the go-to person for both clients and colleagues.
"My mother wanted me to be someone who serves people. After completing my nursing degree, I studied to become a certified midwife," she says. "Bringing life to the earth is the most joyous feeling. But I have also learned that family planning is necessary to hold that joy in the family," she adds, referring to the unintended pregnancies and unsafe abortions she has witnessed during her years of service.
Spacing pregnancies 2 to 3 years apart can result in safer and healthier mothers and babies. It gives women time to regain their strength and infants time to thrive. Taslima learned the benefits of birth spacing or limiting additional pregnancies for families who already have the desired number of children during Jhpiego's comprehensive 12-day PPFP training.
"I didn't know much about family planning before I received Jhpiego's training. After the training, I realized how important it is to talk about it. I now start counseling pregnant women right from the antenatal period."

Midwife Taslima

During the counseling, she informs them about methods that are available immediately after birth. The pandemic has stalled the momentum in family planning education and counseling that Taslima and her colleagues worked hard to gain.
"It is certainly true that because of COVID-19, family planning counseling and services got disrupted," she says. "There has been a shortage of workforce and supply of family planning commodities. Mothers also feel threatened to come to the health facilities due to the fear of COVID-19. We have struggled to provide sufficient support and counseling."
With this fear of the virus, postpartum women are even less likely to return for a separate visit to obtain contraception. Opportunities to integrate PPFP services during childbirth or immunization visits are all the more critical.
As the pandemic surged, Jhpiego recognized the dire need by providers like Taslima for safety equipment like masks. With support from our donors, Jhpiego recalibrated its technical assistance to equip her facility and others with PPE.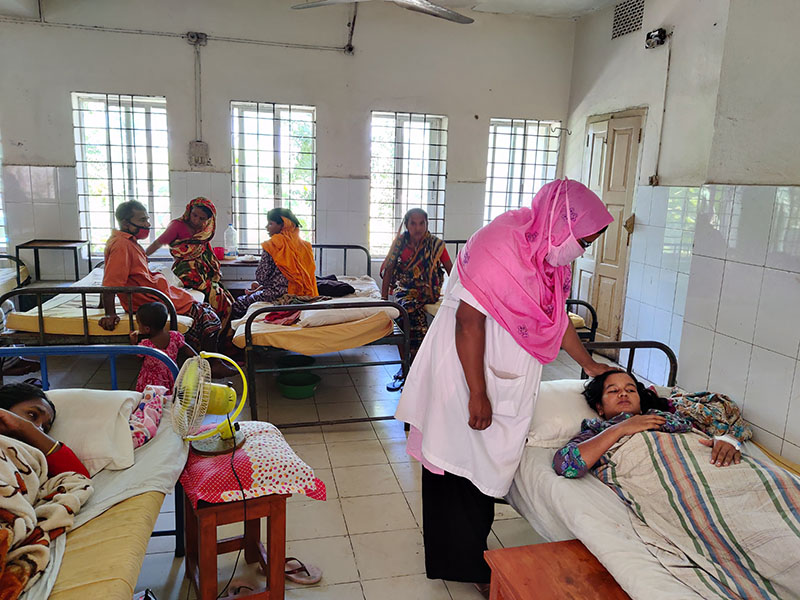 "When the pandemic broke out, we were in a dilemma of what do and how to do it! We cannot say 'no' to the mothers and patients who are coming," says Dr. Mohammed Noman Mia, Upazila Health and Family Planning Officer and the facility in-charge at Sarail Upazila Health Complex, Brahmanbaria. "We got safety equipment from Jhpiego. Those were lifesaving for us and were really good-quality products."
With the PPE situation much improved, Taslima hopes that the adverse impact of the pandemic on family planning can soon be reversed. Clients like Nahida Begum motivate her to continue doing her lifesaving work even during a pandemic. The family planning method that the young mother chose had eased her mind as she recovered from pregnancy, labor and delivery.
"We should think about a gap before having the second child as my body is not ready," Nahida says. "I am only 22-years-old and my husband is not financially prepared for a second child. I was anxious about all these problems but not sure how to stay safe from an unwanted pregnancy. I thank Taslima and Mahfuza (a Jhpiego-trained midwife and Taslima's colleague) who made me realize what I should do next."

Tajrian Chowdhury is the communications specialist in the Jhpiego Bangladesh office. Indrani Kashyap, the communications specialist for Asia Region, also contributed to the story.
Jhpiego believes that when women are healthy, families and communities are strong. We won't rest until all women and their families—no matter where they live—can access the health care they need to pursue happy and productive lives.
Donate now!