Ensuring access to quality health care, across the life course, for all
Half of the world's population lacks access to essential health services, with 100 million people pushed into poverty annually because they must pay for health care out of their own pockets. Strong and effective primary health care (PHC) can address 80% of people's health needs across their lifetime.
Primary health care "addresses the main health problems in the community, providing promotive, preventive, curative and rehabilitative services accordingly." Efforts aim to ensure that everyone everywhere is able to enjoy the highest attainable standard of health, reinforcing the foundational position of PHC in achieving universal health coverage and the health-related Sustainable Development Goals.
Countries we support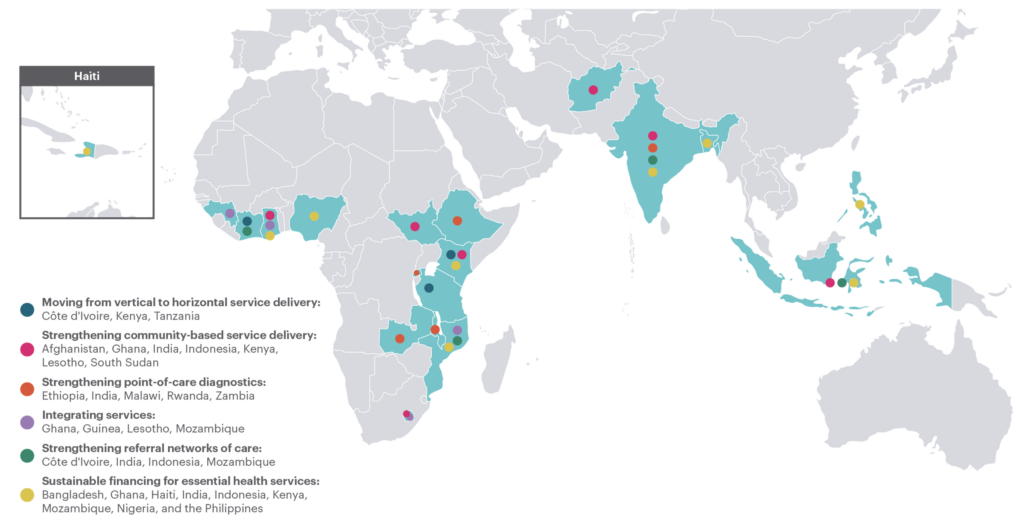 How we make an impact
Jhpiego believes that strengthening PHC is the most inclusive, effective and efficient approach to enhance people's physical and mental health and well-being, and that strong PHC systems are fundamental to achieve universal health coverage.
Jhpiego's PHC programs are grounded in five core principles, prioritizing health services that are:
Leveraging innovative solutions, including digital health solutions, to ensure that each client is provided care that is coordinated across different levels, components and networks of providers in the health system (including between the private and public sector).
Introducing mechanisms and systems to ensure continuity of care for the duration of a health condition or life stage, including solutions for tracking clients and helping them navigate through the health system.
Moving beyond vertical and siloed service delivery approaches to ensure care across promotive, preventive, and curative services for all stages of life, with a focus on ensuring integrated care that is tailored to meet clients' evolving health needs and aspirations.
Utilizing human-centered design methodologies to place the client at the center of health care decision-making for what services they receive and where, when, and how they receive them; aligning service delivery models with client needs and wants. This includes decentralization of care, including mechanisms to bring care closer to clients and communities through innovative solutions such as point-of-care diagnostics, self-care, differentiated models of care, and community services.
Building social accountability structures and increasing community ownership and engagement in the planning, prioritization, and delivery of PHC services in the spirit of reducing the asymmetry of power between the health system (policy makers and providers) and health care clients/users.
At The Center of Primary Health Care
As they work in schools and facilities, nurses like Anipher are ushering in a new era of wellness and disease prevention by providing client-centered, community-owned care.