Kenya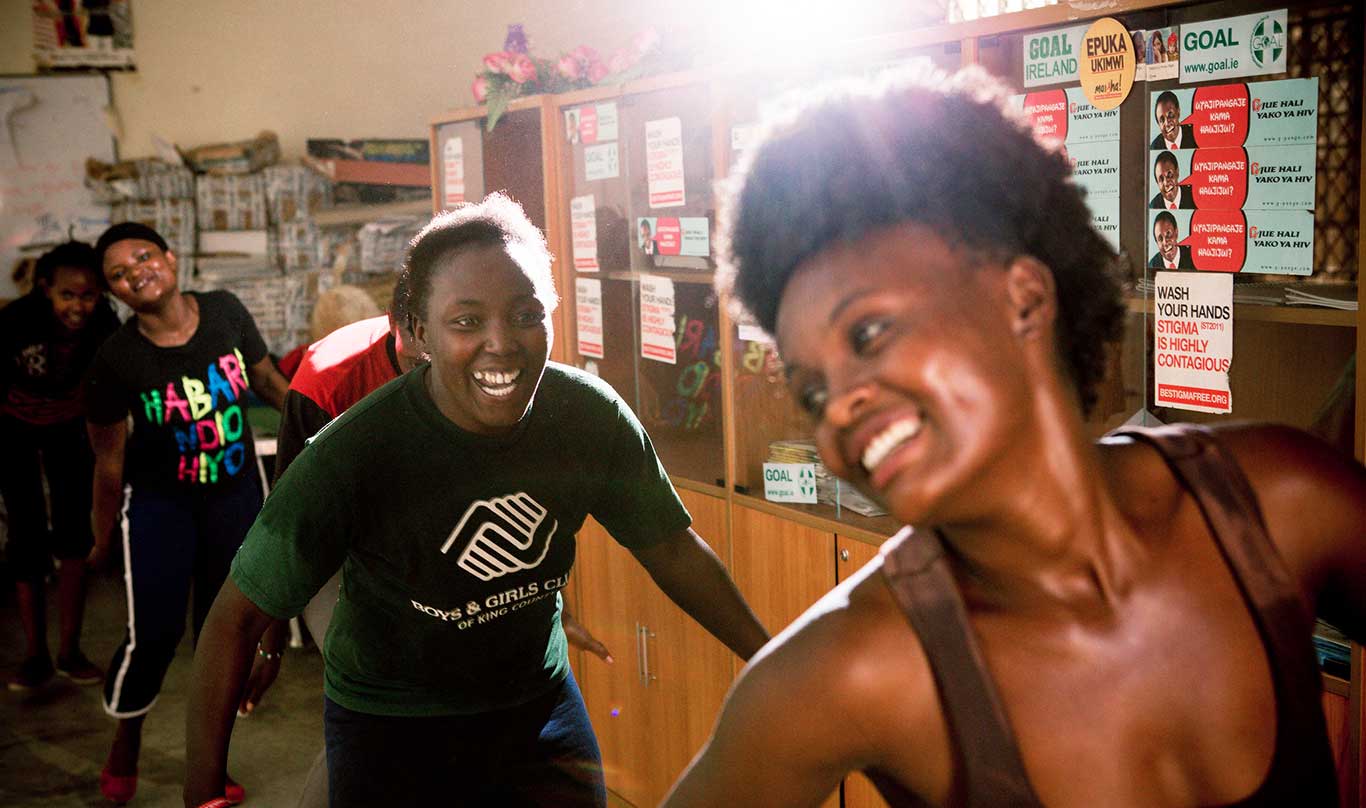 Country Contact
Stephen Mutwiwa, Country Director
Tel. 254 722 134 000
14 Riverside (Off Riverside Dr.)
Arlington Block, 2nd Floor
P.O. Box 66119-00800
Nairobi, Kenya
Current and Recent Donors
Bill & Melinda Gates Foundation
Bill & Melinda Gates Institute for Population and Reproductive Health
CDC
Children's Investment Fund Foundation
Comic Relief
Medtronics
Merck for Mothers
Public Health Institute
TJ Mather Fidelity Charitable
TOMS Shoes
UNFPA
USAID
World Bank
World Health Organization
Nearly 40 years ago, Jhpiego opened its first country office here.
More than 4.7 million Kenyans know their HIV status because of Jhpiego-supported HIV counseling and testing services.
As a result of Jhpiego's support to family planning services, more than 1.4 million first-time users opted to start a modern contraceptive method.
Over 2.5 million antenatal care visits by pregnant women took place at Jhpiego-supported health care facilities, and 1.4 million deliveries were assisted by a skilled birth attendant.
Jhpiego has supported the enrollment of more than 33,000 clients on HIV pre-exposure prophylaxis (i.e., when people at high risk for HIV take HIV medicines daily to lower their chances of getting infected). These clients include: female sex workers, men who have sex with men, sero-discordant couples, adolescent girls and young women, people who inject drugs and other groups.
Our Work in Kenya
Fighting COVID-19 Under the Reaching Impact, Saturation, and Epidemic Control (RISE) Project
With funding from the U.S. Agency for International Development (USAID), RISE is working in select countries, including Kenya, to address the COVID-19 pandemic by supporting the safe and effective use of donated mechanical ventilators. Informed by stakeholder consultation and facility level assessments, the project will support USAID and ministries of health to guide the placement of donated ventilators to selected health facilities, and promote safe and appropriate use of the ventilators. Upon delivery and placement of the donated ventilators, RISE will provide training and targeted technical assistance to providers at supported sites focused on advanced and critical care for severe COVID-19, and quantification of supplies, human resources and other health system needs related to safe ventilator use.
RISE is a five-year global project—funded by the U.S. President's Emergency Plan for AIDS Relief (PEPFAR) and USAID—that works with countries to achieve a shared vision of attaining and maintaining epidemic control, with stronger local partners capable of managing and achieving results through sustainable, self-reliant and resilient health systems. The project is led by Jhpiego with the following partners: ICAP at Columbia University, Management Sciences for Health, Anova, BAO Systems, Johns Hopkins University Center for Public Health and Human Rights, and Mann Global Health. For the COVID-19 ventilator technical assistance effort, RISE is also collaborating with the University of California San Francisco, World Federation of Societies of Anesthesiologists (via the GH STAR project), FHI 360 (via the EpiC Project) and Johns Hopkins University emergency medicine and critical care staff.
Afya Kamilisha
This five-year project, formally called HIV Service Delivery Support Activity, is funded by the U.S. Agency for International Development. The project is designed to increase access and coverage for HIV prevention, care and treatment services toward achieving the UNAIDS 90-90-90 targets in six counties in Kenya. Anticipated results are: 1) increased availability and use of combination prevention services for priority populations; 2) increased use of targeted HIV testing services; 3) improved linkage to treatment for individuals newly testing positive for HIV; 4) increased uptake of and adherence to quality HIV treatment services; 5) increased long-term follow-up of patients receiving care and treatment services, including laboratory and logistics support; and 6) strengthened institutional capacity and accountability for the management, facility and county HIV response.
Afya Halisi
Afya Halisi (or "Real Health" in Swahili) is a five-year program funded by the U.S. Agency for International Development to support family planning, reproductive, maternal, neonatal, child and adolescent health (FP/RMNCAH) services in four counties in Kenya. The purpose of Afya Halisi is to increase the use of high-quality, county-led FP/RMNCAH, nutrition and water, sanitation and hygiene (WASH) services. Working hand in hand with counterparts at all levels, the Afya Halisi program, led by Jhpiego with local implementing partners and Population Services Kenya, will transfer the skills needed to increase: 1) the availability and quality of FP/RMNCAH, nutrition and WASH services; 2) care-seeking and health-promoting behavior for FP/RMNCAH, nutrition and WASH; and 3) Ministry of Health stewardship of key health program service delivery.
Impact Malaria
Impact Malaria is a global project of the U.S. President's Malaria Initiative to reduce mortality and morbidity caused by malaria. Implemented by a consortium of organizations led by PSI, the project is led in Kenya by Jhpiego and funded by the U.S. Agency for International Development. In close collaboration with Kenya's National Malaria Control Program, other sections of the Ministry of Health and various implementing partners, Impact Malaria is designed to improve malaria service delivery via the following objectives: 1) improve the quality of and access to malaria case management and prevention of malaria in pregnancy; 2) improve the quality of and access to other malaria drug-based approaches and provide support to pilot/scale up newer malaria drug-based approaches; and 3) provide global technical leadership, support operational research and advance program learning.
Supporting the Gavi Country Programs Team and Kenya's National Vaccine and Immunization Program
With funding from Gavi, the Vaccine Alliance, Jhpiego is providing support to the Gavi Country Programs Team and Kenya's National Vaccine and Immunization Program (NVIP) in support of the country's Full Portfolio Planning Process (FPP). As the Government of Kenya begins planning for new vaccine support and health systems strengthening for 2021–2024, the FPP will ensure effective communication among stakeholders and documentation of best practices for vaccine delivery. For the project, Jhpiego is providing its technical acumen and leveraging its strong relationships with the Ministry of Health and NVIP to develop the FPP work plan, gather key documents and evidence to inform the program support rationale, facilitate online document sharing and collaboration to advance the FPP remotely during COVID-19, and support the Ministry of Health to respond to independent review committee clarifications. As a result of these interventions, the government of Kenya and the Ministry of Health will be better prepared and motivated to deliver responsive immunization services to all segments of the Kenyan population.
The Challenge Initiative
The Challenge Initiative (TCI), which is funded by the Bill & Melinda Gates Institute for Population and Reproductive Health, focuses on scaling up the success in increasing family planning (FP) access under the Tupange Urban Reproductive Health Initiative. TCI aims to assist Kenya, Uganda and Tanzania to scale up FP services to reach additional women and girls over the next three to five years. TCI is breaking ground in developing a technical assistance model that incentivizes governments and local and global donors to buy into the most successful and high-impact FP interventions, rapidly adapt these interventions to the local context and support counties and districts to efficiently scale them up through targeted technical assistance. For more information, visit here: https://tciurbanhealth.org.
Bridge to Scale/Jilinde: A Model to Scale Up Integrated Delivery of Oral Pre-Exposure Prophylaxis
The Bridge to Scale Project is funded by the Bill & Melinda Gates Foundation and works to scale up oral pre-exposure prophylaxis (PrEP) for individuals at high risk for HIV, specifically key and vulnerable populations. These key and vulnerable populations are primarily female sex workers, men who have sex with men, and adolescent girls and young women. This project is the first of its kind globally to move from evidence generated from oral PrEP research into full-scale implementation.
Post-Pregnancy Family Planning Choices: Expanding the Immediate Post-Pregnancy Method Mix in Kenya and Indonesia
With support from the Bill & Melinda Gates Foundation and Merck for Mothers, Jhpiego is conducting operations research in Kenya and Indonesia to examine the feasibility and acceptability of including contraceptive implants as part of immediate postpartum family planning options. The project is generating necessary evidence and programmatic lessons for provision of immediate postpartum implants in low-resource settings.
Technical Assistance to Provide High-Quality Voluntary Medical Male Circumcision Services to Programs Supported by the President's Emergency Plan for AIDS Relief
Under this multi-country award from the U.S. Centers for Disease Control and Prevention, Jhpiego provides technical assistance as needed to guarantee the safety, effectiveness, efficiency, accountability and client/provider satisfaction in implementation and scale-up of voluntary medical male circumcision. The project targets 14 countries that are priorities of the President's Emergency Plan for AIDS Relief, including Kenya.
Advance Family Planning
Advance Family Planning (AFP) is an advocacy initiative funded by the Bill & Melinda Gates Institute for Population and Reproductive Health. The focus of AFP is on increasing the financial investment and political commitment needed to ensure access to high-quality, voluntary family planning. The project's advocacy efforts are focused on the discrete policy and funding decisions critical to advancing family planning use. For more information, visit here: https://www.advancefamilyplanning.org/.
Performance Management and Action Project (PMA)
This four-year project, funded by the Bill & Melinda Gates Foundation, builds on the PMA2020 project, which used innovative mobile technology to support low-cost, rapid-turnaround surveys monitoring key health and development indicators. PMA is enhancing this survey platform to generate high-quality data and ensure that governments, donors, managers and advocates use this data to make decisions regarding family planning programs. In addition to scaling up the survey platform for more widespread use, this project supports expanding it to include additional technical areas. Co-led by Jhpiego and the Bill & Melinda Gates Institute for Population and Reproductive Health, this project is operational in several African and Asian countries, including Kenya.
Smiles for Mothers: Making Deliveries Safer
With support from Merck for Mothers, a Jhpiego-led consortium is working to reduce excessive bleeding after birth—also known as postpartum hemorrhage (PPH). The consortium, consisting of Jhpiego, McKinsey and Health Strat, seeks to accelerate the reduction of PPH in Kenya through strategies and innovations across the health system. These interventions are designed to increase access to uterotonics drugs, which reduce PPH, as well as to introduce heat-stable carbetocin as a uterotonic option that was recently added to the World Health Organization's Essential Medicines List. The consortium works with the government of Kenya at the national and county levels to adapt the World Health Organization's recommendations on uterotonics and develop costed roadmaps for this effort. To guide successful implementation of these roadmaps, the consortium is conducting service delivery strengthening, supply chain strengthening, policy and advocacy, innovative financing and awareness creation/demand generation.
Establishing The Advocacy and Accountability Collaborative
The Advocacy and Accountability Collaborative (TAAC) is intended to serve as a facilitation mechanism for sustainable advocacy approaches to drive progress toward universal access to family planning. Ultimately, TAAC seeks to improve government accountability for family planning and maternal health commodities security through improved national policies, management systems and logistics. Under this 18-month project, financed by the United Nations Population Fund, Jhpiego is establishing TAAC "hubs" in Burkina Faso and Kenya through which local civil society organizations can effectively promote policy implementation and country self-reliance in the areas of family planning, maternal health and reproductive health. Jhpiego is working to build the capacity of civil society organizations in the two countries, foster local collaboration and recruit and mentor local champions to sustain TAAC efforts. In addition, Jhpiego is refining the TAAC model so that it can be scaled up in additional countries.
The people we serve
Country Contact
Stephen Mutwiwa, Country Director
Tel. 254 722 134 000
14 Riverside (Off Riverside Dr.)
Arlington Block, 2nd Floor
P.O. Box 66119-00800
Nairobi, Kenya
Current and Recent Donors
Bill & Melinda Gates Foundation
Bill & Melinda Gates Institute for Population and Reproductive Health
CDC
Children's Investment Fund Foundation
Comic Relief
Medtronics
Merck for Mothers
Public Health Institute
TJ Mather Fidelity Charitable
TOMS Shoes
UNFPA
USAID
World Bank
World Health Organization