Kenya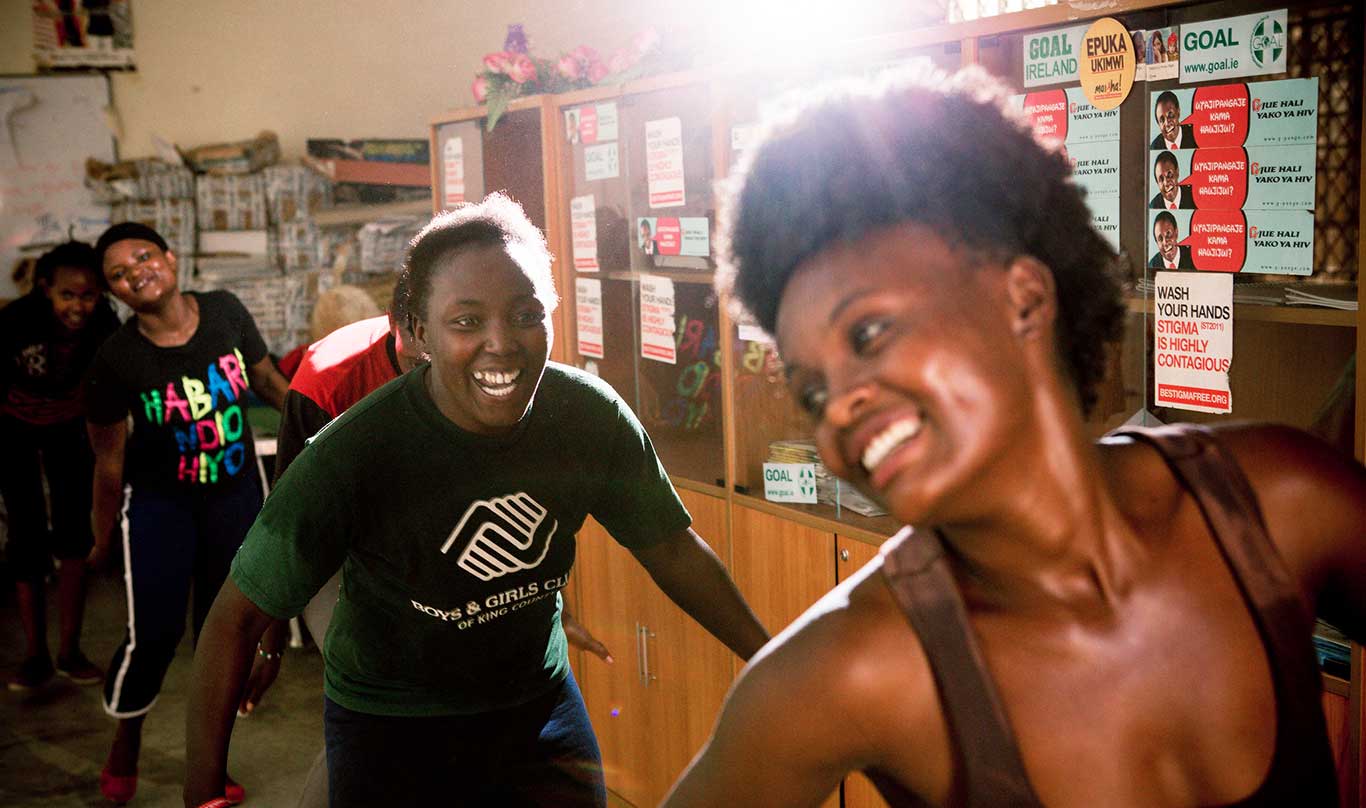 Country Contact
Stephen Mutwiwa, Country Director
Tel. 254 722 134 000
14 Riverside (Off Riverside Dr.)
Arlington Block, 2nd Floor
P.O. Box 66119-00800
Nairobi, Kenya
Current and Recent Donors
Bayer Foundation
Bill & Melinda Gates Foundation
Bill & Melinda Gates Institute for Population and Reproductive Health
Comic Relief
Gavi, the Vaccine Alliance
Johnson & Johnson
Medtronics
Merck for Mothers
Public Health Institute
TJ Mather Fidelity Charitable
TOMS Shoes
UNFPA
Unitaid
University of New Mexico
USAID
World Bank
World Health Organization
Nearly 40 years ago, Jhpiego opened its first country office here.
More than 4.8 million Kenyans know their HIV status because of Jhpiego-supported HIV counseling and testing services.
As a result of Jhpiego's support to family planning services, more than 1.8 million first-time users opted to start a modern contraceptive method.
Over 2.5 million antenatal care visits by pregnant women took place at Jhpiego-supported health care facilities, and 1.4 million deliveries were assisted by a skilled birth attendant.
Through Jhpiego's projects, more than 5 million individuals in Kenya received HIV counseling and testing, newly identifying 55,060 people living with HIV and linking 52,575 of them to care and treatment. Jhpiego has supported the enrollment of more than 45,000 clients on HIV pre-exposure prophylaxis (i.e., when people at high risk for HIV take HIV medicines daily to lower their chances of getting infected).
Our Work in Kenya
Accelerating Postpartum Family Planning Integration into Primary Health Care in Kenya
Over the course of this five-year project, funded by the Bill & Melinda Gates Foundation, Jhpiego is working to scale up quality postpartum and post-abortion family planning services and increase uptake of contraceptive methods among postpartum and post-abortion women during the first year post-pregnancy at public primary health care centers (PHCs). In addition, Jhpiego is exploring and identifying specific interventions for private health facilities at the level of PHCs (or above) in select counties (Isiolo, Kakamega, Kwale and Makueni). In the final two years of the project, Jhpiego will foster the scale-up of postpartum and post-abortion family planning services by partnering with a local indigenous organization, Kisumu Medical and Education Trust, to lead this investment.
Accelerating Measurable Progress and Leveraging Investments for Postpartum Hemorrhage Impact (AMPLI-PPHI)
This multi-country project is catalyzing the introduction and adoption pathways for quality-assured drugs to treat postpartum hemorrhage (i.e., heat-stable carbetocin, tranexamic acid and misoprostol) through engagement and coordination with country governments and key stakeholders. The project aims to reduce maternal mortality and morbidity by making sure the right drug is in the right place at the right time for the right indication. Funded by Unitaid, AMPLI-PPHI is led by Jhpiego and supported by consortium partners PATH and the International Federation of Gynaecology and Obstetrics (FIGO). In addition to operating in four target countries (the Democratic Republic of Congo, Guinea, Kenya and India), an additional 13 other influence countries are benefitting from country and learning exchanges as well as from the sharing of project learning, resources and tools. For more information, please visit the project website.
Antenatal Care/Postnatal Care (ANC/PNC) Innovations and Implementation Research Platform (ANC/PNC Collective)
With funding from the Bill & Melinda Gates Foundation, Jhpiego is developing an ANC/PNC innovations and implementation research platform. This initiative is designed to strengthen ANC/PNC service delivery through implementation research in Ethiopia, Kenya, Malawi and Mali, and to disseminate learnings globally. The primary expected outcomes include earlier entry by pregnant women into ANC/PNC care; increased continuity of care; improved quality of care; and an improved understanding of key risk factors, vulnerabilities and morbidity/mortality outcomes. The research collective unifies multiple teams under a single collective, comprised of the following partners: Jhpiego, Harvard School of Public Health, Child Health and Mortality Prevention Surveillance (CHAMPS), RTI International, Christian Medical College Vellore, DAI, the World Health Organization, CARE/India and the University of Manitoba. As part of this collective, Jhpiego is: 1) conducting implementation research on innovative service delivery models and tools in three countries; 2) serving as technical advocacy lead by synthesizing data and findings across the collective to inform an evidence package; and 3) providing technical assistance, as needed, as collective partners conceptualize, design, implement and test new service delivery models. Jhpiego is also partnering with the Johns Hopkins School of Public Health Biostatistics Center and Department of International Health for support with statistical analysis, data management and implementation research design.
The Challenge Initiative (TCI) NextGen
As the implementing partner responsible for leading TCI's East Africa Accelerator Hub, Jhpiego provides technical assistance to local governments in Kenya, Tanzania and Uganda as they implement interventions in family planning and adolescent and youth sexual and reproductive health. The goal of TCI NextGen, which builds on the previous TCI initiative, is to increase access to modern contraception for urban poor women. This project is funded by the Bill & Melinda Gates Institute for Population and Reproductive Health.
The Gates Immunization Project: Implementation Research for Future Delivery of New Vaccines to Pregnant and Lactating Women
The Johns Hopkins Bloomberg School of Public Health's International Vaccine Access Center and Jhpiego are conducting implementation research to inform the future delivery of new vaccines to pregnant and lactating women, specifically vaccines for respiratory syncytial virus (RSV) and Group B Strep (GBS). The goal of this project is to develop appropriate implementation recommendations, strategies and tools to ensure demand for new RSV and GBS vaccines among pregnant and lactating women in low- and middle-income countries, and to understand the potential impact of introducing a new maternal vaccine on antenatal care services, coverage, quality and equity.
Impact Malaria
Impact Malaria is a global project of the U.S. President's Malaria Initiative to reduce mortality and morbidity caused by malaria. Implemented by a consortium of organizations led by PSI, the project is led in Kenya by Jhpiego and funded by the U.S. Agency for International Development. In close collaboration with Kenya's National Malaria Control Program, other sections of the Ministry of Health and various implementing partners, Impact Malaria is designed to improve malaria service delivery via the following objectives: 1) improve the quality of and access to malaria case management and prevention of malaria in pregnancy; 2) improve the quality of and access to other malaria drug-based approaches and provide support to pilot/scale up newer malaria drug-based approaches; and 3) provide global technical leadership, support operational research and advance program learning.
Misingi Imara Project
This three-year project, funded by the U.S. Agency for International Development, is led by the Kenya Medical Training College. The project seeks to strengthen human resources for health, quality management and community health systems at national and county levels in Kenya to improve equity, resource optimization and quality of essential health services. Jhpiego's role as a subcontractor is to improve quality management systems by supporting the Ministry of Health and focus counties to develop a sustainable quality management program by improving skills and strengthening institutional capacity for quality planning, assurance and improvement.
Obstetric Fistula
With funding from Johnson & Johnson, Jhpiego is leveraging the lessons learned and strong partnerships developed under a previous project, the Obstetric Safe Surgery project, to build surgical capacity to treat obstetric fistula, establish a Fistula Center and help improve access to obstetric fistula services in Makueni County, Kenya. This project also fosters safe, high-quality respectful care, and ensures successful rehabilitation and reintegration following repair.
Performance Monitoring for Action Project (PMA)
This four-year project, funded by the Bill & Melinda Gates Foundation, builds on the PMA2020 project, which used innovative mobile technology to support low-cost, rapid-turnaround surveys monitoring key health and development indicators. PMA is enhancing this survey platform to generate high-quality data and ensure that governments, donors, managers and advocates use this data to make decisions regarding family planning programs. In addition to scaling up the survey platform for more widespread use, this project supports expanding it to include additional technical areas. Co-led by Jhpiego and the Bill & Melinda Gates Institute for Population and Reproductive Health, this project is operational in several African and Asian countries, including Kenya.
Study on Delivering HIV Oral Pre-Exposure Prophylaxis through Private Pharmacies
Jhpiego is implementing a four-year research project, funded by the Bill & Melinda Gates Foundation, to evaluate the effectiveness of delivering HIV oral pre-exposure prophylaxis (PrEP) through private, brick-and-mortar pharmacies. Private retail pharmacies are more ubiquitous and feature longer opening hours, shorter wait times and greater client privacy than public health care facilities. Jhpiego is collaborating with research partners to implement, refine and assess: 1) a range of approaches related to client identification and PrEP service delivery; 2) the performance of HIV self-testing to support pharmacy PrEP delivery; and 3) the impact of various cost-sharing models on PrEP uptake. The partners are: the Fred Hutchinson Cancer Research Center, Jomo Kenyatta University of Agriculture and Technology/Partners in Health Research and Development, Kenya Medical Research Institute and the University of Washington. Ultimately, this work will contribute an evidence base for policy advocacy that can bring this private pharmacy approach to scale within Kenya and globally.
Virtual Care Model for HIV Oral Pre-Exposure Prophylaxis
With funding from the Bill & Melinda Gates Foundation, Jhpiego is developing a virtual care model that allows clients to access HIV pre-exposure prophylaxis (PrEP) through an e-pharmacy. Jhpiego is collaborating with partners to design and evaluate an end-to-end e-pharmacy PrEP delivery model that provides clients a convenient, seamless, empathetic and discreet experience of supported self-care through a single, trusted point of contact. Partners in this initiative include: MYDAWA (an e-pharmacy in Kenya that provides home delivery of products purchased online), the University of Washington, the Fred Hutchinson Cancer Research Center, Jomo Kenyatta University of Agriculture and Technology/Partners in Health Research and Development, and Audere (a non-profit software firm that develops diagnostic aids for self-testing of malaria, COVID-19 and influenza). Jhpiego is providing implementation support to MYDAWA on the provision of PrEP services package through MYDAWA's online platform, as well as leading advocacy efforts to ensure alignment with government policy and to translate research findings in support of policy changes to de-medicalize PrEP delivery.
The people we serve
Country Contact
Stephen Mutwiwa, Country Director
Tel. 254 722 134 000
14 Riverside (Off Riverside Dr.)
Arlington Block, 2nd Floor
P.O. Box 66119-00800
Nairobi, Kenya
Current and Recent Donors
Bayer Foundation
Bill & Melinda Gates Foundation
Bill & Melinda Gates Institute for Population and Reproductive Health
Comic Relief
Gavi, the Vaccine Alliance
Johnson & Johnson
Medtronics
Merck for Mothers
Public Health Institute
TJ Mather Fidelity Charitable
TOMS Shoes
UNFPA
Unitaid
University of New Mexico
USAID
World Bank
World Health Organization