On World AIDS Day (Dec. 1), we celebrated "undetectable equals untransmittable" and the inspiring efforts of communities to end the epidemic.
Maragua, Kenya — For years, she hid the antiretrovirals (ARVs) under the bed, worried that her husband would leave if he discovered her secret and her community would shun her. For years, she lived a lie, ashamed that she had passed HIV to her baby daughter. After both mother and child had tested positive for HIV, Beatrice Wambui remained in denial for a long time. She was remiss in taking her ARVs. Her health suffered.
When her husband Anthony Gitau eventually found the pills, Beatrice could no longer hide her condition. "I am HIV-positive," she told him.
Immediately, Anthony went to the health facility to check his HIV status. The HIV-testing counselor there was more curious than respectful: "Is this your wife, or someone you picked from the streets?" Yes, Beatrice was his wife, Anthony replied, and they had lived together for 7 years in central Kenya's Murang'a County.
Anthony tested negative, much to Beatrice's relief. But she offered to leave the marriage nonetheless, fearing the stigma that couples often face if a partner has been diagnosed with HIV.
Anthony reassured her, saying, "We cannot separate because of a disease."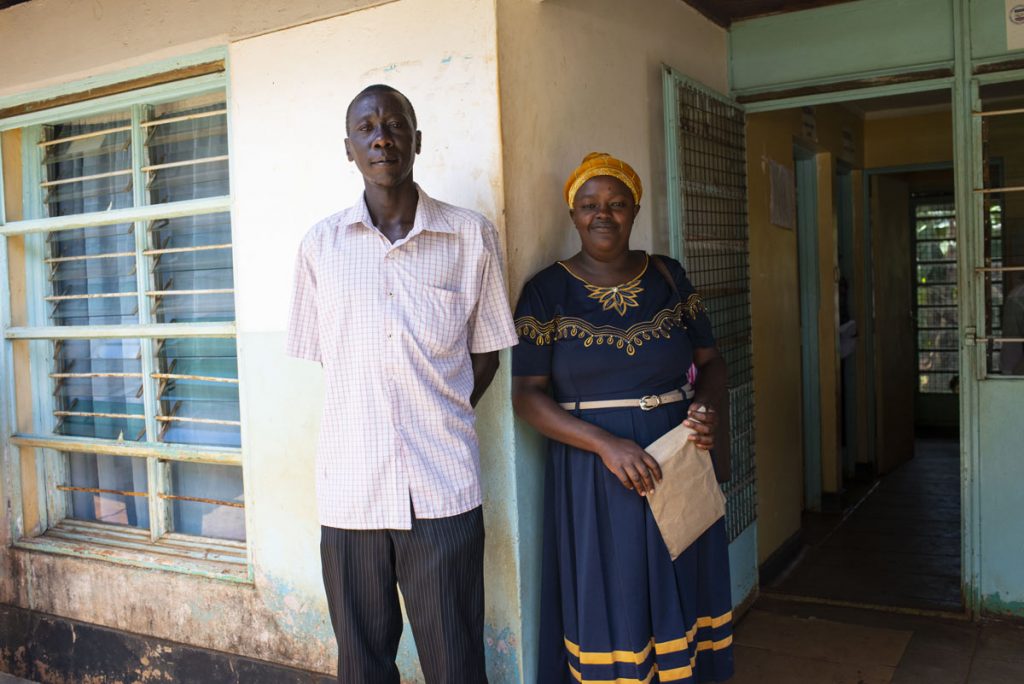 Today, Beatrice, now 39, calmly recounts her early years of living with HIV. With Anthony's support, she began taking her antiretrovirals consistently. She redirected her energy—much improved—to getting the level of virus in her blood down to a point where she could not transmit it.
That day arrived. As her husband had told her, HIV was no reason to separate. Anthony felt assured he would not be infected. The couple even decided to have another child together after Beatrice achieved viral suppression and remained committed to treatment as prescribed. Their son was born free of HIV. Their daughter takes ARVs to stay healthy, just like her mother.
A Strategy for Triumphing over HIV
Beatrice's personal triumph over HIV clearly shows why advocates, researchers and community leaders are working to promote the global Prevention Access Campaign, "Undetectable = Untransmittable."
"U=U is an evidence-based campaign born of solid research," says Jhpiego's Silvia Kelbert, MD, a senior technical advisor for HIV/AIDS. "By empowering people living with HIV to start and stay on treatment, it brings agency back to clients and leaves behind the shame, stigma and fear of sexual transmission that many people still face. It is also an important strategy for epidemic control."
Although an undetectable viral load does not imply a cure for people living with HIV, it does have a positive impact on individual health and prevents transmission. Since 2016, the Prevention Access Campaign has promoted U=U to spread awareness that people with undetectable viral load can't transmit HIV to their sexual partners, offering couples more peace of mind. Most people living with HIV—there were 37.9 million worldwide in 2018—achieve an undetectable viral load within 3 to six 6 after starting to take ARVs as prescribed. This also directly impacts mother-to-child transmission of HIV, providing greater assurance for couples that they can have children who are HIV free.
Through the Afya Kamilisha project—funded by the U.S. President's Emergency Plan for AIDS Relief (PEPFAR) through the U.S. Agency for International Development (USAID)—Jhpiego is building the capacity of health leaders in partnership with Murang'a County and subcounty areas to increase access and coverage for HIV prevention, treatment, care and support services. The aim is to meet the 95-95-95 goals toward achieving epidemic control of HIV by 2030.
The third 95 of the global goals established by UNAIDS calls for 95 percent of people receiving antiretroviral therapy (ART) to achieve viral suppression. That's an ambitious target in that it encompasses even fragile states like South Sudan—the youngest country in the world where the HIV prevalence rate among adults is 2.6 percent—which is where Christine Uwe lives, in a residential area in Juba.
Pathway to a Healthy Future
At 31, Christine is a mother of five and expecting again. She was suffering from an array of serious illnesses in June 2018, when she decided to go for an HIV test at Munuki Primary Health Care Center, which is supported by the Strengthening the Provision of Primary Health Care for HIV project, funded by PEPFAR through USAID. Anxiety about stigma and discrimination, which are rampant in her community, did not outweigh her fear of leaving six children motherless.
When she learned that she was HIV-positive, she initiated ART immediately with the understanding that consistent adherence to medication as prescribed would put both her and her baby on a path to health.
"I have taken treatment seriously and taken it daily," she said. "Now, I can do any kind of work—cooking, digging and taking care of my children."
Christine looks forward to seeing each and every one of her children graduate from university someday. "Out there, in the community with my family, I live freely," she says, attributing her positive attitude to a new hope for a healthy future. "I am energetic. When I walk, I walk with pride. I am like anyone else."
Geoffrey Njenga is a communications officer in Jhpiego's Kenya office; Rosemary Poni is a program officer in the South Sudan office; Maryalice Yakutchik is a communications manager in Baltimore.
Jhpiego believes that when women are healthy, families and communities are strong. We won't rest until all women and their families—no matter where they live—can access the health care they need to pursue happy and productive lives.
Donate now!