Madagascar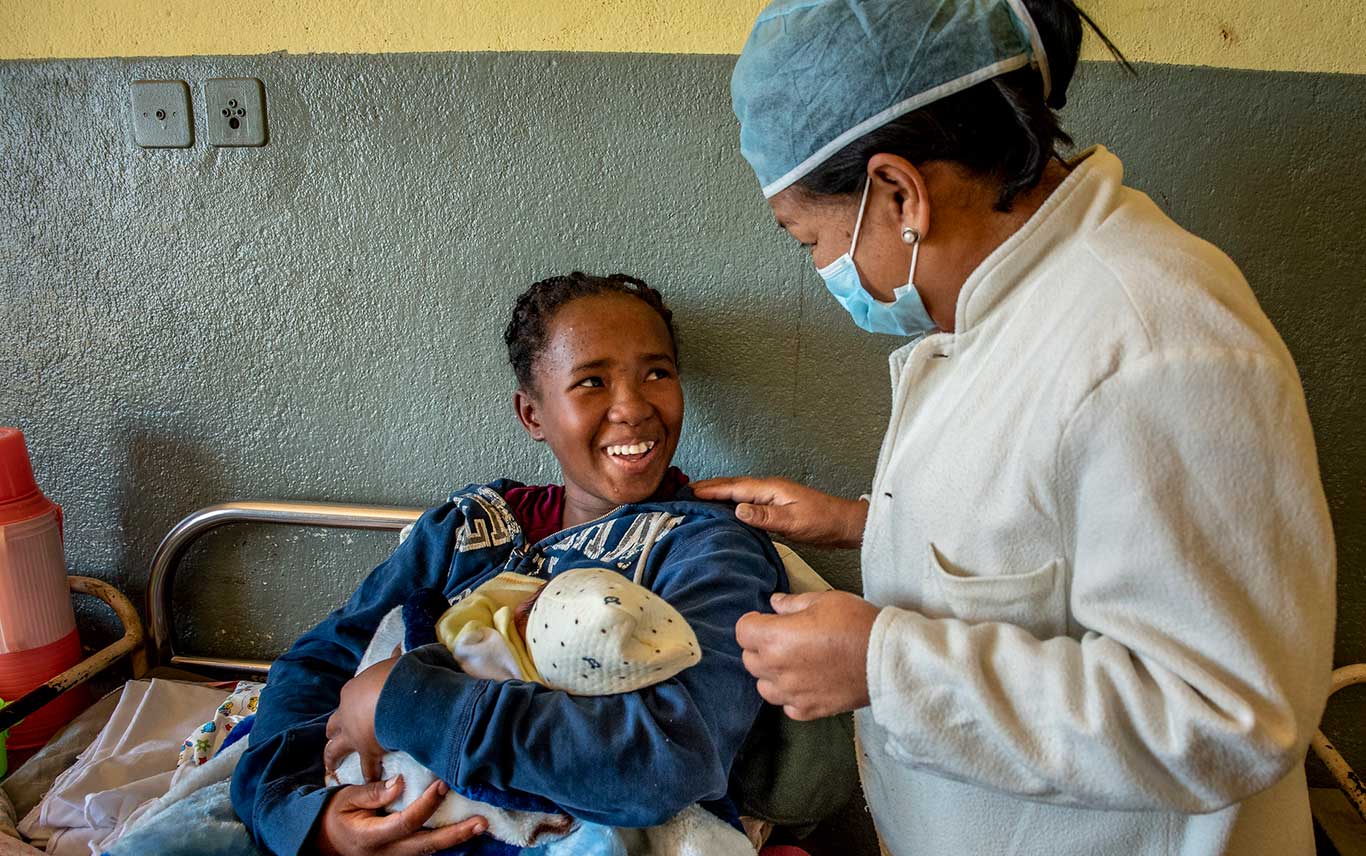 Country Contact
Eliane Razafimandimby, Jhpiego Country Director/TIPTOP Program Director
Tel. 261 2022 31 220
Immeuble Santa Lot II, 3rd Floor Antanimena
Antananarivo, Madagascar
Current and Recent Donors
Sanofi
Unitaid
USAID
World Bank/Unité de Programme National de Nutrition Communautaire
Working to keep women and their children healthy since 2003.
815 health care facilities supported by the Maternal and Child Survival Program (MCSP) have facilitated more than 130,000 deliveries, provided antenatal care to more than 679,000 pregnant women and successfully resuscitated over 11,000 newborns.
The maternal mortality ratio at basic health centers supported by MCSP decreased dramatically—from 242 maternal deaths per 100,000 deliveries in 2015 to 20 maternal deaths per 100,000 deliveries in 2018.
Implementation of community intermittent preventive treatment of malaria in pregnancy (IPTp) is contributing to increases in IPTp coverage, affording pregnant women more opportunities to receive malaria protection and comprehensive care in pregnancy. In Jhpiego-supported areas, the coverage of pregnant women with a third dose of IPTp increased from 43% to 175% since the introduction of community IPTp, with a dramatic boost from community-based distribution.
MCSP supported access to postpartum family planning (PPFP) services by building the capacity of 1,030 health care providers across 576 facilities, contributing to more than 14,000 women receiving PPFP counseling and leading to an increase of PPFP uptake from 8% to 24% at 230 facilities in a single year.
Our Work in Madagascar
Transforming Intermittent Preventive Treatment for Optimal Pregnancy
Under this Unitaid-funded, five-year grant, Jhpiego is partnering with ISGlobal to reduce maternal and neonatal mortality in the Democratic Republic of Congo, Nigeria, Madagascar and Mozambique by: 1) introducing and setting the stage for scale-up of community intermittent preventive treatment of malaria in pregnancy (IPTp); 2) introducing and increasing demand for quality-assured sulfadoxine-pyrimethamine (SP) for IPTp; and 3) generating evidence for World Health Organization policy change. To achieve desired results, Jhpiego is also collaborating with Medicines for Malaria Venture (to bring quality-assured SP to market) and the World Health Organization (to ensure SP resistance monitoring and foster collaboration between national reproductive health programs and national malaria control programs). For more information, visit here: www.tiptopmalaria.org.
Country Contact
Eliane Razafimandimby, Jhpiego Country Director/TIPTOP Program Director
Tel. 261 2022 31 220
Immeuble Santa Lot II, 3rd Floor Antanimena
Antananarivo, Madagascar
Current and Recent Donors
Sanofi
Unitaid
USAID
World Bank/Unité de Programme National de Nutrition Communautaire