Solange, a 39-year-old mother living in Tsarakianja in the District of Mananjary, Madagascar, did not understand the importance of seeking antenatal care (ANC) at a health facility during her first three pregnancies, so she did not receive the recommended medicines to protect her and her baby from malaria. During her third pregnancy, Solange contracted severe malaria, and her baby, born at a low birthweight, did not survive.
To protect pregnant women and their babies from malaria in areas of moderate-to-high transmission rates, such as sub-Saharan Africa, the World Health Organization (WHO) recommends a minimum of three doses of intermittent preventive treatment in pregnancy with quality-assured sulfadoxine-pyrimethamine (IPTp-SP).
WHO advises that IPTp-SP be initiated as early as possible in the second trimester to prevent malaria in pregnancy, thereby reducing maternal and fetal anemia, stillbirths, spontaneous abortion, low birthweight and newborn deaths.
The TIPTOP project engages community health workers (CHWs) to increase IPTp delivery and demand to ensure that there are no missed opportunities for pregnant women to receive this lifesaving medicine either in the community or through ANC.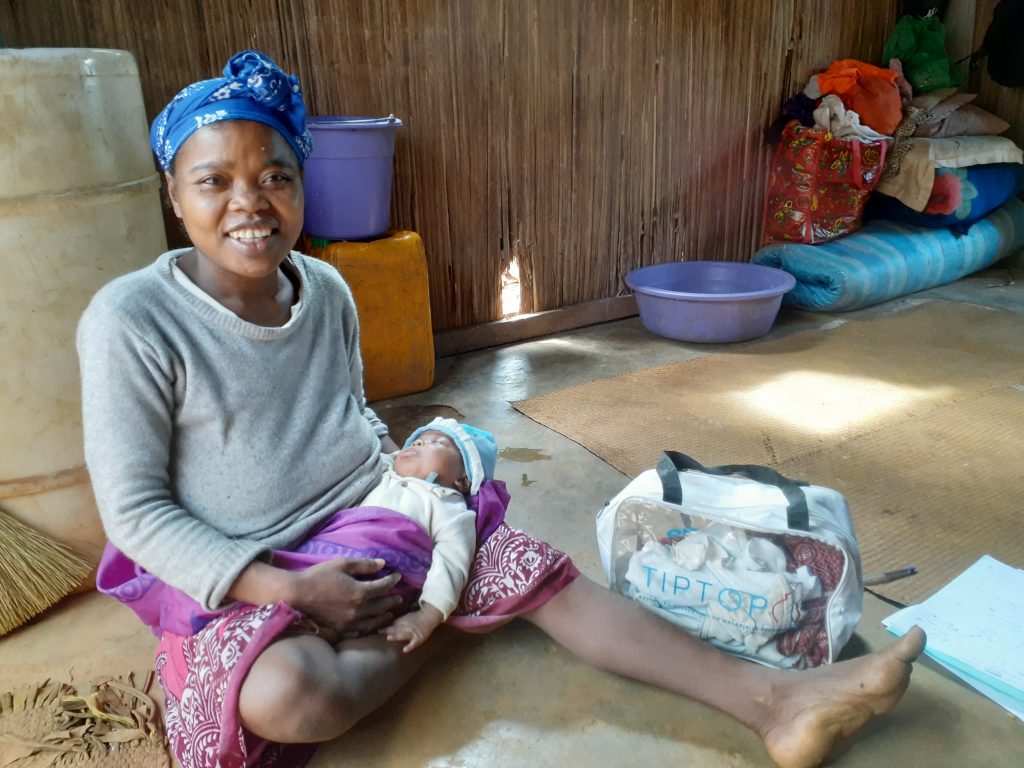 For Solange, a CHW showed up just when she needed her most. In 2020, Théresette visited Solange, who was pregnant for the fourth time, and talked with her about the benefits of ANC and protection of IPTp-SP. The CHW had received training through the TIPTOP project and encouraged Solange to go for ANC at the health facility for the first dose of SP. She decided to follow Théresette's advice and received five monthly doses of SP. Solange gave birth to a healthy baby girl.
A review of TIPTOP project data during the first year of implementation (August 2018–2019) showed an increase in IPTp rates (with community-level distribution up to 70%), but little improvement in ANC rates. The TIPTOP team understood this trend to mean that many pregnant women preferred to receive their SP directly from a CHW rather than going to a health facility; however, they were missing the care they could receive through a comprehensive ANC package. As a result, TIPTOP supported the Ministry of Health in improving referral systems and increasing efforts to encourage pregnant women to attend ANC.
---



For more information on TIPTOP, click here.
---
Beginning in 2020, the data showed an increase in ANC rates and facility IPTp rates. By Quarter 3 of 2020, the project observed a complete reversal of the trend, with facility-level IPTp higher than community-level IPTp.
"Collaboration with CHWs has increased the rate of ANC at the facility level. Pregnant women are sensitized by the CHWs and are more motivated to reach the health facilities. As soon as they [identify] new pregnant women, they refer them to the [facility] for ANC. It is also these CHWs who find the pregnant women who have been lost in the process and refer them [back] to the health facilities," said Voninahitriniony Bodonavalona Andrianirina, Chief Medical Officer, Basic Health Centre Andonabe, Mananjary.
Solange praised Théresette for encouraging her to attend ANC so she could receive the full package of services to help ensure a healthy pregnancy. She had a malaria-free pregnancy and was very happy to welcome a healthy new family member.
Community distribution of IPTp complements the distribution of SP at the health facility. Using a no-missed-opportunities approach, TIPTOP is reaching the hardest-to-reach communities and providing more chances for pregnant women to receive IPTp. Data from Mananjary show that the project is having positive impacts both on the number of pregnant women receiving the recommended minimum three doses of SP, as well as on creating a demand for SP and comprehensive ANC care at the facility level.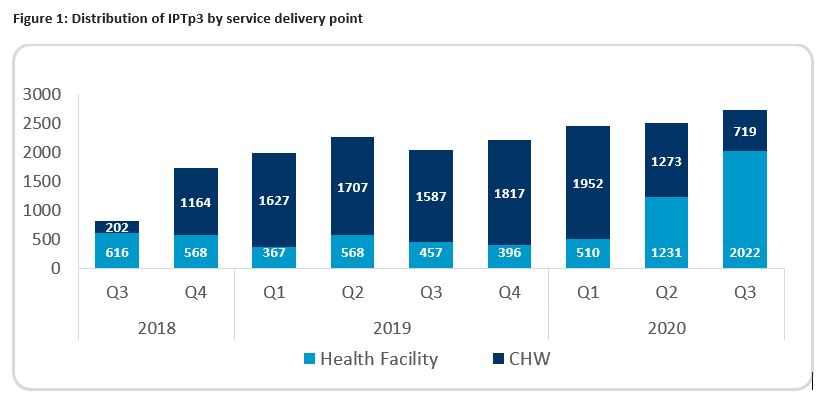 *December data for the fourth quarter of 2020 are not included in this graph.
Figure 1 illustrates that IPTp3 distribution at the facility level increased over time. The findings from the midline research studies conducted by our partner ISGlobal reinforce these data, while our partner Medicines for Malaria Venture (MMV) is ensuring the availability of quality-assured SP beyond the life of the TIPTOP project by supporting the establishment of regional SP manufacturers. These complementary efforts by partners are key to achieving the success of community IPTp.
TIPTOP is doing exactly what it initially set out to do as a project. It is increasing IPTp coverage at the community and facility levels, providing pregnant women with the opportunity to seek out important preventive care.
"By attending antenatal care visits, pregnant women are not only protected against malaria, but also decrease their vulnerability to any potential disease they may contract during their pregnancy," said Maurice Randriarison, District Health Officer.
Jhpiego believes that when women are healthy, families and communities are strong. We won't rest until all women and their families—no matter where they live—can access the health care they need to pursue happy and productive lives.
Donate now!