Côte d'Ivoire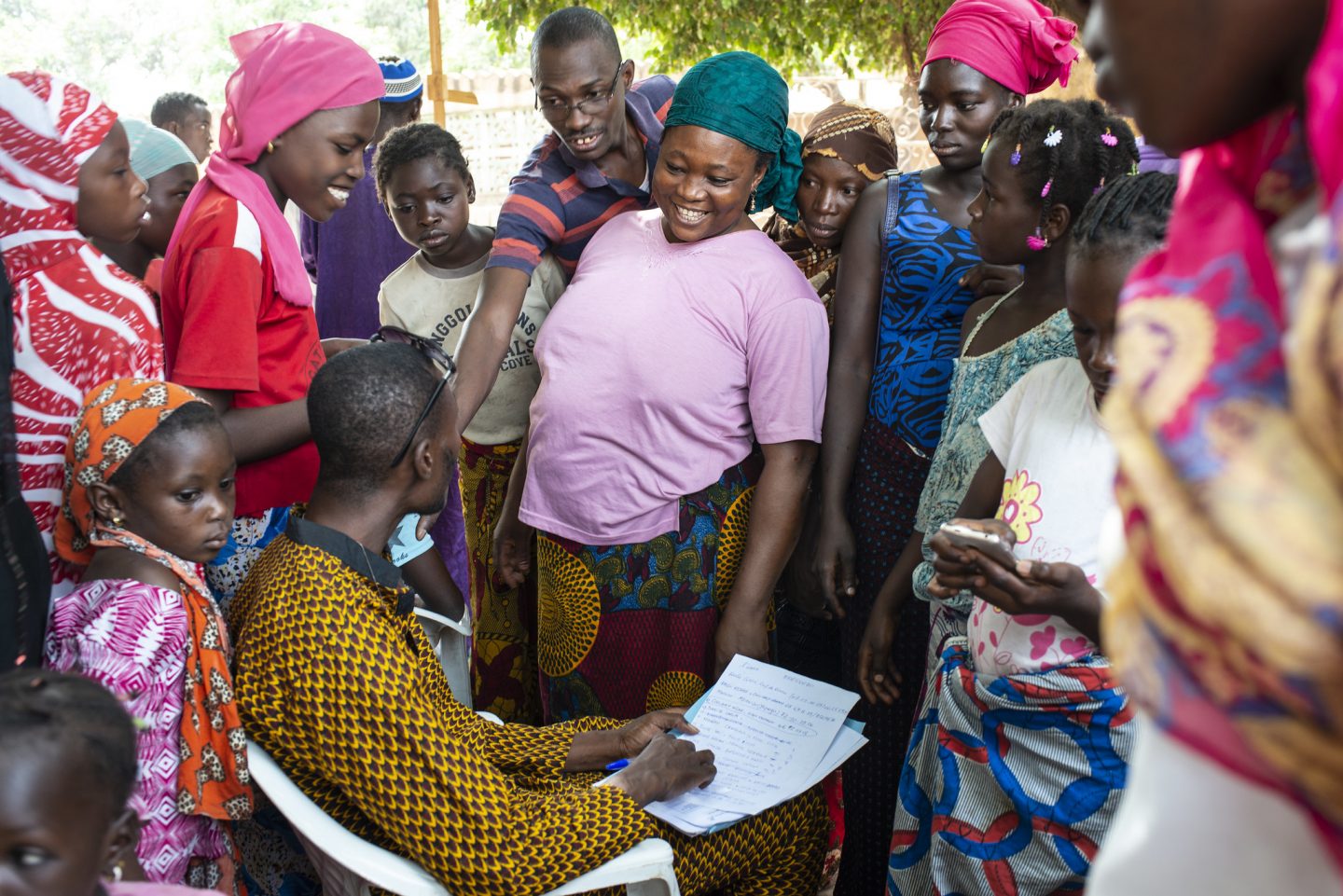 Country Contact
Kiyali Ouattara, Country Director
Tel. 225 2242 6785
Cocody, II Plateaux
7ème tranche
Lot 3 085 Villa 1
06 BP 2579
Abidjan, Côte d'Ivoire
Current and Recent Donors
Bill & Melinda Gates Foundation
CDC
Gavi, the Vaccine Alliance
Unitaid
University of New Mexico
USAID
U.S. Health Resources and Systems Administration
Helping Ivoirians stay healthy since the 1980s.
Under the Impact Malaria project, Jhpiego is supporting 45 health districts in Côte d'Ivoire to improve malaria services by building the capacity of 2,142 health care providers to deliver high-quality care for malaria. These providers include midwives, nurses and doctors across urban and rural health centers and district hospitals.
Jhpiego deployed an electronic platform for monitoring HIV-positive patients on antiretrovirals to help track patients and reduce those who are lost to follow-up or who are being treated at multiple health facilities. As of early 2021, 88,205 patients have been registered, of which 84,596 are still receiving follow-up care.
Jhpiego introduced cervical cancer screening for HIV-positive women using visual inspection with acetic acid coupled with immediate treatment (if needed) via cryotherapy. After scaling up this program and successfully handing it over to the government in 2015, Jhpiego began working to introduce the HPV vaccine and HPV self-testing.
With the Ministry of Health and Ministry of Education, Jhpiego built the capacity of vaccinators, facilitated the accessibility of vaccinations in schools, and coordinated the introduction of vaccinating 9-year-old girls against HPV in all health districts nationwide.
Our Work in Côte d'Ivoire
MOMENTUM Country and Global Leadership
Moving Integrated, Quality Maternal, Newborn and Child Health and Family Planning and Reproductive Health Services to Scale (MOMENTUM) is a suite of projects, funded by the U.S. Agency for International Development, that aims to accelerate reductions in maternal, newborn and child mortality and morbidity in high-burden countries by increasing host country commitment and capacity to provide high-quality, integrated health care. Each of the projects has a specific focus area; together they provide a comprehensive, flexible package of support for countries as they overcome context-specific health challenges towards sustainable development. The five-year, Jhpiego-led MOMENTUM Country and Global Leadership project focuses on: 1) providing targeted technical and capacity development assistance to our missions, partner countries and local organizations; and 2) contributing to global technical leadership and policy dialogue for improved maternal, newborn and child health, voluntary family planning and reproductive health outcomes. Jhpiego's 12 sub-partners under this project are: Save the Children, Johns Hopkins University International Vaccine Access Center, The Manoff Group, Quicksand, Matchboxology, BAO Systems, Avenir Health, McKinsey and Company, PACT, Institute for Healthcare Improvement, Christian Connections for International Health and Ubora Quality Institute.
Reaching Impact, Saturation, and Epidemic Control (RISE)
RISE is a five-year global project funded by the U.S. President's Emergency Plan for AIDS Relief (PEPFAR) and the U.S. Agency for International Development (USAID). RISE works with countries to achieve a shared vision of attaining and maintaining epidemic control, with stronger local partners capable of managing and achieving results through sustainable, self-reliant and resilient health systems by 2024. RISE's contributions to this work will lead to fewer new HIV infections, decreased HIV-related morbidity and mortality, and increased quality of life for people living with HIV. With USAID PEPFAR investments, RISE supports countries to achieve and maintain epidemic control by providing strategic technical assistance and direct service delivery to improve HIV prevention, case finding, treatment programming and viral load suppression. The primary objectives of the RISE project are to: 1) attain and maintain HIV epidemic control among at-risk adult men, women and priority populations; 2) attain and maintain HIV epidemic control among key populations; 3) strengthen health systems including improved program management, health information systems, human resources for health and financial systems to ensure attainment and maintenance of epidemic control; and 4) support the transition of direct funding and implementation to capable local partners to meet the PEPFAR goal of 70% of funding to local partners by 2020. The project is led by Jhpiego with the following partners: ICAP at Columbia University, Management Sciences for Health, Anova, BAO Systems, Johns Hopkins University Center for Public Health and Human Rights and Mann Global Health. RISE is currently active in several countries, including Côte d'Ivoire.
Reaching Priority Populations with HIV Services
The overall goal of this project, funded by the U.S. Centers for Disease Control and Prevention (CDC), is to improve the health status of priority populations in targeted districts in Côte d'Ivoire through increased access to high-quality HIV testing, age-appropriate counseling and enrollment in antiretroviral therapy services and follow-up, including adherence support. The project works in close coordination with local nongovernmental and community-based organizations, government counterparts, CDC and other implementing partners, particularly clinical care partners that are delivering HIV services in health facilities in the target regions. In particular, the project is building the capacity (financial and programmatic) of six local nongovernmental organizations.
Impact Malaria
Impact Malaria is a global project of the U.S. President's Malaria Initiative to reduce mortality and morbidity caused by malaria. Implemented by a consortium of organizations led by PSI, the project is funded by the U.S. Agency for International Development. In close collaboration with the country's National Malaria Control Program, other sections of the Ministry of Health and various implementing partners, Impact Malaria is designed to improve malaria service delivery via the following objectives: 1) improve the quality of and access to malaria case management and prevention of malaria in pregnancy; 2) improve the quality of and access to other malaria drug-based approaches and provide support to pilot/scale up newer malaria drug-based approaches; and 3) provide global technical leadership, support operational research and advance program learning.
Performance Management for Action Project (PMA)
This four-year project, funded by the Bill & Melinda Gates Foundation, builds on the PMA2020 project, which used innovative mobile technology to support low-cost, rapid-turnaround surveys monitoring key health and development indicators. PMA is enhancing this survey platform to generate high-quality data and ensure that governments, donors, managers and advocates use this data to make decisions regarding family planning programs. In addition to scaling up the survey platform for more widespread use, this project supports expanding it to include additional technical areas. Co-led by Jhpiego and the Bill & Melinda Gates Institute for Population and Reproductive Health, this project is operational in several African and Asian countries, including Côte d'Ivoire.
Improving Equitable Access to Human Papillomavirus Vaccination
This multi-country project—funded by Gavi, the Vaccine Alliance—targets several African countries. The overarching project goal is to support Ministries of Health with their national vaccination rollout, contributing to the elimination of cervical cancer in the targeted countries by achieving an equitable coverage rate of at least 70% among eligible girls by 2030. To reach this goal, Jhpiego is linking secondary prevention of cervical cancer (i.e., screening for cervical cancer) to primary prevention efforts (i.e., HPV vaccination)—and vice versa. To achieve equitable coverage, Jhpiego is using a multipronged approach to reach in- and out-of-school girls through activities such as school-based campaigns and community-based campaigns to reach out-of-school youth. This multipronged approach focuses on four areas: 1) community engagement with stakeholders and beneficiaries for social mobilization; 2) capacity development of health care providers; 3) vaccination integration into existing programs for adolescent/school health; and 4) ensuring high-quality HPV vaccination services.
Scale Up Cervical Cancer Elimination with Secondary Prevention Strategy (SUCCESS)
Unitaid is funding a consortium, led by Expertise France, that seeks to eliminate cervical cancer in Burkina Faso, Côte d'Ivoire, Guatemala and the Philippines through secondary prevention (i.e., detecting disease early to slow or halt its progress). The three-year SUCCESS project is designed to shift the countries from a largely opportunistic cervical cancer screening model to a systematic approach centered on innovations related to: 1) reinforced and simplified cervical cancer screening through the introduction of human papilloma virus (HPV) testing with self-collection sampling; 2) secondary prevention of cervical cancer including use of efficient methods for treatment of cervical precancerous lesions such as thermal ablation; and 3) intensified dissemination of information on cervical cancer and new preventive technologies. In so doing, SUCCESS aims to support countries to "leapfrog" to a state-of-the-art services model recommended by the World Health Organization. As the implementing partner of the consortium, Jhpiego is integrating and expanding cervical cancer prevention and treatment services into both new and existing platforms, relying on our established relationships with governments and stakeholders in all four countries. Through demand-generation and community engagement activities, the project plans to screen a total of 185,000 women, a significant proportion of whom will be women living with HIV.
Resources towards Elimination of Child Vulnerability Project
Jhpiego is supporting Save the Children under the USAID-funded Resources towards Elimination of Child Vulnerability (REVE Côte d'Ivoire) project to strengthen the capacity of families and community networks to ensure the well-being of their most vulnerable members, including persons living with HIV/AIDS, orphans and vulnerable children (OVC) and adolescent girls. Jhpiego serves as the technical lead for clinical linkages and associated training and capacity-building activities under the project goal of increasing utilization of HIV and other health services by vulnerable groups. In particular, Jhpiego provides technical assistance to: 1) strengthen health sector participation in OVC platforms and establish routine information-sharing procedures; 2) strengthen the referral and counter-referral systems to link HIV-affected households to clinical services through social centers and health facilities in the target zones; and 3) train social workers.
Country Contact
Kiyali Ouattara, Country Director
Tel. 225 2242 6785
Cocody, II Plateaux
7ème tranche
Lot 3 085 Villa 1
06 BP 2579
Abidjan, Côte d'Ivoire
Current and Recent Donors
Bill & Melinda Gates Foundation
CDC
Gavi, the Vaccine Alliance
Unitaid
University of New Mexico
USAID
U.S. Health Resources and Systems Administration