Indonesia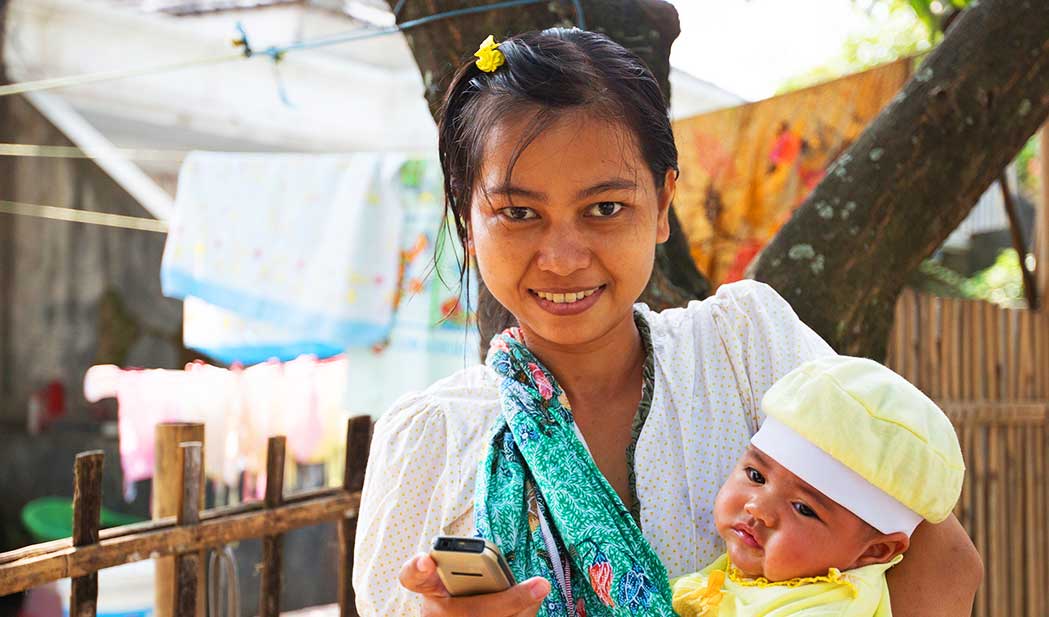 Country Contact
Maryjane Lacoste, Country Director/Senior Technical Director
Tel. 62.021.2920.1500
Tempo Scan Tower, 21st Floor
Jl HR Rasuna Said Kav 3-4 Kuningan
Jakarta, Indonesia 12950
Current and Recent Donors
Bill & Melinda Gates Foundation
Margaret A. Cargill Philanthropies
Pfizer Foundation
United Nations Foundation
USAID
Using evidence and technology since the 1980s to keep women and children healthy.
As a result of strengthened midwifery services in the 15 communities in sub-districts of Ngasem and Kalitidu, births attended by health care providers increased from 63% to 82%.
Jhpiego provided technical assistance to adapt the World Health Organization's manual, Managing Complications in Pregnancy and Childbirth: A Guide for Midwives and Doctors, for use in Indonesia; this adaptation serves as the national standard for maternal and newborn health care.
Jhpiego launched an SMS (text message) service to provide pregnant women and new mothers with information on reproductive health, pregnancy, childbirth and care for newborns, infants and early toddlers, gaining over 300,000 subscribers from 284 districts.
Under InfoBunda, Jhpiego worked with the Indonesian social enterprise PT SijariEMAS Teknologi Inovasi (PT STI) to develop a mobile application and create message content in the areas of hypertension, diabetes and TB to educate Indonesian midwives and reach pregnant women with timely and accurate health information. The app has had more than 4,500 downloads.
Our Technical Areas in Indonesia
Our Work in Indonesia
MOMENTUM Country and Global Leadership
Moving Integrated, Quality Maternal, Newborn and Child Health and Family Planning and Reproductive Health Services to Scale (MOMENTUM) is a suite of projects, funded by the U.S. Agency for International Development, that aims to accelerate reductions in maternal, newborn and child mortality and morbidity in high-burden countries by increasing host country commitment and capacity to provide high-quality, integrated health care. Each of the projects has a specific focus area; together they provide a comprehensive, flexible package of support for countries as they overcome context-specific health challenges towards sustainable development. The five-year, Jhpiego-led MOMENTUM Country and Global Leadership project focuses on: 1) providing targeted technical and capacity development assistance to our missions, partner countries and local organizations; and 2) contributing to global technical leadership and policy dialogue for improved maternal, newborn and child health, voluntary family planning and reproductive health outcomes. Jhpiego's 12 sub-partners under this project are: Save the Children, Johns Hopkins University International Vaccine Access Center, The Manoff Group, Quicksand, Matchboxology, BAO Systems, Avenir Health, McKinsey and Company, PACT, Institute for Healthcare Improvement, Christian Connections for International Health and Ubora Quality Institute.
MOMENTUM Private Healthcare Delivery
This global project, also under the MOMENTUM suite of awards (see above), supports countries—including Indonesia—to improve the quality of care provided by the private health care sector and increase opportunities for a total market approach to quality services, products and information in the areas of: maternal, newborn and child health. The project is led by PSI and funded by the U.S. Agency for International Development. Under this award in Indonesia, Jhpiego is focusing on maternal and newborn health services in private health care settings to: 1) improve the quality of these services delivered by primary and referral private health care providers in targeted/select areas; 2) strengthen national policy and regulatory framework on quality of care and for engagement with the private sector; and 3) improve coordination between the public health system and private providers at the district level in targeted/select provinces.
Amplifying Postpartum Family Planning Choices
Jhpiego is currently implementing a project to improve maternal, newborn and child health by increasing coverage of high-quality postpartum family planning (PPFP) services in 12 districts in Indonesia and leveraging the country's existing PPFP gains and momentum. Applying the World Health Organization's framework of "Health Systems Building Blocks," the project addresses gaps related to health workforce, information, contraceptives, financing, leadership/governance and community barriers, as well as gaps associated with introducing PPFP services. The project will also generate practical recommendations for wider PPFP scale-up as part of the Government of Indonesia's initiatives. This project is made possible with funding from Margaret A. Cargill Philanthropies and will take special considerations to ensure PPFP service delivery continuity during and post pandemic.
Country Contact
Maryjane Lacoste, Country Director/Senior Technical Director
Tel. 62.021.2920.1500
Tempo Scan Tower, 21st Floor
Jl HR Rasuna Said Kav 3-4 Kuningan
Jakarta, Indonesia 12950
Current and Recent Donors
Bill & Melinda Gates Foundation
Margaret A. Cargill Philanthropies
Pfizer Foundation
United Nations Foundation
USAID