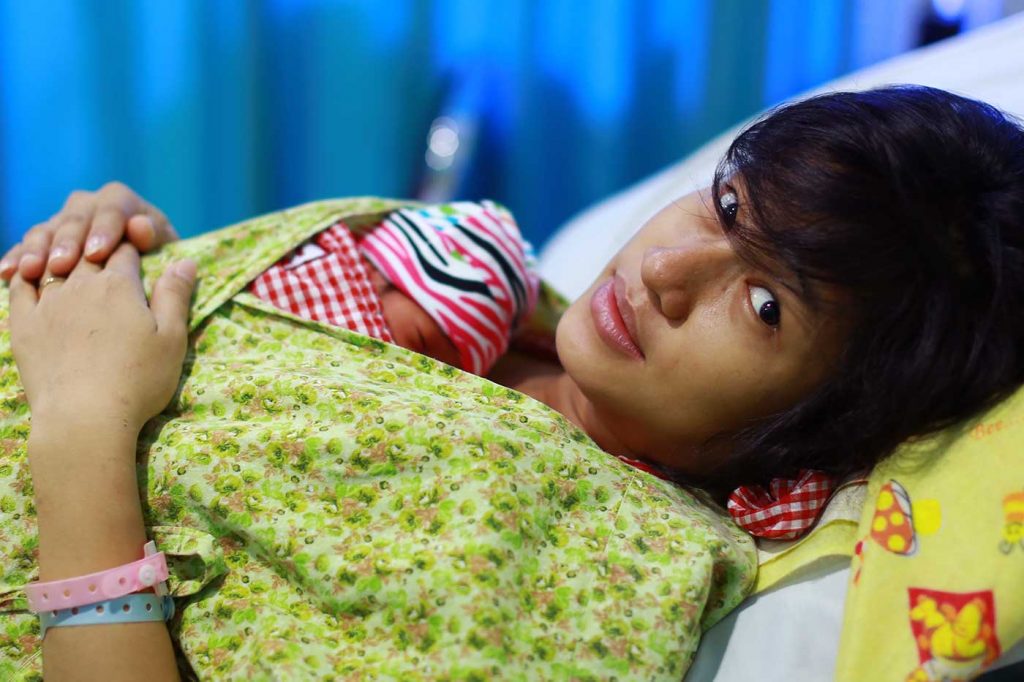 It was a particularly tough challenge: How to improve maternal and newborn survival in hospitals and health centers that, by all accounts, appeared able to handle obstetric emergencies and save lives?
The government of Indonesia had for decades steadily improved maternal and newborn health with the support of the U.S. Agency for International Development and other partners. And yet, despite impressive economic gains and the presence of a functional health system, maternal deaths in Indonesia remained inordinately high.
Which is why public health specialists supporting the Expanding Maternal and Newborn Survival (EMAS) initiative in Indonesia aimed to ignite efficiency and effectiveness by implementing bold new interventions. Such as calling on the Budi Kemuliaan Health Institute, a private hospital known for quality care, to mentor big public and private hospitals and health centers not performing to standards. A first of its kind in Indonesia, this arrangement proved to be an inspired partnership.
The big challenges and achievements of the EMAS initiative are the subject of Expanding Maternal and Neonatal Survival Opportunities in Indonesia, a special supplement of the International Journal of Gynecology & Obstetrics, published Thursday, February 28, 2019.
The supplement's nine articles highlight strategies, results and recommendations that impacted the quality of emergency obstetric and neonatal care, efficiency and effectiveness of referrals, and increased accountability. The most notable results of EMAS, a USAID investment from 2011 to 2017, include:
Persistently high maternal and newborn mortality rates fell by 50 percent and 21 percent, respectively, over 4 years following the onset of EMAS support in more than 90 hospitals.
Fatality rates from postpartum hemorrhage and pre-eclampsia/eclampsia complications—leading causes of maternal deaths—fell by about 23 percent and 20 percent, respectively, in supported hospitals during the study period.
In collaboration with the Indonesian Ministry of Health, Jhpiego led the initiative focused on capacity-building and self-reliance. EMAS aimed to reduce death rates in six Indonesian provinces, which collectively accounted for more than half of all maternal deaths in the country. Nationwide, more than 10,000 women and 80,000 newborns die annually from childbirth complications, with 70 percent of maternal deaths occurring in hospitals.
Grim statistics like these reinforce the fact that neither economic development nor skilled birth attendance—which is at an impressive 83 percent in Indonesia—automatically translate into reductions in maternal and newborn deaths, observes Anne Hyre, a nurse-midwife who led the EMAS initiative.
She is lead author of the supplement's first article, "Expanding Maternal and Neonatal Survival in Indonesia: A program overview."
On the occasion of the supplement's publication, we caught up with Anne for her perspective about all things EMAS.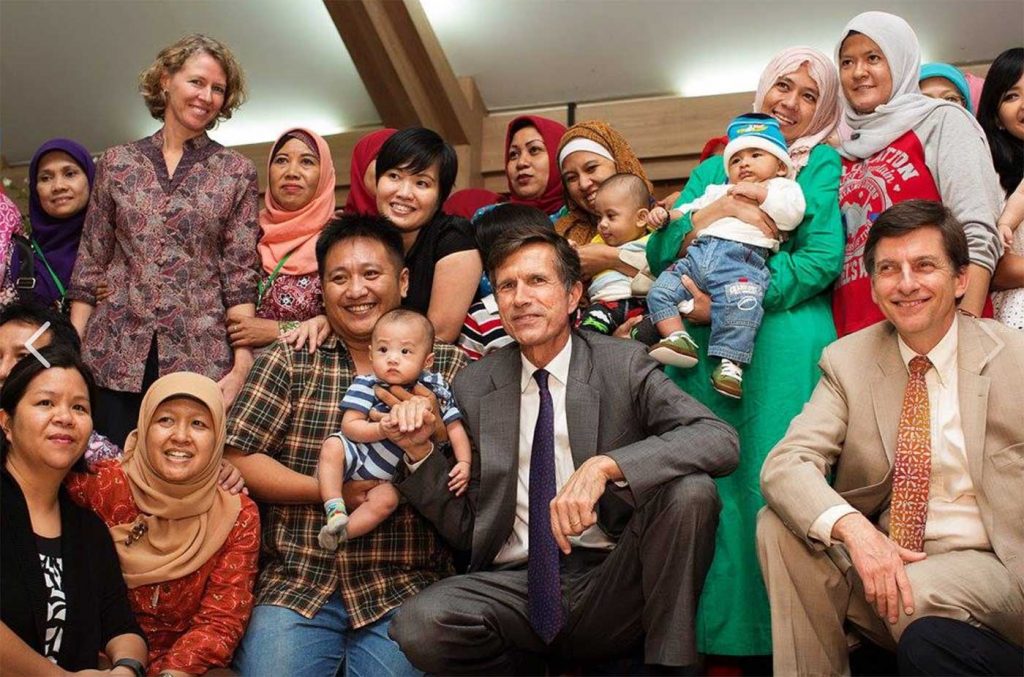 What is the most important takeaway from this big, long initiative?
We demonstrated that the combination of improving referrals—sending a patient to a health facility that can effectively attend to their needs—and improving governance systems and processes that ensure quality of care—such as using data for decision-making—can lead to significant reductions in mortality.
Are there other key lessons learned?
When I talk about the keys to EMAS's success, and what made it so unique, I tend to point out less tangible items than others might. For example, Jhpiego played a behind-the-scenes role in harnessing the strengths of local, innovative partners and building their capacity for long-term problem-solving. Our largest partners were Budi Kemuliaan and Muhammadiyah (a Muslim faith-based organization with 30 million members). This was the first and only time, to date, that Jhpiego has aligned with a large private hospital as a consortium partner. Many in Indonesia questioned whether this approach would work, and many thought it wouldn't work. But we took some risks and made it happen, and it turned out to be fantastic and transformational.
This idea—about local organizations and entities being a driving force in terms of role models—that's no trade secret. But we walked the talk. And I continue to try to encourage our country colleagues to think outside of the box about whom to partner with.
What specifically was Jhpiego's role as the behind-the-scenes implementing partner?
We believed—we had the vision—that a particular private hospital could be a fantastic model for other facilities. We partnered with Budi Kemuliaan to mentor other facilities. Early on in the project, I sat down with them and said, there are a hundred things you do really well. Of those hundred things, what are your top five most critical processes or systems that you feel you could transfer to other facilities that—in a relatively short period of time—could improve the performance of those facilities?
We helped them think through the key items and systems that needed to be in place in other facilities that would translate into high-quality care. Jhpiego was behind the ideas, strategies and money, but our local partners did a lot of the work on the ground.
Would you elaborate on the mentoring aspect?
This was truly peer-to-peer mentoring. The concept was to take a midwife who performs well and have her mentor her equivalent midwife colleagues. We asked, "Why can't any capable, high-performing midwife mentor other midwives in other health facilities?" We put that to the test, and it worked. It was very motivational for the mentors to be chosen and tapped as leaders.
As for improvements made to the important referral system, how did that happen?
The real key was bringing health centers and hospitals together; having them map out referral pathways and roles and responsibilities; and enabling health center and hospital staff get to know each other, open up communication and solve problems together. Health center staff were afraid to refer women and afraid to take any action. They were afraid of being scolded by hospital staff. So just opening up channels of communication and building relationships and trust made a real difference in improving referral efficiency. A lot of people might think improvements in referral depend on buying an ambulance or improving skills of health providers—costly things. But what seemed to make the difference was getting people communicating and problem-solving together.
In the very last paragraph of your overview article, you mention some less-tangible things that made a difference. Can you comment?
We used incredibly charismatic Indonesians within Budi Kemuliaan and Muhammadiyah as role models, and they were able to have such an impact that they motivated staff in the health facilities to improve. Others who saw what good performance looked like wanted to model the role models. They recognized they would be able to make a lot of changes on their own, without money or external support. We saw tangible changes happen in facilities just because people were able to visualize a change, and were then able to pursue those changes.
Even though these things were not evidence-based, my gut tells me that's what really made a difference.
Any surprises for you in the supplement?
The paper that assesses the knowledge of nurses and midwives in health facilities in Indonesia, and reveals the gaps. Recently, global papers on quality of care highlighted that the problem is often not that skills and knowledge of individual providers are lacking, it's the overall environment in which that individual is working that prevents good performance. EMAS was built around that belief, so we focused on systemic improvements instead of clinical skills. Perhaps we needed more of both!
Any other highlights from papers in the supplement?
The maternal death reviews reveal compelling data that confirm that we need to focus more on quality of care—saving lives goes beyond getting women and newborns into health facilities.
Although health facilities had begun to routinely collect data on maternal and newborn deaths, this information wasn't adequate to understand why mothers and their babies were dying and how these deaths could be prevented. So the EMAS team worked with a professional association to conduct a retrospective maternal death review study in 11 hospitals. They found that over 90% of the maternal deaths were considered to be preventable.
When we dug more deeply into each case situation, we discovered there were significant delays in women being seen by specialists, who either were not available at all or were very delayed in coming. In many case, the specialists didn't have the clinical capacity to make a proper diagnosis or to properly treat the complications.
I suspect other low- and middle-income countries are going to see a similar trend, as more and more women are seeking care in health facilities. The data were very enlightening, and the method we used was relatively simple and efficient, and the EMAS team used the findings to strengthen the program.
I hope our results will encourage other Jhpiego country programs to undertake similar studies so they can better understand why women are continuing to die, even though they are reaching health facilities in a stable condition.
Anne Hyre, CNM, MSN, MPH, is Jhpiego's Director of Service Delivery and lived in Indonesia for more than a decade.
Maryalice Yakutchik is Jhpiego's Communications Manager.
Jhpiego believes that when women are healthy, families and communities are strong. We won't rest until all women and their families—no matter where they live—can access the health care they need to pursue happy and productive lives.
Donate now!