Ghana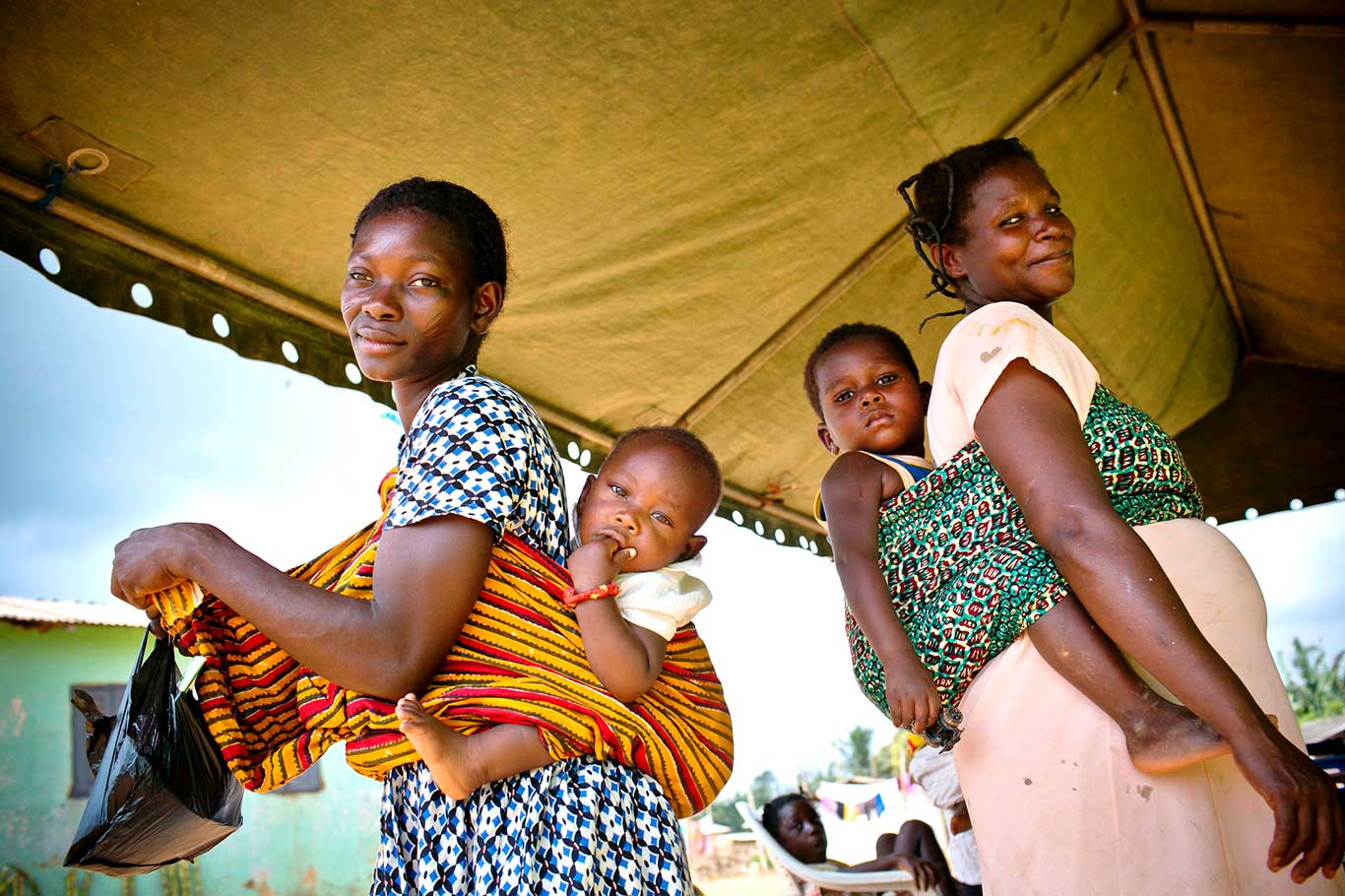 Country Contact
Pearl Nanka-Bruce, Country Director
233 0302 544777
14 Ollenu Street
East Legon
Accra, Ghana
Current and Recent Donors
Bill & Melinda Gates Foundation
Gavi, the Vaccine Alliance
Global Fund to Fight AIDS, Tuberculosis and Malaria
Resolve to Save Lives
University of New Mexico Health Sciences Center
U.S. Centers for Disease Control and Prevention
USAID
Improving health care and bringing innovations to Ghanaians since 1978.
Jhpiego has helped foster an enabling, interactive environment at COVID-19 treatment centers across the country by revitalizing and scaling up communities of practice that stimulate knowledge sharing in collaboration with a national case management team. The communities of practice focused on critical care of COVID-19 patients and encouraged coordination and communication among frontline health workers.
Support to the Government of Ghana's COVID-19 emergency response resulted in: more than 5,822,329 COVID immunizations given across seven regions, installation of pressure swing absorption plants to four regions to aid in continuous provision of medical-grade oxygen to facilities in need of oxygen-cylinder refilling, training of COVID-19 clinical case management support to 2,292 frontline providers, and training of 1,557 clinical and non-clinical frontline providers on best practices in infection prevention and control.
An innovative training approach to improve provider skills in newborn care led to a 50% reduction in intrapartum stillbirth and 56% in 24-hour newborn mortality across 40 study sites.
99% of health care facility staff at 102% of targeted regional and district-level health facilities across five regions measurably improved their infection prevention and control practices through whole-site training.
Our Work in Ghana
MOMENTUM Country and Global Leadership
Moving Integrated, Quality Maternal, Newborn and Child Health and Family Planning and Reproductive Health Services to Scale (MOMENTUM) is a suite of projects, funded by the U.S. Agency for International Development, that aims to accelerate reductions in maternal, newborn and child mortality and morbidity in high-burden countries by increasing host country commitment and capacity to provide high-quality, integrated health care. Each of the projects has a specific focus area; together they provide a comprehensive, flexible package of support for countries as they overcome context-specific health challenges towards sustainable development. The five-year, Jhpiego-led MOMENTUM Country and Global Leadership project focuses on: 1) providing targeted technical and capacity development assistance to our missions, partner countries and local organizations; and 2) contributing to global technical leadership and policy dialogue for improved maternal, newborn and child health, voluntary family planning and reproductive health outcomes. Jhpiego's 12 sub-partners under this project are: Save the Children, Johns Hopkins University International Vaccine Access Center, The Manoff Group, Quicksand, Matchboxology, BAO Systems, Avenir Health, McKinsey and Company, PACT, Institute for Healthcare Improvement, Christian Connections for International Health and Ubora Quality Institute.
MOMENTUM Private Healthcare Delivery
This global project, also under the MOMENTUM suite of awards (see above), supports countries—including Ghana—to improve the quality of care provided by the private health care sector and increase opportunities for a total market approach to quality services, products and information in the areas of: maternal, newborn and child health, family planning and reproductive health. The project is led by PSI and funded by the U.S. Agency for International Development.
Fighting COVID-19 Under the Reaching Impact, Saturation, and Epidemic Control (RISE) Project
With funding from the U.S. Agency for International Development (USAID), RISE is working in select countries, including Ghana, to address the COVID-19 pandemic. In line with ministry of health priorities in each country, RISE's COVID-19 response support may include: assisting in the planning and rollout of national vaccine plans, including ensuring health care workers are prepared to implement and monitor this plan; providing focused and clinically relevant capacity building for clinicians providing COVID-19 case management; strengthening the oxygen ecosystem; and supporting health care workers in oxygen conservation, rationalization and non-invasive respiratory care.
RISE is a five-year global project—funded by the U.S. President's Emergency Plan for AIDS Relief (PEPFAR) and USAID—that works with countries to achieve a shared vision of attaining and maintaining epidemic control, with stronger local partners capable of managing and achieving results through sustainable, self-reliant and resilient health systems. The project is led by Jhpiego with the following partners: ICAP at Columbia University, Management Sciences for Health, Anova, BAO Systems, Johns Hopkins University Center for Public Health and Human Rights, and Mann Global Health. For the COVID-19 ventilator technical assistance effort, RISE is also collaborating with the University of California San Francisco, World Federation of Societies of Anesthesiologists (via the GH STAR project), FHI 360 (via the EpiC Project) and Johns Hopkins University emergency medicine and critical care staff.
Impact Malaria
Impact Malaria is a global project of the U.S. President's Malaria Initiative to reduce mortality and morbidity caused by malaria. Implemented by a consortium of organizations led by PSI, the project is led in Ghana by Jhpiego and funded by the U.S. Agency for International Development. In close collaboration with Ghana's National Malaria Control Program, other sections of the Ministry of Health and various implementing partners, Impact Malaria is designed to improve malaria service delivery via the following objectives: 1) improve the quality of and access to malaria case management and prevention of malaria in pregnancy; 2) improve the quality of and access to other malaria drug-based approaches and provide support to pilot/scale up newer malaria drug-based approaches; and 3) provide global technical leadership, support operational research and advance program learning.
Technical Assistance for HIV Differentiated Service Delivery
Jhpiego has been contracted by the Global Fund to Fight AIDS, Tuberculosis and Malaria to support their country programs to leverage evidence, learning and best practices about differentiated service delivery (DSD). DSD refers to a client-centered approach that simplifies and adapts HIV service across the cascade of services to better serve individual needs and reduce unnecessary burdens on the health system. Jhpiego supports standardization of approaches and innovations, and develops country-specific technical briefs, training materials and tools that leverage the latest DSD science and best practices relevant to country contexts.
Zero Dose Technical Assistance
With funding from Gavi, the Vaccine Alliance, Jhpiego was identified to support several countries prepare their Equity Accelerator Fund applications through a series of activities aimed to identify and sustainably reach zero dose children and missed communities. The Expanded Programme on Immunization (EPI) in Ghana aims for a 75% reduction in the number of children who have not received the Penta1 vaccine by 2025, through collaborative development and implementation of targeted strategies aimed to reach zero dose children and missed communities. The Jhpiego team in Ghana, with endorsement from EPI,  has coordinated partnership planning and led preparations for the country's Equity Accelerator Fund application.
Enhancing Global Health Security: Expanding Efforts and Strategies to Protect and Improve Public Health Globally
Funded by the U.S. Centers for Disease Control and Prevention (CDC), this five-year project builds upon activities funded by CDC to support Global Health Security through implementation of programs and activities that focus on protecting and improving health globally through partnerships with Ministries of Health and other institutions. With an initial emphasis on addressing the COVID-19 pandemic, the project is supporting countries—including Ghana—and carrying out regional work in West Africa and South America to improve prevention of avoidable epidemics, including naturally occurring outbreaks and intentional or accidental releases of dangerous pathogens, and to improve ability to detect threats early and respond rapidly and effectively to public health threats of international concern. The project is being implemented by a Jhpiego-led consortium that includes the Johns Hopkins Center for Health Security, the Johns Hopkins University Applied Physics Laboratory, Global Scientific Solutions for Health, and Johns Hopkins University Center for Global Health.
Country Contact
Pearl Nanka-Bruce, Country Director
233 0302 544777
14 Ollenu Street
East Legon
Accra, Ghana
Current and Recent Donors
Bill & Melinda Gates Foundation
Gavi, the Vaccine Alliance
Global Fund to Fight AIDS, Tuberculosis and Malaria
Resolve to Save Lives
University of New Mexico Health Sciences Center
U.S. Centers for Disease Control and Prevention
USAID