Ghana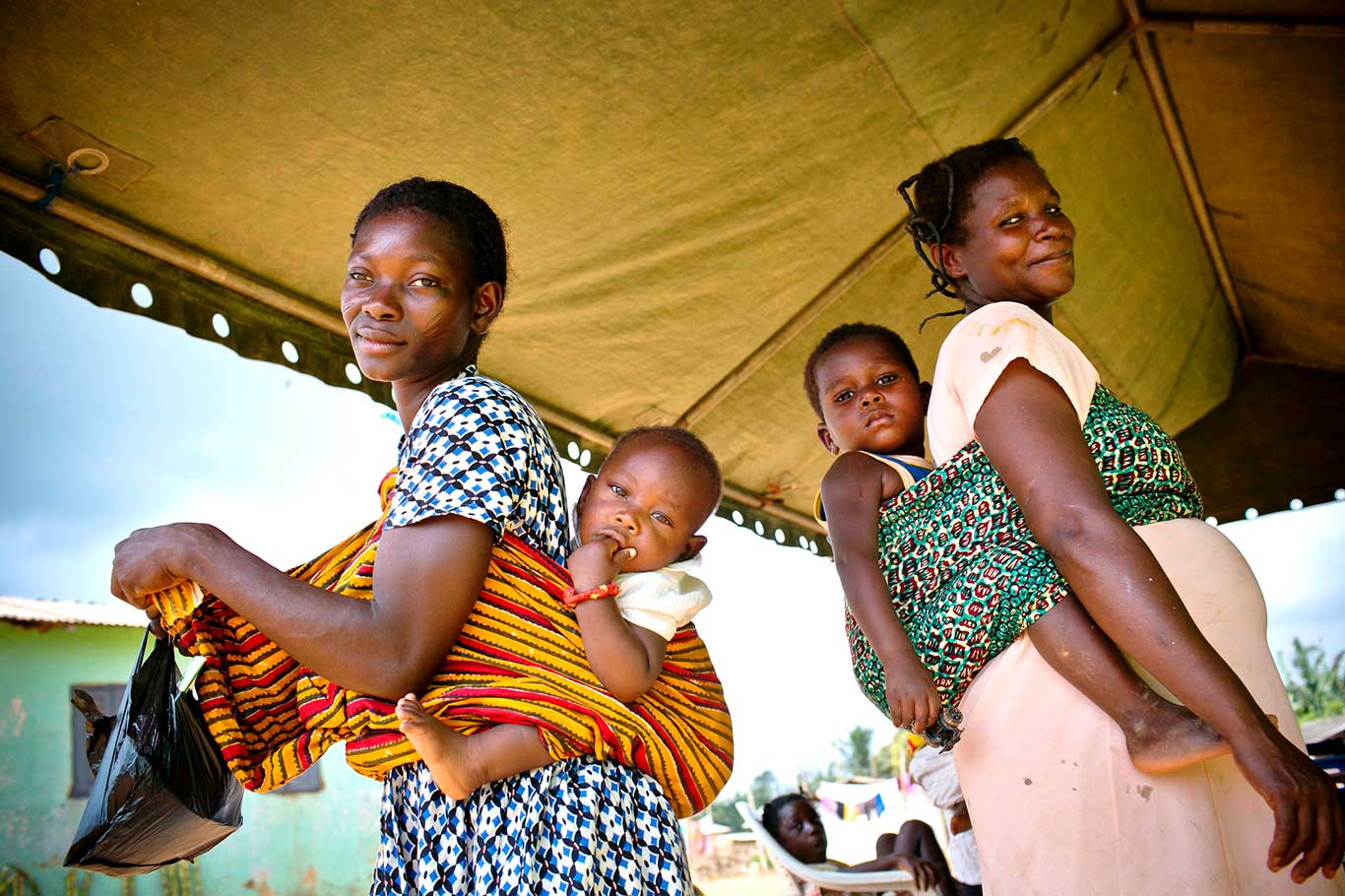 Country Contact
Karen Caldwell, Country Director
233 0302 544777
14 Ollenu Street
East Legon
Accra, Ghana
Current and Recent Donors
Bill & Melinda Gates Foundation
Bloomberg Philanthropies
Jubilee Partners
U.S. Department of Defense
USAID
Improving health care and bringing innovations to Ghanaians since 1978.
Support of Ghana's Community-Based Health Planning and Services initiative resulted in more than 645,000 clients served and over 274,000 immunizations given.
An innovative training approach to improve provider skills in newborn care led to a 50% reduction in intrapartum stillbirth and 56% in 24-hour newborn mortality across 40 study sites.
99% of health care facility staff at 102% of targeted regional and district-level health facilities across five regions measurably improved their infection prevention and control practices through whole-site training.
A revised curriculum and improved clinical practicum experience have improved the pre-service education experience of over 8,400 newly graduated midwifery and nursing students.
Our Work in Ghana
MOMENTUM Country and Global Leadership
Moving Integrated, Quality Maternal, Newborn and Child Health and Family Planning and Reproductive Health Services to Scale (MOMENTUM) is a suite of projects, funded by the U.S. Agency for International Development, that aims to accelerate reductions in maternal, newborn and child mortality and morbidity in high-burden countries by increasing host country commitment and capacity to provide high-quality, integrated health care. Each of the projects has a specific focus area; together they provide a comprehensive, flexible package of support for countries as they overcome context-specific health challenges towards sustainable development. The five-year, Jhpiego-led MOMENTUM Country and Global Leadership project focuses on: 1) providing targeted technical and capacity development assistance to our missions, partner countries and local organizations; and 2) contributing to global technical leadership and policy dialogue for improved maternal, newborn and child health, voluntary family planning and reproductive health outcomes. Jhpiego's 12 sub-partners under this project are: Save the Children, Johns Hopkins University International Vaccine Access Center, The Manoff Group, Quicksand, Matchboxology, BAO Systems, Avenir Health, McKinsey and Company, PACT, Institute for Healthcare Improvement, Christian Connections for International Health and Ubora Quality Institute.
Fighting COVID-19 under MOMENTUM Country and Global Leadership
To address the COVID-19 epidemic in Ghana, the MOMENTUM Country and Global Leadership project is supporting the clinical response to the disease in treatment centers. It is also improving coordination and communication among frontline health workers impacted and engaged in the response through the development of an online community of practice using Zoom and WhatsApp. In coordination with the Office of the President's COVID-19 Coordination Unit and the Ghana Health Service, the project is establishing a strategy to collate surveillance data from COVID-19 treatment centers across the country, and provide a real-time data dashboard available on a cloud-based interface. In addition, through telehealth strategies, mentoring and supervision, the project supports sub-district health facilities to continue providing services during the pandemic.
Impact Malaria
Impact Malaria is a global project of the U.S. President's Malaria Initiative to reduce mortality and morbidity caused by malaria. Implemented by a consortium of organizations led by PSI, the project is led in Ghana by Jhpiego and funded by the U.S. Agency for International Development. In close collaboration with Ghana's National Malaria Control Program, other sections of the Ministry of Health and various implementing partners, Impact Malaria is designed to improve malaria service delivery via the following objectives: 1) improve the quality of and access to malaria case management and prevention of malaria in pregnancy; 2) improve the quality of and access to other malaria drug-based approaches and provide support to pilot/scale up newer malaria drug-based approaches; and 3) provide global technical leadership, support operational research and advance program learning.
Fighting COVID-19 under Impact Malaria
In addition to the activities listed above, Impact Malaria in Ghana is responding to the COVID-19 pandemic by partnering with local National Malaria Control Programs and Ministries of Health to mitigate the effects of COVID-19. Building on Jhpiego's previous experience during the Ebola epidemic to reinforce infection prevention and control practices (IPC) in health care facilities and restore community confidence in health services, Impact Malaria is: 1) updating and disseminating clinical and laboratory protocols; 2) training health care providers to conduct the triage, diagnosis, and differential case management of fevers; 3) monitoring activities through regular supervision activities and use of an Outreach Training and Supervision Support tool; 4) supporting quality control for sample taking, delivery, and testing; and 5) implementing a rapid health facility assessment of the impact of COVID-19.
Fighting COVID-19 Under the Reaching Impact, Saturation, and Epidemic Control (RISE) Project
With funding from the U.S. Agency for International Development (USAID), RISE is working in select countries, including Ghana, to address the COVID-19 pandemic by supporting the safe and effective use of donated mechanical ventilators. Informed by stakeholder consultation and facility level assessments, the project will support USAID and ministries of health to guide the placement of donated ventilators to selected health facilities, and promote safe and appropriate use of the ventilators. Upon delivery and placement of the donated ventilators, RISE will provide training and targeted technical assistance to providers at supported sites focused on advanced and critical care for severe COVID-19, and quantification of supplies, human resources, and other health system needs related to safe ventilator use.
RISE is a five-year global project—funded by the U.S. President's Emergency Plan for AIDS Relief (PEPFAR) and USAID—that works with countries to achieve a shared vision of attaining and maintaining epidemic control, with stronger local partners capable of managing and achieving results through sustainable, self-reliant and resilient health systems. The project is led by Jhpiego with the following partners: ICAP at Columbia University, Management Sciences for Health, Anova, BAO Systems, Johns Hopkins University Center for Public Health and Human Rights, and Mann Global Health. For the COVID-19 ventilator technical assistance effort, RISE is also collaborating with the University of California San Francisco, World Federation of Societies of Anesthesiologists (via the GH STAR project), FHI 360 (via the EpiC Project) and Johns Hopkins University emergency medicine and critical care staff.
COVID-19 Response under Resolve to Save Lives
With funding from Vital Strategies under their Resolve to Save Lives initiative, Jhpiego is strengthening primary health care services during the COVID-19 epidemic. Maintaining essential health care services at the primary level is essential to prevent excess mortality from other causes. This work will consist of: 1) seeking a clear pathway for early identification, triage and prompt referral for diagnosis and management of COVID-19 suspected or confirmed cases based on risk assessment; and 2) ensuring frontline providers are skilled and equipped with standard infection prevention measures and appropriate use of personal protective equipment. All capacity building of health care providers will use a blended telementoring package, implemented through a hub-and-spoke model to bring training from district health management teams to primary care settings. This grant is part of a nine-country award that Resolve to Save Lives has made with COVID-19 emergency funding from Bloomberg Philanthropies. As such, this award additionally presents an opportunity for cross-country learning in managing COVID-19 responses.
Country Contact
Karen Caldwell, Country Director
233 0302 544777
14 Ollenu Street
East Legon
Accra, Ghana
Current and Recent Donors
Bill & Melinda Gates Foundation
Bloomberg Philanthropies
Jubilee Partners
U.S. Department of Defense
USAID