In the fight against malaria, accurate reporting of data is essential to improve the quality of care. Accurate data helps keep shelves stocked with lifesaving drugs and supplies so that health workers have what they need to care for their clients.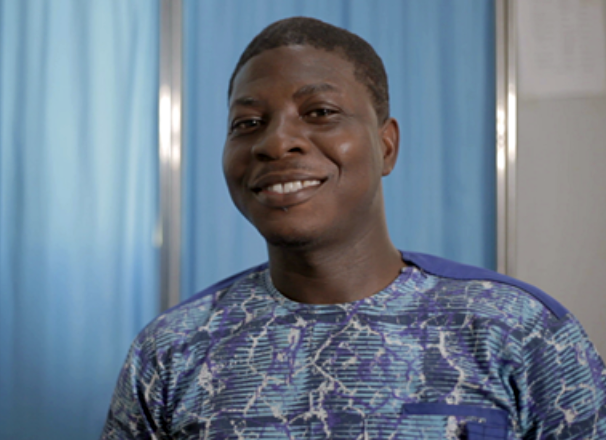 Joseph Boye-Doe, a deputy regional health information officer in the Greater Accra Region of Ghana, knows this from experience. He has been working in his position for over a decade and has seen firsthand the devastating impact of malaria on families. Despite significant investments in malaria prevention and treatment in Ghana, the disease remains a leading cause of illness and death. Malaria is especially dangerous for children under five years old and pregnant women.
Over the years, Joseph has become an expert in extracting data from health facility registers and data sheets, processing the data and then analyzing it, particularly data related to the delivery of malaria services. He understands the local health system and the challenges faced by health workers in the region.
Collecting, processing and analyzing health data has been a daunting task for facilities and health workers, especially in the fight against malaria. Accurate data collection includes tracking and keeping stock of essential supplies, such as antimalarial medicines, treatments to prevent pregnant women from getting malaria and insecticide-treated bed nets, which protect against malaria-carrying mosquitos. This data is important to ensure that facilities can reliably serve their communities.
The data received from the health facilities and district levels had been of low quality…. At some facilities, health workers used improvised registers or submitted uncompleted data sheets, which affected data quality and accuracy for decision-making."

Joseph Boye-Doe
He was determined to change the status quo, help facilities improve health care services and scale up his efforts.
Joseph teamed up with the U.S. President's Malaria Initiative (PMI) Impact Malaria Project and the National Malaria Elimination Programme to roll out a comprehensive training and coaching program for health information officers working in polyclinics, community health centers and remote facilities within the region. During facility-based visits, Joseph and his team shared their knowledge and tools to effectively collect, analyze and use data to identify gaps in malaria prevention and treatment. They also coached the trainees on how to use data to inform decision-making and prioritize interventions that would have the most impact. In all, they reached 90 health facilities and trained 232 health workers.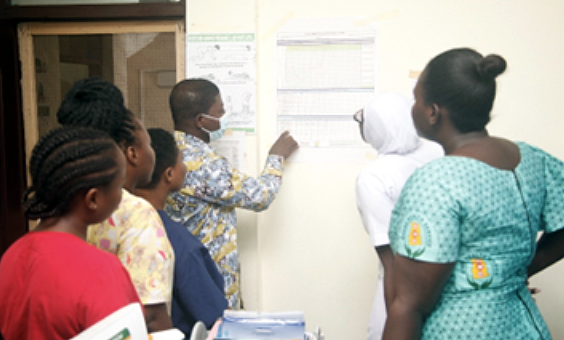 In May 2021, Joseph and his team trained health information officers and other frontline staff at the Prampram Community Polyclinic on data quality and visualization. During a follow-up visit, Abigail Afua Osae, a district health information officer at the polyclinic, shared how data management at her facility had improved: "The training we received has contributed to a reduction in data errors, as frontline health workers have also been trained on how to enter data on key variables correctly and accurately. Also, data validation meetings at our facility are now held regularly."
Joseph shared that data management and quality had improved at several facilities within the region. "There is complete documentation in source registers [and] ongoing data validation at the various levels of the health system. This has improved the quality of malaria services given to patients," Joseph said. "For example, based on available data and planning, facilities do not experience a shortage of antimalaria medicines for pregnant women, mosquito nets and other essential commodities for effective care and malaria prevention."
For Joseph, the most rewarding part of his work is seeing how every bit of data collected and analyzed has the potential to save lives and improve the health of people in his region. When asked about his work, Joseph said, "I feel proud to have been part of such an impactful project. It is a great feeling to know that I am contributing to improving the health and well-being of our people. Let's keep pushing to make health care services better for everyone, especially those who need it the most."

The PMI Impact Malaria project in Ghana supports the National Malaria Elimination Programme to collaborate with passionate health professionals such as Joseph to build local capacities and strengthen health systems to improve malaria care delivery and eliminate the disease in Ghana.
Amos Asiedu is a Monitoring, Evaluation and Research Specialist; Daniel Obloni Kweitsu is a Knowledge Management and Communication Specialist; and Pius Affipunguh is a Regional Technical Officer; all work in Jhpiego's Ghana office.
Jhpiego believes that when women are healthy, families and communities are strong. We won't rest until all women and their families—no matter where they live—can access the health care they need to pursue happy and productive lives.
Donate now!