COVID-19 exposed a truth that infectious disease experts like Jhpiego's Stacie Stender have been warning about for a long time: The world was not ready for a pandemic.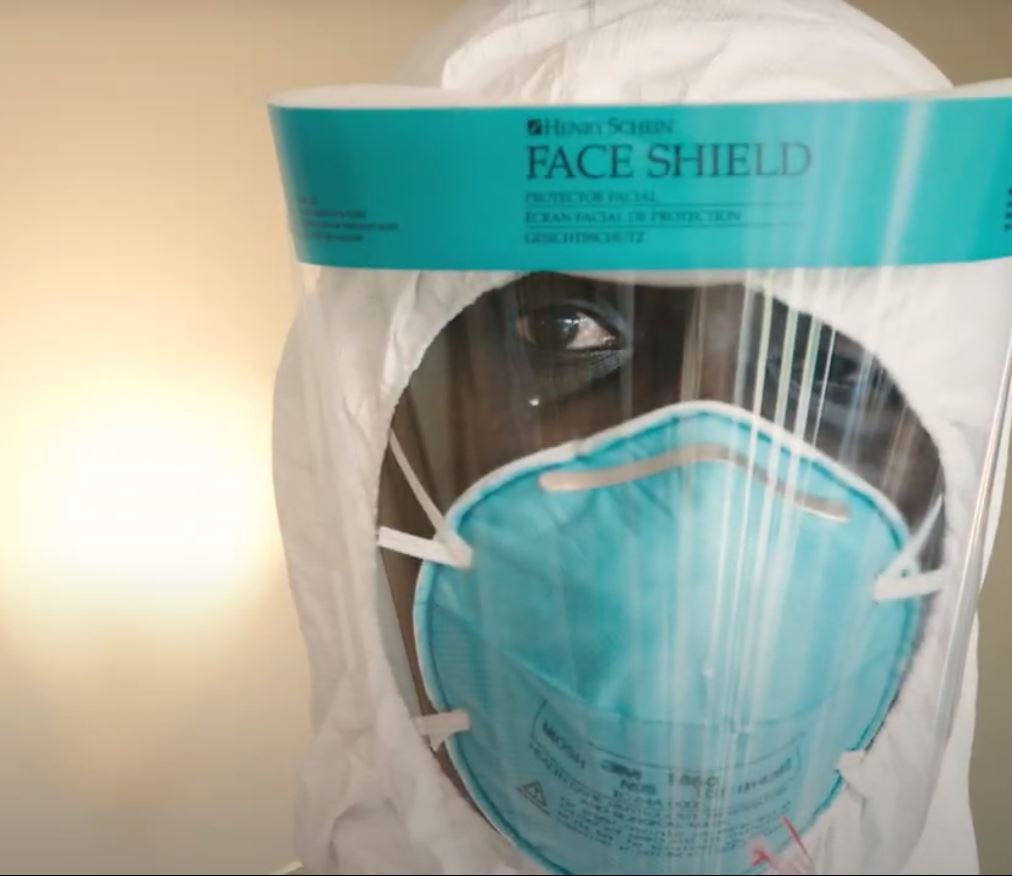 Alarmingly, this is not the first, but in fact the seventh coronavirus documented in the last 50-plus years to spread from human to human, she notes. It won't be the last and, most certainly, isn't "the big one," she adds, alluding to a contagion that's both very transmissible and has a high case fatality rate compared to that of COVID-19, which is relatively low.
It's no wonder that global health security ranks high on Stender's to-do list. So high, in fact that Jhpiego's technical lead for COVID-19 is now the program director for a multi-country global health security program funded through the U.S. Centers for Disease Control and Prevention (CDC).
Even prior to this pandemic, she says, Jhpiego was working in the areas of infectious disease surveillance and health systems strengthening through strategic partnerships and programs that bolster the global response to public health threats, such as HIV, TB, Ebola, and SARS-CoV-2, the virus that causes COVID-19. To date, that virus is responsible for more than 2.5 million deaths. Now, a full year into the pandemic, Jhpiego has redoubled efforts to prevent, detect and respond to COVID-19. Stender fills in some pertinent details about what we're doing, and where.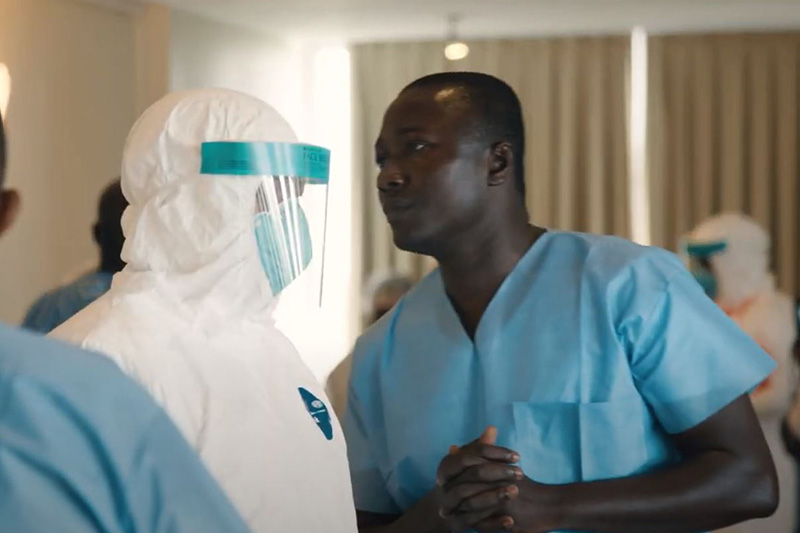 First things first: Please define global health security for us.
SS: Global health security is about ensuring that health systems are resilient and governments can prevent, detect and respond to infectious disease outbreaks. Surveillance and vaccination for COVID-19 are aspects of global health security, for instance. But with new partners and funding from the CDC, the big-picture goal is to further strengthen country and sub-national level health systems for the current COVID-19 pandemic, as well as emerging Ebola threats in the Democratic Republic of the Congo (DRC), Guinea and beyond.
So, this isn't unfamiliar territory for Jhpiego?
SS: People readily associate Jhpiego with maternal and newborn health. But so much of our work over the past decades has involved grappling with infectious disease epidemics. HIV, for instance. We are a global leader in voluntary medical male circumcision and PrEP (oral pre-exposure prophylaxis)—which are key HIV prevention strategies.
COVID-19 quickly brought to light all the many shortcomings and gaps in countries' preparedness to deal with infectious disease. So, in addition to reframing our considerable expertise in disease surveillance and health systems strengthening for the current context, we've also added some new aspects to our work.
New aspects, such as?
SS: In DRC, for instance, we are supporting the government to create a national public health institute, analogous to the CDC, for housing the many elements of public health security.
In Burkina Faso, we are doing a wide range of work, including assisting in the transport of COVID-19 specimens and supporting the government's establishment and the functioning of emergency operations centers, where people with disease such as COVID-19 are cared for and treated, if treatment exists and is available.
In Pakistan and Liberia, we're supporting hospitals to improve infection prevention and control practices, including triage specific to COVID-19.
In Sierra Leone, we're supporting the government to strengthen points of entry, which has become even more important due to the new cases of Ebola reported in the neighboring country of Guinea. In Liberia, we're helping to strengthen the capacity of national laboratories and staff to detect COVID-19, through procurement and installment of—and training staff on—the molecular diagnostic platform for PCR testing, which is the gold standard for SARS-CoV-2 detection. And in Ethiopia, we're studying SARS-CoV-2 infection among health care workers so that they are able to remain healthy, provide uninterrupted services and reduce the spread of disease.
What's allowing all this new activity to happen?
SS: In 2020, Jhpiego was awarded the CDC-funded Enhancing Global Health Security: Expanding Efforts and Strategies award, which is being implemented in Burkina Faso, Guinea, Liberia, Mali, Pakistan, Sierra Leone, the West African and South American Regions more broadly, as well as with special projects in Argentina, Brazil, Chile, Ethiopia and Nigeria.
In this first year of this project, $10 million of the total $12 million award is dedicated to preventing, detecting and responding to the COVID-19 pandemic.
Our goal is to minimize the impact of COVID-19 by building capacity of project countries to detect and respond to transmission events; prepare facilities and communities with best practices to prevent transmission; support facilities to identify, triage, separate and diagnose clients with symptoms to minimize disruption to essential services; and strengthen surveillance and laboratory systems in the long-term.
In addition to the regional, national and local governments with whom Jhpiego has partnered many times and developed deep trust, who are we working with now to enhance global health security?
SS: Along with the CDC, our core consortium partners are Johns Hopkins University Applied Physics Laboratory (APL), Johns Hopkins Center for Health Security (JHCHS) and Global Scientific Solutions for Health, along with resource partner Johns Hopkins Center for Global Health.
We're particularly excited about the added value of our Hopkins colleagues. APL, for instance, brings huge computing power for advanced data analytics for infectious disease surveillance. The JHCHS, which measures and monitors global health security and operational readiness for outbreaks, has developed a health system resilience checklist to define measures for effective response. Their engagement is focused around the COVID-19 response in West Africa, looking at what is working and what can be improved upon.
And how about plans for the future? In preparation for "the big one."
SS: Science – molecular biology in particular – has advanced remarkably in the past two decades. In 2001, the cost for sequencing one human genome was $100 million; in 2021, it is closer to $1,000. Rapid, affordable sequencing of the genetic make-up of disease-causing organisms like SARS-CoV-2 and influenza can help us understand pathogenicity and transmissibility, which in turn helps to define effective prevention and treatment interventions. Science has a lot to offer, but it has to be funded and equitable across the globe. A common phrase among the community dedicating their lives to address TB, a preventable and curable disease that is the leading cause of death from an infectious disease globally is 'TB anywhere is TB everywhere'? People travel for work and leisure. Viruses, bacteria and other microbes travel with us. Global health security has to be a priority in the 21st century. If I ran the world, I would have all disease-causing agents sequenced because we have to know what we are up against to respond appropriately.
Thanks SS!
Stacie Stender is a family nurse practitioner and infectious disease specialist who has provided onsite support in 19 countries in sub-Saharan Africa, as well as India and Haiti.
Maryalice Yakutchik is the communications manager for Jhpiego.
Jhpiego believes that when women are healthy, families and communities are strong. We won't rest until all women and their families—no matter where they live—can access the health care they need to pursue happy and productive lives.
Donate now!