Malawi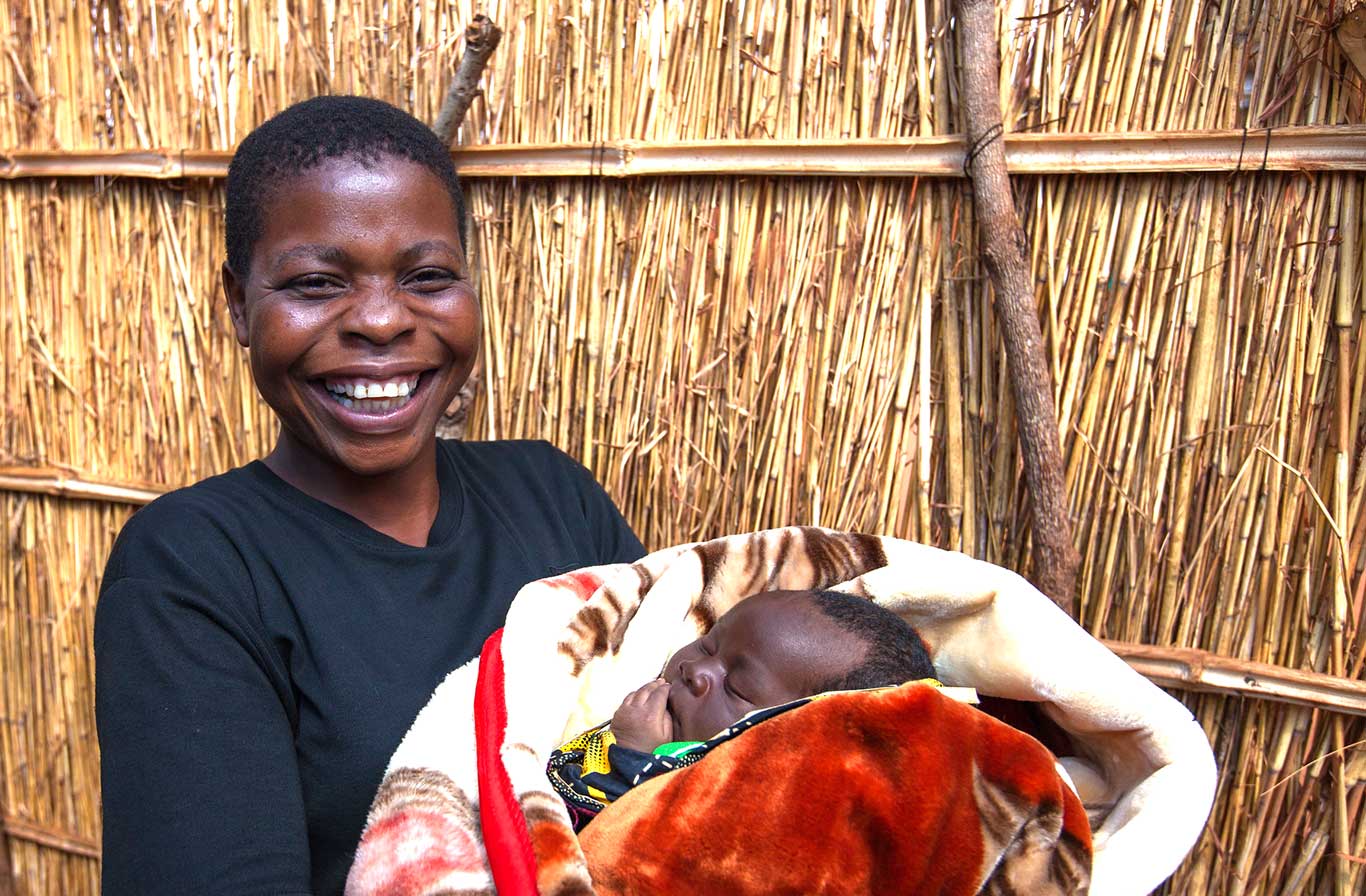 Country Contact
Jeroen Van't Pad Bosch, Country Director
Tel. 265-1-776412/3/4
P.O. Box 1091
Pamodzi House, 2nd floor
City Center
Lilongwe, Malawi
Current and Recent Donors
Bill & Melinda Gates Foundation
CDC
USAID
U.S. Department of Defense
Since 1999, ensuring quality health services for Malawian women, men and children.
More than 2.8 million clients have learned of their HIV status through Jhpiego-supported HIV testing services.
More than 527,000 Malawian men have received voluntary medical male circumcision services for HIV prevention, thereby benefiting from this procedure's protective effect against HIV.
Through the Gateway project, Jhpiego is reaching adolescent girls and young women (AGYW) with HIV prevention messaging, family planning methods and HIV testing for them and their male partners. More than 33,000 AGYW have been reached with a comprehensive package of prevention services.
Also through Gateway, Jhpiego built the capacity of 108 community-based distribution agents to provide youth-friendly adolescent family planning services; these peer agents have reached more than 67,000 AGYW with family planning education.
Our Technical Areas in Malawi
Our Work in Malawi
Gateway: Addressing Unmet Need in HIV Testing Services through Effective Delivery Models
With funding from the U.S. Centers for Disease Control and Prevention, Jhpiego is collaborating with the Malawian Ministry of Health to increase access and demand for HIV testing services (HTS), improve linkages to other HIV services and improve the quality of HTS. This five-year project is working to meet these goals by: 1) working with district health management teams and facilities to improve the quality of services and strengthen community- and facility-based HTS; 2) conducting activities that increase linkages to enroll a higher proportion of people into care and treatment; 3) strengthening current and new high-yield practices, and introducing HTS campaigns; 4) identifying and targeting key and priority populations most at risk of contracting HIV; and 5) implementing the Determined, Resilient, Empowered, AIDS-free, Mentored and Safe (DREAMS) initiative in Blantyre to target services to adolescent girls and young women.
Expanding Malawi HIV/AIDS Prevention with Local Organizations Working for an Effective Epidemic Response (EMPOWER)
EMPOWER is a five-year program, funded by the U.S. Agency for International Development, with the goal of preventing new HIV infections in targeted populations in priority districts in Malawi. Jhpiego is leading a consortium to implement EMPOWER's voluntary medical male circumcision (VMMC) component in Chikwawa District. Building on Jhpiego's previous experience supporting VMMC services in Chikwawa, Thyolo and Zomba, the consortium is collaborating with stakeholders to increase uptake of high-quality VMMC services among males aged 15–29 in these districts, with a goal of achieving 80% coverage and linking those testing HIV-positive to care and treatment. To reach this goal, the consortium is: 1) increasing availability of and access to VMMC services; 2) increasing demand for VMMC among the targeted age groups; 3) improving the quality of VMMC services; and 4) strengthening linkages between VMMC and other services.
Project Dolo
This five-year project, funded by the U.S. Centers for Disease Control and Prevention (CDC), supports the government of Malawi (GOM) to: 1) provide high-quality, high-volume, cost-efficient voluntary medical male circumcision (VMMC) services to males aged 15 years and above; 2) increase VMMC uptake through empathy-driven demand generation; 3) improve referral and linkages between VMMC and other health services; and 4) monitor quality and performance. Under this project, Jhpiego is bolstering existing infrastructure (e.g., established sites, VMMC/HIV expert staff and partnerships in Lilongwe) to accelerate VMMC uptake. Working closely with the GOM, CDC/the U.S. President's Emergency Plan for AIDS Relief (PEPFAR), civil society, traditional and religious leaders, private sector and other key stakeholders, Jhpiego is strategically scaling up high-quality, cost-efficient VMMC services—integrated with other male wellness services—to men aged 15 and above in Lilongwe district. Jhpiego is using data-driven approaches to target populations with limited access through insightful demand generation, and expanding VMMC availability through inventive service delivery models and venues, while maintaining a focus on safety and quality. At the same time, Jhpiego is also transferring capacity to the Ministry of Health, in consultation with GOM and PEPFAR, by the end of the project.
U.S. Department of Defense HIV/AIDS Prevention Program (DHAPP) and Malawi Defense Force (MDF) Partnership for Sustainable HIV Epidemic Control
Funded by the U.S. Department of Defense, this project aims to strengthen HIV prevention, care and treatment services for MDF personnel, their families and civilian communities served by MDF. These efforts are expected to contribute to attainment of Malawi's 95-95-95 targets (95% of people living with HIV know their status; of whom 95% are on treatment; of whom 95% are virally suppressed). With MDF and DOD/DHAPP, Jhpiego is supporting HIV services in 13 high-priority MDF health facilities for aggressive strengthening of prevention services, including voluntary medical male circumcision; targeted HIV testing services; active linkage of HIV-positive clients to antiretroviral treatment; adherence support to ensure retention and viral suppression; strengthened laboratory capacity and viral load testing; and installation of electronic medical records and expansion of the health information system. To sustain this work beyond the end of the project, Jhpiego is also building MDF capacity to implement comprehensive HIV services.
Antenatal Care/Postnatal Care (ANC/PNC) Innovations and Implementation Research Platform (ANC/PNC Collective)
With funding from the Bill & Melinda Gates Foundation, Jhpiego is developing an ANC/PNC innovations and implementation research platform. This initiative is designed to strengthen ANC/PNC service delivery through implementation research in Ethiopia, Kenya, Malawi and Mali, and to disseminate learnings globally. The primary expected outcomes include earlier entry by pregnant women into ANC/PNC care; increased continuity of care; improved quality of care; and an improved understanding of key risk factors, vulnerabilities and morbidity/mortality outcomes. The research collective unifies multiple teams under a single collective, comprised of the following partners: Jhpiego, Harvard School of Public Health, Child Health and Mortality Prevention Surveillance (CHAMPS), RTI International, Christian Medical College Vellore, DAI, the World Health Organization, CARE/India and the University of Manitoba. As part of this collective, Jhpiego is: 1) conducting implementation research on innovative service delivery models and tools in three countries; 2) serving as technical advocacy lead by synthesizing data and findings across the collective to inform an evidence package; and 3) providing technical assistance, as needed, as collective partners conceptualize, design, implement and test new service delivery models. Jhpiego is also partnering with the Johns Hopkins School of Public Health Biostatistics Center and Department of International Health for support with statistical analysis, data management and implementation research design.
Impact Malaria
Impact Malaria is a global project of the U.S. President's Malaria Initiative to reduce mortality and morbidity caused by malaria. Implemented by a consortium of organizations led by PSI, the project is funded by the U.S. Agency for International Development. In close collaboration with the country's National Malaria Control Program, other sections of the Ministry of Health and various implementing partners, Impact Malaria is designed to improve malaria service delivery via the following objectives: 1) improve the quality of and access to malaria case management and prevention of malaria in pregnancy; 2) improve the quality of and access to other malaria drug-based approaches and provide support to pilot/scale up newer malaria drug-based approaches; and 3) provide global technical leadership, support operational research and advance program learning.
The people we serve
Country Contact
Jeroen Van't Pad Bosch, Country Director
Tel. 265-1-776412/3/4
P.O. Box 1091
Pamodzi House, 2nd floor
City Center
Lilongwe, Malawi
Current and Recent Donors
Bill & Melinda Gates Foundation
CDC
USAID
U.S. Department of Defense