Lesotho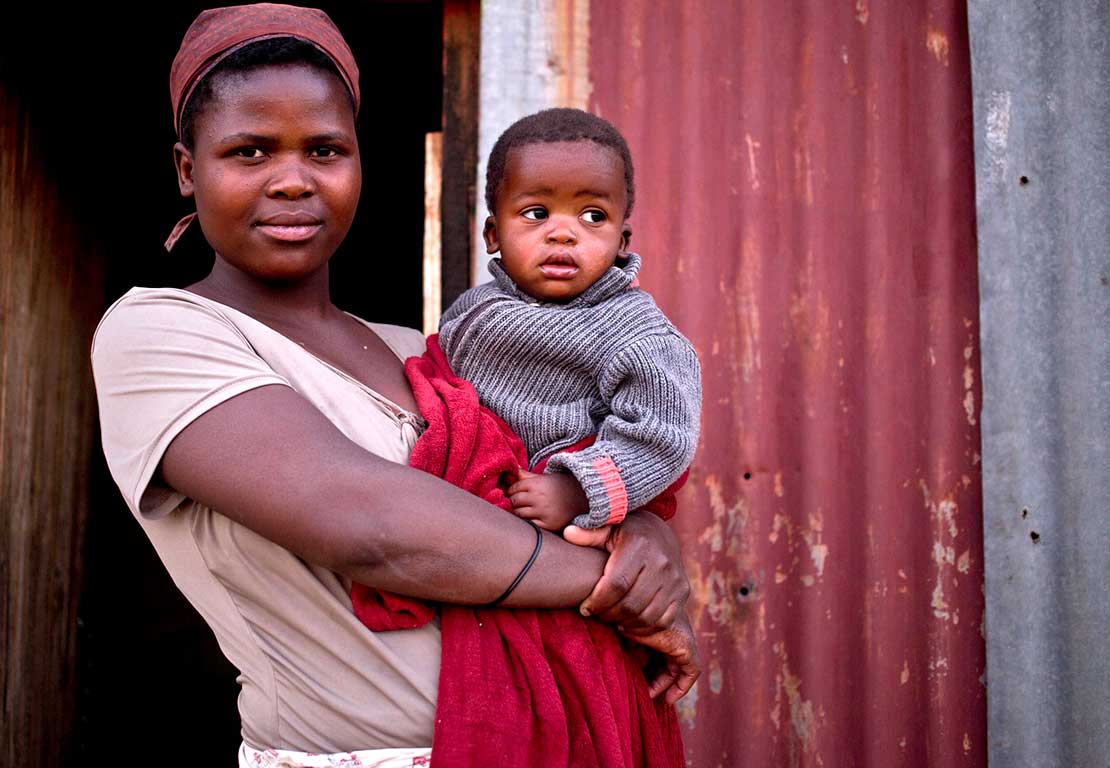 Country Contact
Aleisha Rozario, Country Director
Tel. 266 5250 5400
First Floor Dolphin House
23 Motsoene Road
Industrial Area
Maseru – 100, Lesotho
Current and Recent Donors
Elton John AIDS Foundation
Global Fund/Ministry of Finance (Project Management Unit)
UNFPA
UNICEF
USAID
Equity in health has been a cornerstone of Jhpiego's work since 2008.
More than 122,000 Basotho have learned their HIV status through Jhpiego-led initiatives, and over 210,000 men have received voluntary medical male circumcision services, thereby benefiting from this procedure's protective effect against HIV infection.
Jhpiego pioneered the first-ever integrated, comprehensive, nurse-led male clinic, which received over 18,000 patient visits in the first two years. The clinic, which provides client-centered, male-friendly health services and improves male health-seeking behaviors, has been endorsed by the Ministry of Health and is being replicated at 13 primary health care clinics.
Jhpiego supported the Lesotho Nursing Council to introduce task shifting for nurse practitioners to establish and implement a sustainable, nurse-led HIV/AIDS response. This includes nurse-initiated and nurse-managed antiretroviral therapy services for people living with HIV, thereby reducing the burden on doctors so they can focus on more advanced care needs.
Jhpiego is supporting the Ministry of Health to provide pre-exposure prophylaxis and other combination prevention services to more than 13,000 people at high risk of contracting HIV, primarily adolescent girls and young women.
Our Technical Areas in Lesotho
Our Work in Lesotho
Fighting COVID-19 Under the Reaching Impact, Saturation, and Epidemic Control (RISE) Project
With funding from the U.S. Agency for International Development (USAID), Jhpiego is working in select countries, including Lesotho, to address the COVID-19 pandemic. In Lesotho, RISE will support the Ministry of Health to support two inter-related pillars of the COVID-19 response: 1) case management to set up and maintain designated COVID-19 treatment centers, and scale-up of case management and basic respiratory care at the remaining 15 hospitals countrywide; and 2) context-specific risk communication with a focus on health care workers. RISE is a five-year global project—funded by the U.S. President's Emergency Plan for AIDS Relief (PEPFAR) and USAID—that works with countries to achieve a shared vision of attaining and maintaining epidemic control, with stronger local partners capable of managing and achieving results through sustainable, self-reliant and resilient health systems. The project is led by Jhpiego with the following partners: ICAP at Columbia University, Management Sciences for Health, Anova, BAO Systems, Johns Hopkins University Center for Public Health and Human Rights, and Mann Global Health.
Khanya Project: Voluntary Medical Male Circumcision and Pre-Exposure Prophylaxis Services in Lesotho
Funded by the U.S. Agency for International Development and implemented by a consortium made up of Jhpiego, the Christian Health Association of Lesotho (CHAL), Wits Reproductive Health Institute and BAO Systems, the three-year Khanya Project is strengthening services for voluntary medical male circumcision (VMMC) and pre-exposure prophylaxis (PrEP) for HIV prevention. The project aims to reduce the number of new HIV infections and maintain HIV epidemic control through coordination, collaboration and robust partnerships with the government of Lesotho, CHAL and community-based organizations—to whom the program will transition by 2023. Services to be transitioned to local stakeholders at facility and community levels consist of a population-specific minimum package of VMMC for integrated adolescents and adults, and PrEP for populations at risk of contracting HIV.
Stepping Up Universal Access: A Multi-Sectoral Partnership Response to TB/HIV
With funding from the Global Fund for AIDS, TB and Malaria, Jhpiego is supporting programs for TB and HIV treatment, support and care in Lesotho. The objectives of the project are to: 1) improve the quality of TB/HIV care by revitalizing a clinical mentorship program for HIV care and treatment and TB at 20 health care facilities in five districts, and establishing community-based antiretroviral groups to support improved adherence and retention in care; 2) build the capacity of nurse-midwives to provide voluntary medical male circumcision and community health advocates to mobilize and refer potential clients for services; 3) conduct community-based TB screening campaigns among school children, the elderly and factory workers to intensify TB case finding; 4) support improved community involvement in case detection and adherence and retention in care; 5) train and coordinate volunteer health workers to support community-based TB control activities; and 6) strengthen the community-to-facility referral system and implement digital health solutions to reduce turnaround times for communicating results.
Since 2020, the Global Fund is also supporting Jhpiego to contribute to knowledge of HIV status, such that 95% of Basotho living with HIV will know their status by 2023 through differentiated community-based HIV testing services (HTS), prompt linkage to HIV care and treatment and linkage to HIV prevention services. The project is: 1) using human-centered design methodologies to develop tailored strategies for reaching at least 126,000 individuals from target populations with HTS demand generation and direct service delivery; 2) offering HTS to at least 105,000 individuals from target populations using novel approaches including HIV self-testing, index testing and assisted partner services; and identifying 5,600 newly diagnosed HIV-positive persons; 3) conducting at least 10 targeted HTS delivery campaigns to reach undiagnosed individuals from target populations; 4) successfully linking 5,600 newly diagnosed HIV-positive persons with HIV care and treatment, and linking HIV-negative persons with HIV prevention services; and 5) improving human resource capacity for testing at all testing sites by training and mentoring providers.
Community and Universal Testing for TB among Contacts
Jhpiego is supporting a study in Lesotho with the goal of increasing TB yield through universal testing as compared to standard TB screening among household and community contacts. Jhpiego's support includes implementation of the clinical trial, collection of specimens, arranging and supporting training of staff, collection of data and overall capacity development. This work is being conducted under a multi-country study (in Lesotho, South Africa and Tanzania) funded by the European and Developing Countries Clinical Trials Partnership. The multi-country study is led by the Aurum Institute with partners Forschungszentrum Borstel Leibniz Lungenzentrum, National Institute for Medical Research in Tanzania, University College London, Karolinska Institutet and Jhpiego.
Country Contact
Aleisha Rozario, Country Director
Tel. 266 5250 5400
First Floor Dolphin House
23 Motsoene Road
Industrial Area
Maseru – 100, Lesotho
Current and Recent Donors
Elton John AIDS Foundation
Global Fund/Ministry of Finance (Project Management Unit)
UNFPA
UNICEF
USAID