The challenges governments in Africa face to vaccinate their people against COVID-19 have been well-documented. Inadequate supplies and funding, lack of necessary ultra-cold chain technologies for some vaccines, vaccine hoarding by rich countries and delays in shipments all disrupted supply over the past year. Even as supplies improved late in 2021, vaccine hesitancy is disrupting uptake to varying degrees across the continent with inconsistent supply seen as eroding confidence. By December 2021, only one African country, Rwanda, had met vaccination targets set by the World Health Organization and only 12.76% of all people living in Africa have been fully vaccinated. Given the ongoing challenges and the current low coverage rates, many people and communities on the continent may not be fully vaccinated until 2023.
But this is not the case in Lesotho. With support from Jhpiego, through the Reaching Impact, Saturation, and Epidemic Control (RISE) project, funded by the U.S. Agency for International Development (USAID) and the U.S. President's Emergency Plan for AIDS Relief (PEPFAR), Lesotho has fully vaccinated 36.2% of their population against COVID-19. While this might seem like a modest number compared to places like the United States or Europe, this is noteworthy on the African continent, where many countries are still in the single digits.
What is helping make the difference in Lesotho? With emergency funding from USAID, the RISE project is applying strategies from their HIV work to reach adults, using educational tools to correct misinformation about COVID-19 vaccination and bringing services directly to clients.
"With the RISE Lesotho vaccination program, we are applying HIV approaches and leveraging HIV platforms to rapidly deliver vaccination services," says Kelly Curran, Jhpiego's Senior Director of HIV and Infectious Diseases and the RISE Project Director. "One of the major advantages of engaging PEPFAR partners like RISE in COVID-19 vaccination is that we already have platforms that serve adults and adolescents, have experience introducing new prevention products and services, and are accustomed to delivering high quality services at scale, quickly."
Don't re-invent the wheel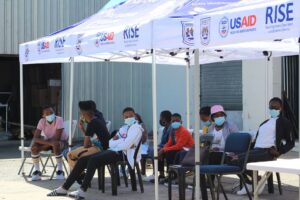 As of January 2022, RISE staff have helped fully vaccinate 446,827 people across the districts of Maseru, Berea, Leribe and Butha-Buthe, four districts that make up 60% of the country's total population. And in these districts, the vaccination rate is higher than the national average. Vaccination teams have had their fair share of challenges in getting doses into arms, including bad roads and flooded rivers due to the rainy season, supply irregularities and vaccine hesitancy and misinformation. They found one group of people particularly difficult to reach with vaccinations.
"Men in particular have been difficult to convince to come get vaccinated," says Malisebo Mphale, RISE COVAX Technical Lead. "But we knew, through our work on VMMC [voluntary medical male circumcision] over the last 10 years, what was needed to reach them."
Since 2012, Jhpiego has worked closely with the Lesotho Ministry of Health on HIV prevention, including VMMC, pre-exposure prophylaxis (PrEP), and other activities. Through human-centered design workshops, the teams knew that men in Lesotho have difficulty opening up to female health providers and mobilizers, and that they prefer to talk to someone close to their age. Last year, the RISE team applied these lessons to the vaccination campaign. "Now we have a mixture of providers, men and women of all ages," says Mphale.
The RISE project also temporarily diverted VMMC program staff to support vaccination services, including over the holiday season. And just like the project does for VMMC and PrEP outreach, instead of waiting for people to come to a clinic, they are setting up tents for pop-up vaccination sites in towns and villages where they know people, especially men.
Partnerships are key
The decade of partnership with the government and established relationships with communities enabled Jhpiego as the implementer of the RISE Lesotho project to quickly pivot to support COVID-19 vaccination, even before the first shipments of vaccines arrived. Jhpiego staff consulted with the Ministry of Health in their COVID-19 Technical Group, helping them prepare a plan for the vaccine rollout. When the very first vaccines were delivered in March 2021, through COVAX, Jhpiego was there to support the Ministry of Health in continued technical assistance, training of frontline workers and service delivery.
"If it wasn't for Jhpiego, it would have been impossible to achieve most of the milestones in COVID-19 management and vaccination," says Nthatisi Mothisi, manager for Lesotho Ministry of Health's expanded program on immunization. "The country had limited resources and budgets and Jhpiego helped with logistics, including vehicles to reach most of the hard-to-reach areas and isolated clients. Jhpiego also supported the Ministry of Health with human resources like data clerks and all resources for data capture to make sure data collected was useful and reliable for country decision-making."
RISE also tapped its existing relationships with communities and grassroots organizations that have been integral to delivering vaccines, helping mobilize people for vaccination days and sharing verified information about the COVID-19 vaccines on their social media pages.
At the beginning, there was a lack of demand creation and information dissemination about the vaccines in these communities, but these local organizations help get the word out."

Nthatisi Mothisi
These organizations are now sharing accurate information on their Facebook pages and in WhatsApp groups, in both Sesotho and English, and helping to identify local leaders and influencers, such as village chiefs, who can aid in mobilizing people to get their shots. And, Mphale said, teams are trouble-shooting problems as they arise to ensure a safe, smooth experience for everyone.
Working together to amplify our impact
This pandemic has exposed many flaws in the way global public health is funded and operationalized, especially during emergencies. But it has also shown us that we are at our strongest when we can share lessons across sectors and when our partnerships are grounded in trust. Another key element is to understand how these new partnerships might endure beyond the pandemic, for mutual strengthening of both HIV and immunization programs in the long-term. Only by working together will countries be able to vaccinate and build population immunity in their communities and put an end to the pandemic.
"Most countries in the world have existing vaccination programs set up for children, but not for adults," says Curran. "The RISE Lesotho vaccination program has demonstrated what can be done during health emergencies with existing public health programming, showing us new pathways for future life-course vaccinations."
Leanne Gray is a Senior Communications Specialist.
---
About RISE
The Reaching Impact, Saturation and Epidemic Control (RISE) project provides HIV prevention, care and treatment in key, priority, and general adult populations through strategic technical assistance and direct service delivery in PEPFAR countries. RISE supports countries to achieve and maintain the primary prevention and 95-95-95 goals that are critical to HIV epidemic control. The program will also support PEPFAR's transition of HIV service delivery to local partners by making transition awards to qualified local implementing partners, advancing progress along the journey to self-reliance.

The RISE consortium, led by Jhpiego, includes ICAP at Columbia University, Management Sciences for Health, Anova Health Institute, BAO Systems, the Johns Hopkins University Center for Public Health and Human Rights, and Mann Global Health. 
Jhpiego believes that when women are healthy, families and communities are strong. We won't rest until all women and their families—no matter where they live—can access the health care they need to pursue happy and productive lives.
Donate now!