Following best practices for infection prevention and control is essential for health care providers on the frontlines of preventing the spread of COVID-19. When the government confirmed the first COVID-19 cases in Mozambique on March 22, Jhpiego joined Ministry of Health efforts to ensure that nurses, midwives, and physicians have the knowledge and skills necessary to protect their patients and themselves as they deliver care.
Marieta Utui, a 30-year-old nurse based at Polana Canico General Hospital in Maputo, was among 103 health care workers mobilized in early April to respond to COVID-19. The hospital-based infection prevention and control refresher training she received from Jhpiego reinforced proper handwashing techniques, workplace safety, and correct use of personal protective equipment, such as masks, glasses, gloves, and gowns. During the training, Nurse Utui learned how to correctly use the equipment in the specific context of COVID-19.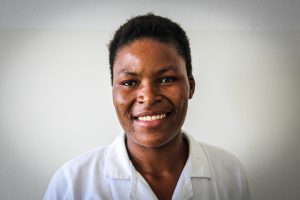 "Before, I didn't know which personal protective equipment I should put on first," Nurse Utui said. "Now I know I have to put on the footwear first [and then don other protective gear]. Thanks to the knowledge I received in the training, I am much more informed and ready to act."
Jhpiego also developed an infection prevention and control training video for health care workers that will be shared nationally through Telessaúde MZ, the Jhpiego-supported digital health platform. In addition, Jhpiego's Mozambique team helped prepare a cohesive and accessible triage system to meet the demands for testing and treating suspected COVID-19 cases. As part of that effort, and building on their experience providing assistance following Cyclone Idai, the team distributed and set up tents to serve as COVID-19 triage and treatment stations where care can be safely provided and suspected cases isolated.
Jhpiego believes that when women are healthy, families and communities are strong. We won't rest until all women and their families—no matter where they live—can access the health care they need to pursue happy and productive lives.
Donate now!