Telessaúde MZ provides access to infection prevention info
Less than 2 weeks after Cyclone Idai made landfall over Beira, Mozambique, in mid-March, the first cases of cholera were reported. With streets full of standing water from the torrential rains, roofs ripped from homes and thousands left without access to clean water or sanitation, incidences of life-threatening diseases were all but inevitable.
Immediately upon confirming cases of cholera and acute diarrhea among city residents, the Ministry of Health (MOH) declared an outbreak of the infectious disease. The emergency response, led by the MOH with the World Health Organization (WHO) and international and local partners actively participating, was immediate.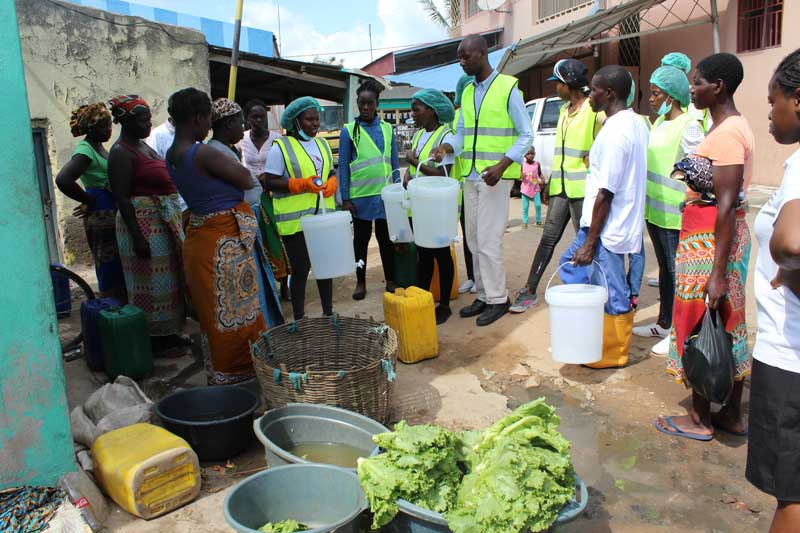 As part of the Centers for Disease Control and Prevention (CDC) support, Jhpiego, which was already providing tents, water buckets with purifier and other supplies for impromptu health centers, focused on equipping health workers, students, the military and others with knowledge and skills to help prevent the spread of infection.
Elite Petin, a student at Jean Piaget University, and one of more than 400 students, scouts and TB cough officers mobilized during the emergency, attended one of the Jhpiego trainings. During the trainings, Jhpiego technical experts shared practical knowledge about prevention and treatment of diseases, such as TB, cholera and malaria, as well as the importance of handwashing and proper waste disposal. And they introduced Telessaúde MZ, an online education and consultation tool developed by the MOH, with technical support from Jhpiego, that can be accessed using a Web browser to reinforce lessons learned in the trainings. The platform is also used to connect health care workers to experts via phone or email for additional support.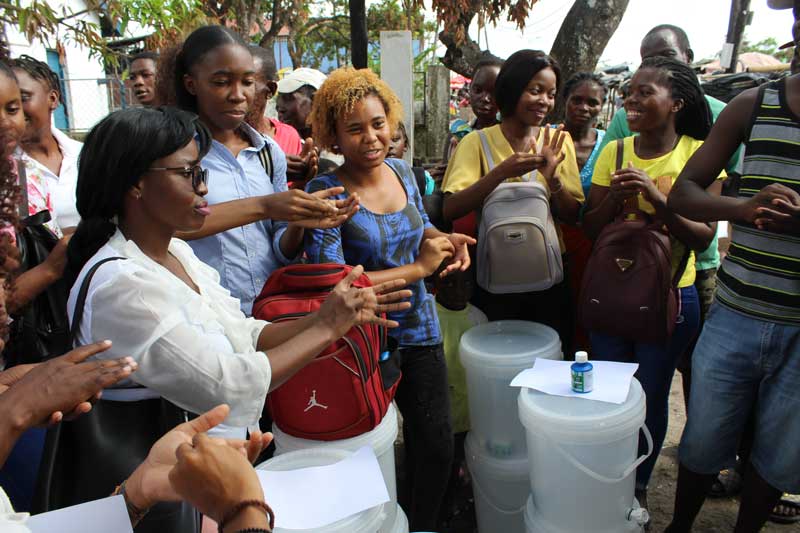 Telessaúde MZ is a sustainable digital innovation that will help the MOH and local partners build the skills and capacity of health care workers for years to come, ensuring self-reliant and high-functioning health systems.
"This was my first time to hear about this tool," said Petin, who used the digital innovation to dive deeper into information about cholera. "I felt more confident speaking to people about cholera prevention, and they reacted positively. They showed interest on topics we covered during the education outreaches."
With assistance from students like Petin, the Jhpiego-led interventions reached approximately 9,300 men, women and children, many of whom were living in camps and temporary shelters, such as the Estoril Accommodation Centre in Beira. The interventions were aligned with information about priority areas provided by specific clusters charged with monitoring the outbreaks.
Agility Is Key for a Telehealth Platform
The Telessaúde MZ platform provides MOH-approved resources on HIV and maternal and child health to primary health care workers. Via a free call-in service, health care workers in the field can communicate with and seek support from a multidisciplinary technical and experienced team based at a central location. The platform, owned by the MOH, is supported by the United States President's Emergency Plan for AIDS Relief.
In response to the cyclone emergency, the MOH and Jhpiego compiled resources specific to the prevention and treatment of cholera, malaria and other diseases that often follow natural disasters, and made them available through Telessaúde MZ. These online publications include best practices for diagnosis, treatment and prevention, and practical actions to take to avoid transmission of these diseases. To make this information more broadly accessible to health care workers throughout the affected area, the digital platform also features educational videos and illustrations.
In Mozambique, Jhpiego also supports technology-assisted learning and data collection to improve the quality of care and to foster confidence and self-reliance among health teams. It is among 23 countries where Jhpiego works with health ministries to design innovative, effective and low-cost health care solutions to elevate quality of care. These client-centered, country-appropriate solutions increase the impact of ongoing efforts to strengthen health care systems and the capacity of health care workers to save lives, and improve the health of women and their families, even in the most uncertain times.
Shared Information and Joint Action Save Lives
For some days following the Jhpiego-supported infection prevention training, Petin worked with Jhpiego, distributing information and pamphlets with key messages on disease prevention as well as handwashing kits in markets and communities. With her Jhpiego training and easy access to Telessaúde MZ, Petin was able to help ensure that her community understood the importance of handwashing, clean drinking water, and having clean and safe places to cook and sell food.
Tomás Rodrigues, a young fisherman, was among those reached through these efforts. He lost everything when Cyclone Idai destroyed his home.
When Rodrigues arrived at the Estoril Accommodation Centre with his wife and daughter, they found poor sanitation and untreated water, putting them at risk of cholera and other waterborne diseases. The center lacked a water purifier, buckets for safe drinking water, and soap and water for handwashing before eating and after using the latrine.
But thanks to the quick response and joint efforts of the MOH, Jhpiego and partners, Rodrigues and others sheltering at the center soon had safe water for drinking and washing. "Although I lost everything, I am lucky because my family is alive. Now we can wash our hands when we leave the toilet thanks to these buckets. When people see a bucket, it reminds them to wash their hands," Rodrigues said.
A few weeks later, Rodrigues and his family left the accommodation center for a safe zone—healthy and ready to rebuild their lives. And as for Telessaúde MZ, after learning about the platform and its use during the emergency response, UNICEF and the World Health Organization adopted it for their training sessions on tele-education and tele-consulting during emergencies. Digital delivers!
Fernando Fidelis is a Senior Communications Advisor for Jhpiego Mozambique.
Jhpiego believes that when women are healthy, families and communities are strong. We won't rest until all women and their families—no matter where they live—can access the health care they need to pursue happy and productive lives.
Donate now!