Sofala, Mozambique – For the past 2 years, Jeque Pita has been nursing Bento Elias back to good health and and a life free of tuberculosis (TB). When they first met at Gorongosa Rural Hospital in Sofala province, Elias complained of chest pain, shortness of breath, loss of appetite and night sweats. And he was coughing a lot.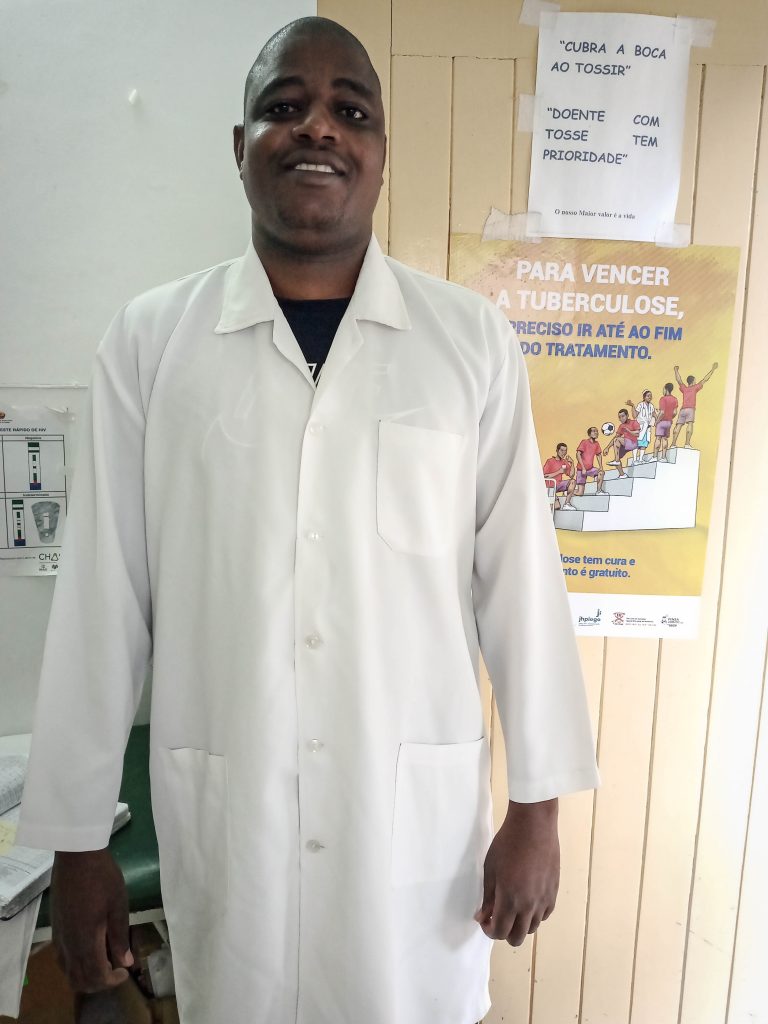 A nurse for 15 years, Pita examined Elias, collected two sputum samples from the 50-year-old father of eight children, and tested for TB. The GeneXpert TB test came back positive not only for TB but also a type—multidrug-resistant TB, or MDR-TB—that is resistant to the medication commonly used to treat and cure this condition.
It was a lot to process. Pita counseled Elias on the rigorous treatment needed to defeat MDR-TB, a very dangerous form of TB. He explained the side effects of the drugs and how to cope with them, advised and encouraged Elias to stick with the treatment and adhere to it strictly. This meant taking injections every day for 6 months and 12 tablets daily for 2 years. Pita also ensured the wellbeing of Elias's family by evaluating his wife and children and confirming that none of them had active TB.
During his treatment, Elias struggled with nausea, vomiting, painful joints and depression. "I used to walk every morning, from home to facility, to access treatment. I believed that I would never be cured. They were dark times to me," Elias recalled.
But Pita's dedicated follow-up helped Elias overcome his depression and successfully remain on treatment. Pita monitored Elias's recovery over the 2 years with monthly clinical check-ups and tests at home and in the health facility; he encouraged good nutrition, counseled him on adhering to treatment and offered emotional support throughout his recovery.
"This is our work," said Pita, 37. "We are in a better position to support our patients and they need us. I encourage clients to follow the treatment seriously until the end.
"A patient has to be resilient and strong enough if he wants to be cured. He needs to be counseled and motivated to complete the treatment," added Pita. "I tell my patients that TB has a cure like other diseases."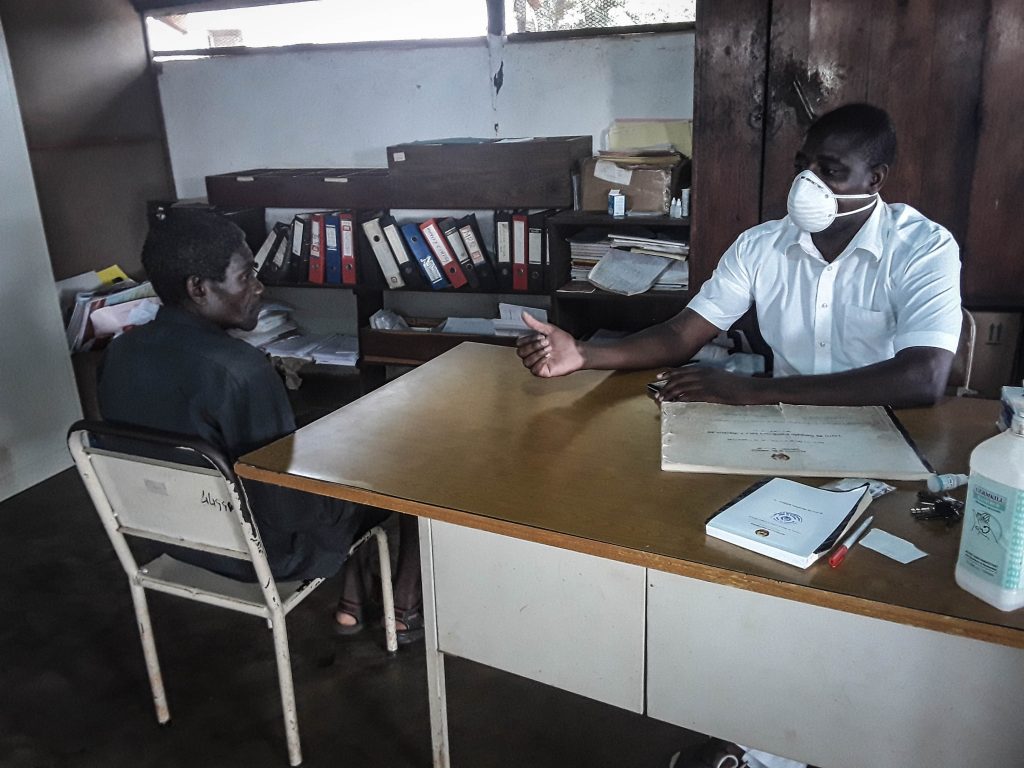 A pressing, country-wide challenge
Mozambique has one of the highest rates of TB worldwide. TB continues to be a leading cause of death in Mozambique, and the primary cause of death and disability in HIV patients.[1] Some of the challenges slowing the national TB response include late detection and incorrect treatment, problems with drug adherence and retention, poverty and HIV co-infection.
In the context of the current novel coronavirus pandemic, public health advocates are expressing concern over the impact of the virus on persons with already compromised respiratory systems. While COVID-19 may exacerbate health vulnerabilities of TB survivors, activists say it may also raise public awareness on the critical needs of fighting TB, the world's leading infectious disease threat, protecting frontline health workers as they care for people and strengthening health systems with appropriate resources.
Funded by the U.S. President's Emergency Plan for AIDS Relief through the U.S. Centers for Disease Control and Prevention, Jhpiego works with Mozambique's Ministry of Health (MOH) to empower health workers like nurse Pita with skills and confidence, through training, mentoring and supportive supervision on TB prevention and control. The partnership with the Mozambican National Tuberculosis Program to identify and treat people with TB began in 2008.
New technologies, paired with a personal touch
A husband and father of three, Pita became a nurse because of the care he received as a child at his local health center. "One day I told myself I will be a nurse to help sick people get better. I wanted to [repay] everything providers did for me," he said.
Besides treating and counseling clients with TB at Gorongosa hospital, Pita supports cough officers—MOH employees who help identify and refer presumptive cases for clinical screening at the same facility. In coordination with the MOH, Pita received training from Jhpiego in the management of TB cases like MDR-TB through a strategy known as FAST (Find cases Actively, Separate safely and Treat effectively).
As a result, he improved his skills to manage and mentor over 14 cough officers across the district as well as train, support and supervise other MOH TB district supervisors in Sofala province in reporting data quality.
As a TB nurse, Pita and his team maintain a rigorous routine—they track people, provide follow-up during long treatment regimens and work with supportive family or community members to ensure a client remains in care and on treatment.
"Sometimes clients have to walk far to get access to treatment, between 12 to 15 kilometres, which is not easy when they are very weak. The drugs are really strong and that's why some clients give up," said Pita.
Elias's situation was one of the first cases screened and treatment initiated in the district with the use of the GeneXpert. This technology, begun 5 years ago, tests the TB bacteria for sensitivity to the drugs or detects resistance patterns, can provide results within hours and is easily implemented in low-resource settings.[2] In the past, clients would have to wait almost a month to receive a correct diagnosis to start appropriate treatment immediately.
Elias's health began improving after 3–4 months of treatment. And 2 years later in 2018, he completed treatment and was declared TB-free. Elias gained weight and today sports a happy smile, joining 75,929 clients who have been screened by cough officers through the FAST strategy since 2016. Of those, 15,945 were confirmed for TB and treated.
Passing on the good news
Through his recovery, Elias says he became more informed about TB prevention and treatment and has been educating people about the disease. He shares healthy messages and his positive experience with nurse Pita.
"If you want to feel better, you have to complete the treatment. It's not easy, but you must be patient. Thanks to the counseling support I received [from Pita], I was able to complete the treatment," said Elias.
"We all have to . . . improve prevention to stop TB and to protect children from this disease."
Fernando Fidelis is a Senior Communications Officer in Jhpiego's Mozambique office, and Maria Mico Pires Pontavida Polana is a TB and Workplace Safety Coordinator in the Mozambique office. Dr. Silvia Kelbert, a Senior Technical Advisor for Jhpiego, also contributed to this article

---
[1] De Schacht C et al. (2019) Barriers to access and adherence to tuberculosis services, as perceived by patients: A qualitative study in Mozambique. PLoS ONE 14(7): e0219470. https://doi.org/10.1371/journal.pone.0219470
[2] WHO: What is multidrug-resistant tuberculosis (MDR-TB) and how do we control it? https://www.who.int/features/qa/79/en/
---
Jhpiego believes that when women are healthy, families and communities are strong. We won't rest until all women and their families—no matter where they live—can access the health care they need to pursue happy and productive lives.
Donate now!