Afghanistan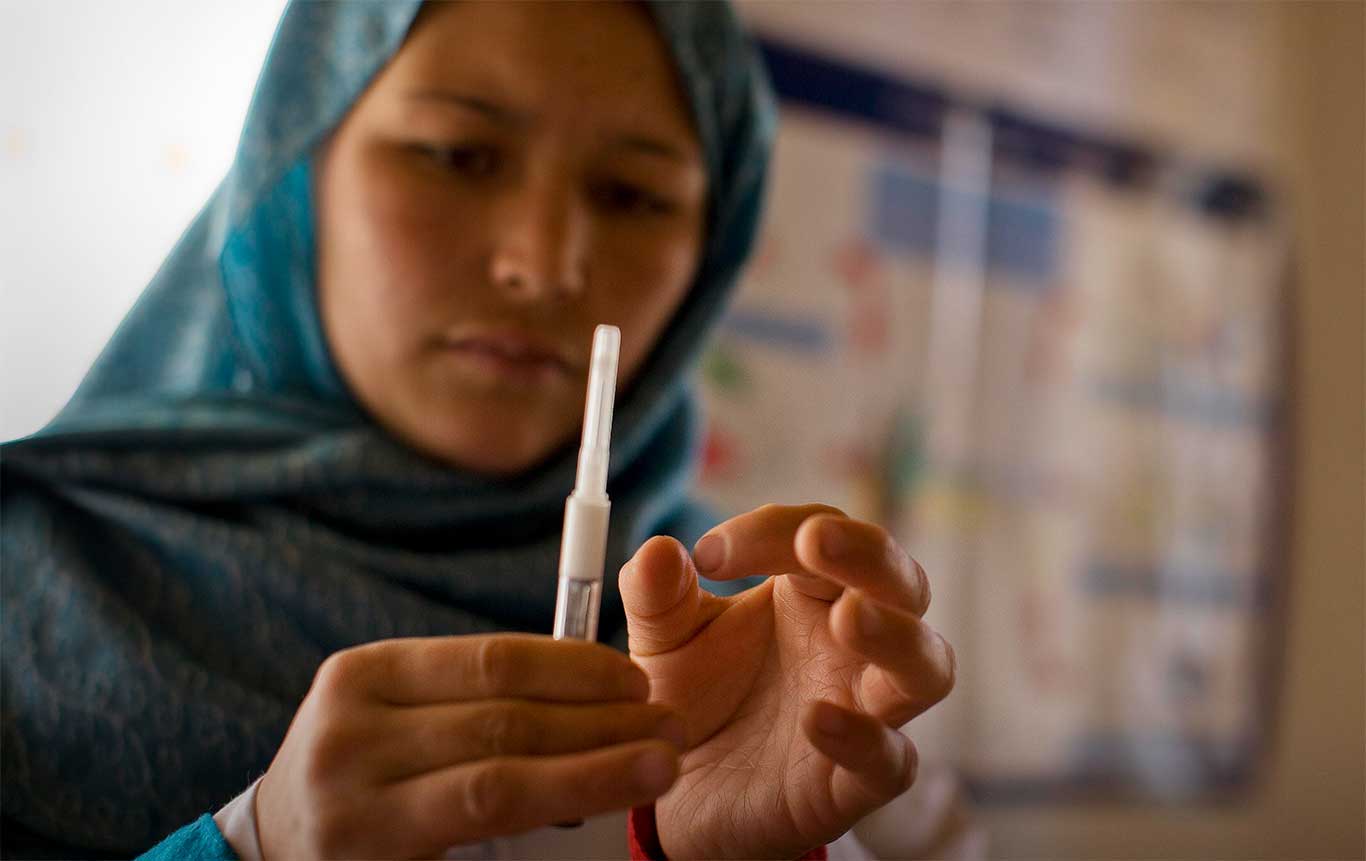 Country Contact
Tel. 932 (0) 2214319
Kabul, Afghanistan
Current and Recent Donors
Arnow Family Fund
UNICEF
USAID
Since 2002, striving to ensure that women don't lose their lives while giving birth.
Jhpiego rebuilt the national midwifery education system, leading to the launch of 27 midwifery schools—a nearly four-fold increase. The re-invigorated midwifery education system has led to the graduation of more than 5,000 new midwives from these schools.
As a result, the percentage of health care facilities with a trained midwife increased from under 5% in 2002 to over 85% in 2012, making lifesaving maternal health services available to many more women.
Jhpiego is supporting more than 50 hospitals in five provinces to mentor clinical staff and strengthen data use, resulting in improved quality of care on the day of birth for more than 250,000 mothers and newborns in 2018 alone.
Jhpiego introduced community health worker distribution of lifesaving medicines to prevent severe bleeding and newborn umbilical cord infections after birth in women delivering at home, subsequently approved by the Ministry of Public Health. In 2018, 130,000 newborns were protected against umbilical cord infection and 180,000 women were protected against severe bleeding just after delivery at home or health facility.
Our Technical Areas in Afghanistan
Our Work in Afghanistan
Fighting COVID-19 Under the Reaching Impact, Saturation, and Epidemic Control (RISE) Project
With funding from the U.S. Agency for International Development (USAID), RISE is working in select countries, including Afghanistan, to address the COVID-19 pandemic by supporting the safe and effective use of donated mechanical ventilators. Informed by stakeholder consultation and facility level assessments, the project will support USAID and ministries of health to guide the placement of donated ventilators to selected health facilities, and promote safe and appropriate use of the ventilators. Upon delivery and placement of the donated ventilators, RISE will provide training and targeted technical assistance to providers at supported sites focused on advanced and critical care for severe COVID-19, and quantification of supplies, human resources and other health system needs related to safe ventilator use.
RISE is a five-year global project—funded by the U.S. President's Emergency Plan for AIDS Relief (PEPFAR) and USAID—that works with countries to achieve a shared vision of attaining and maintaining epidemic control, with stronger local partners capable of managing and achieving results through sustainable, self-reliant and resilient health systems. The project is led by Jhpiego with the following partners: ICAP at Columbia University, Management Sciences for Health, Anova, BAO Systems, Johns Hopkins University Center for Public Health and Human Rights, and Mann Global Health. For the COVID-19 ventilator technical assistance effort, RISE is also collaborating with the University of California San Francisco, World Federation of Societies of Anesthesiologists (via the GH STAR project), FHI 360 (via the EpiC Project) and Johns Hopkins University emergency medicine and critical care staff.
Helping Mothers and Children Thrive Project (HEMAYAT)
This five-year project, funded by the U.S. Agency for International Development seeks to increase utilization of high-quality family planning (FP) and maternal and newborn health (MNH) services in Afghanistan. It does this by introducing and scaling up gender-sensitive, culturally appropriate and cost-effective high-impact FP/MNH interventions that strengthen and enhance existing primary health care services—provided through the country's basic package of health services, essential package of hospital services and the private sector—while also increasing demand for these services. Since October 2017, HEMAYAT has focused on reducing maternal and newborn mortality in Afghanistan's five key population hubs: Balkh, Herat, Kabul, Kandahar and Nangarhar. These hubs account for approximately 40% of the country's population and contain the major urban centers of the country.
Country Contact
Tel. 932 (0) 2214319
Kabul, Afghanistan
Current and Recent Donors
Arnow Family Fund
UNICEF
USAID