Afghanistan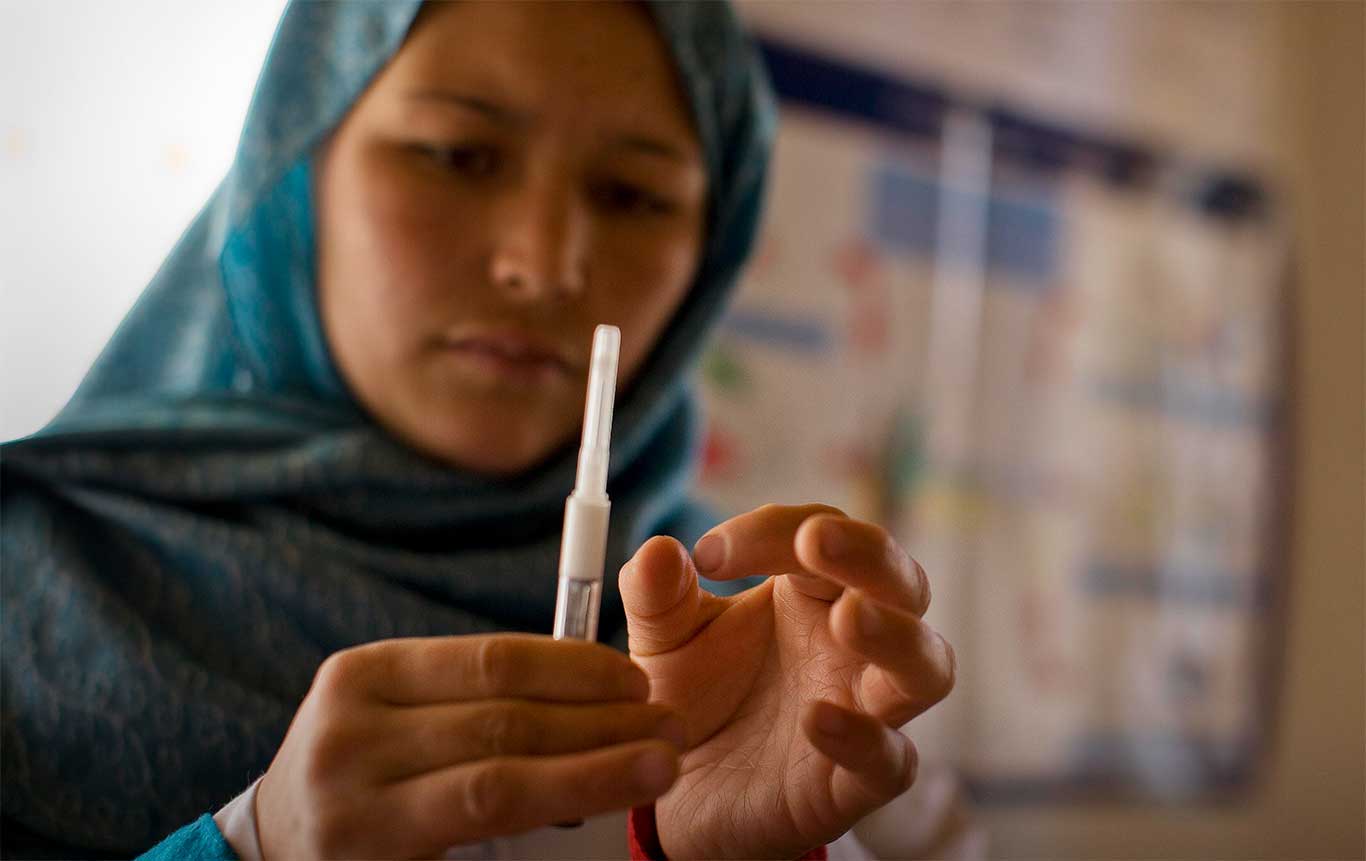 Country Contact
Tel. 932 (0) 2214319
Kabul, Afghanistan
Current and Recent Donors
Arnow Family Fund
UNICEF
USAID
Since 2002, striving to ensure that women don't lose their lives while giving birth.
Jhpiego rebuilt the national midwifery education system, leading to the launch of 27 midwifery schools—a nearly four-fold increase. The re-invigorated midwifery education system has led to the graduation of more than 5,000 new midwives from these schools.
As a result, the percentage of health care facilities with a trained midwife increased from under 5% in 2002 to over 85% in 2012, making lifesaving maternal health services available to many more women.
Jhpiego is supporting more than 50 hospitals in five provinces to mentor clinical staff and strengthen data use, resulting in improved quality of care on the day of birth for more than 250,000 mothers and newborns in 2018 alone.
Jhpiego introduced community health worker distribution of lifesaving medicines to prevent severe bleeding and newborn umbilical cord infections after birth in women delivering at home, subsequently approved by the Ministry of Public Health. In 2018, 130,000 newborns were protected against umbilical cord infection and 180,000 women were protected against severe bleeding just after delivery at home or health facility.
Our Technical Areas in Afghanistan
Our Work in Afghanistan
Urban Health Initiative
The goal of the Urban Health Initiative (UHI), funded by the U.S. Agency for International Development, is to improve health outcomes of people living in Afghanistan's urban areas, particularly women and children and other vulnerable populations. To achieve this goal, UHI works to improve public and private health service delivery in the five urban areas of Kabul, Herat, Jalalabad, Kandahar and Mazar-e-Sharif by: 1) strengthening the Ministry of Public Health's capacity and stewardship; 2) improving access to primary and secondary health care services; 3) improving the quality of public and private health services; and 4) improving people's awareness of health care services and behaviors. UHI's technical areas of focus are: reproductive, maternal, newborn, child and adolescent health; communicable diseases, especially TB and vaccine preventable diseases; and nutrition. The Jhpiego-led consortium implementing this program includes Management Sciences for Health, Inc., CARE, Intellecap, Internews, BAO Systems, Project ECHO, Terre des Hommes, Viamo and the following Afghan organizations: Agency for Assistance and Development of Afghanistan, Afghan Midwives Association, Afghan Social Marketing Organization and Moraa.
Fighting COVID-19 Under the Reaching Impact, Saturation, and Epidemic Control (RISE) Project
With funding from the U.S. Agency for International Development (USAID), RISE is working in select countries, including Afghanistan, to address the COVID-19 pandemic. In line with ministry of health priorities in each country, RISE's COVID-19 response support may include: assisting in the planning and rollout of national vaccine plans, including ensuring health care workers are prepared to implement and monitor this plan; providing focused and clinically relevant capacity building for clinicians providing COVID-19 case management; strengthening the oxygen ecosystem; and supporting health care workers in oxygen conservation, rationalization and non-invasive respiratory care.
RISE is a five-year global project—funded by the U.S. President's Emergency Plan for AIDS Relief (PEPFAR) and USAID—that works with countries to achieve a shared vision of attaining and maintaining epidemic control, with stronger local partners capable of managing and achieving results through sustainable, self-reliant and resilient health systems. The project is led by Jhpiego with the following partners: ICAP at Columbia University, Management Sciences for Health, Anova, BAO Systems, Johns Hopkins University Center for Public Health and Human Rights, and Mann Global Health. For the COVID-19 ventilator technical assistance effort, RISE is also collaborating with the University of California San Francisco, World Federation of Societies of Anesthesiologists (via the GH STAR project), FHI 360 (via the EpiC Project) and Johns Hopkins University emergency medicine and critical care staff.
Technical Assistance to the Global Health Supply Chain Program – Procurement and Supply Management (GHS-PSM) in Support of the Oxygen Ecosystem
GHSC-PSM is led by Chemonics and funded by the U.S. Agency for International Development. In alignment with the program's procurement of oxygen-related equipment, GHSC-PSM is supporting Jhpiego—in partnership with the Johns Hopkins School of Medicine—to provide clinical technical assistance (TA) for the oxygen ecosystem in five countries (Afghanistan, Ghana, Guatemala, Kenya and Mozambique). The goal of this TA is to build the capacity of clinicians and other staff at selected health facilities to deliver oxygen therapy in the context of clinical case management of newborn, children and adult COVID-19 patients. The generic package of clinical TA includes support for the following: clinical assessment and triage, testing for COVID-19, age-appropriate supplemental oxygen and advanced respiratory care, therapeutic and supportive medical care, infection prevention and control, adaptation of facility information tools, and ongoing mentorship and supportive supervision.
Country Contact
Tel. 932 (0) 2214319
Kabul, Afghanistan
Current and Recent Donors
Arnow Family Fund
UNICEF
USAID