At 35 weeks pregnant with her fourth child, Lailuma felt anxious—the memory of her third birth still haunting her. As with her previous deliveries, she had given birth at home. But the last labor had been unbearably long and tiring. Her baby seemed to have suffered too, being slow to develop and grow as her other children did. Lailuma worried about her fate and that of her unborn child. To make things worse, she had started having abdominal pain. Because her husband was unemployed, they could not afford to go to a private hospital.
Lailuma then heard that the neighboring health center in Mazar-e-Sharif City, which offered free maternal health services, finally had a new midwife on staff after a year without one.
Lailuma immediately went to the center and shared her concerns with Midwife Marzia Naimi. The midwife completed a full antenatal assessment of Lailuma and explained that the abdominal pain was a sign that her body was preparing for the birth. "I told my husband that the new midwife is skilled and kind. I expressed my desire to deliver under her care at the facility as I would feel safer. Also, the services are free, I told him. My husband happily agreed," said Lailuma.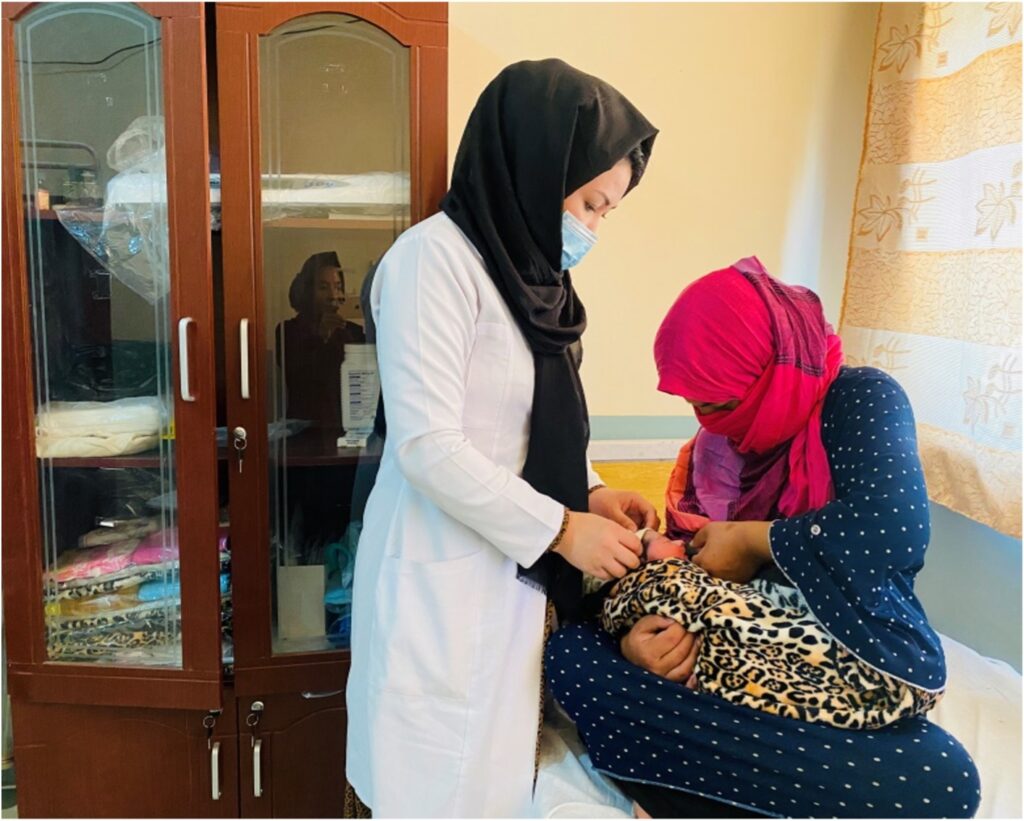 With her skills enhanced by Jhpiego, Midwife Marzia has been working at the health center through the U.S. Agency for International Development's Urban Health Initiative (UHI) project, which aims to improve health outcomes for people in Afghanistan's urban areas. Jhpiego leads the project with a consortium of partners.
The past two years have shaken the country's already fragile health system. First, significant health resources were diverted to fight the COVID-19 pandemic. Then, in August 2021, the rapid Taliban takeover created a new and challenging context that continues to evolve.
Working to meet pressing health needs
Throughout this period, the UHI project has worked steadily to address the most pressing health needs of women, children and families in five major cities the project serves.
The shortage of human resources for health, including midwives, has been a major concern over the past year. To help fill this gap, Jhpiego and UHI project partners have hired 132 midwives at intervention facilities. More than 180,000 women gave birth at a UHI-supported health facility between April 2021 and June 2022.
Under Marzia 's supportive care, Lailuma gave birth to a healthy baby girl and both mother and baby received a postpartum checkup that included vaccinations for the newborn. Lailuma said she would encourage other women to give birth at the health center: "I am so happy with Midwife Marzia and the respectful care she gave me and my baby."
Marzia spoke with the new mother about the importance of regular checkups for the baby to monitor growth and developmental milestones, healthy timing and spacing of pregnancies, and early breastfeeding.
Dr. Pir Mohammad Paya, Deputy Country Director of Jhpiego Afghanistan, explained UHI's approach and purpose: "We need to bring the services closer to the people, especially to the mothers and children. We are working at each level—community, primary care and at bigger hospitals—to strengthen health care."
He added, "We can see the nutrition needs of children and family planning needs of women have increased."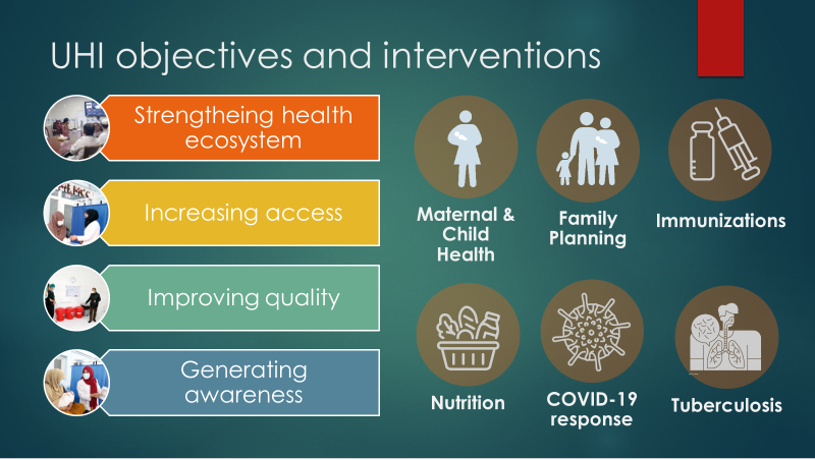 Detecting and treating malnutrition in Afghan children
A recent report estimates that one million children may die of malnutrition across Afghanistan in 2022, making it a health emergency and focus area for the UHI project.
The project is raising awareness, generating demand and promoting care-seeking for nutrition activities across its target communities.
Community midwives and providers at community health posts assess children's nutritional status by measuring their mid-upper-arm circumference. Jhpiego-trained Nurse Jawahir Sharafat, from a private facility in Kabul, assesses the nutritional needs of 20 to 30 children daily and identifies as many as four malnourished children each day.
"There was no nutrition corner before. It was established with support of the UHI project," she said. To date, nearly 87,000 children have had their growth monitored at Jhpiego-supported sites through the UHI project. Mothers whose children are identified as being malnourished receive counseling on best nutrition practices, and with their children are referred to treatment centers.
Helping Afghan women make an informed decision about family planning
Faced with a faltering economy, increased unemployment and a weak health infrastructure, many women, such as 30-year-old Marzia (not to be confused with Midwife Marzia mentioned earlier), want to wait to have another child. "I have a child. My husband is a daily worker in the local market. Some days he is able to earn 200 to 250 Afghan Afghani [about US$2.80–$5.70], but most of the days not even that much," she said.
A Jhpiego-trained midwife, working at a private health facility in Kabul, counseled Marzia on free family planning methods available, including implants. "Implant insertion and removal procedures are generally short, uncomplicated and can be used by almost all women. Implants are best suited for women who are looking for long-term birth spacing," the midwife said.
After consulting with her husband, Marzia decided on an implant. "I am thankful to the midwife for her support. I made the right decision . . . I am no longer worried about getting pregnant soon and that makes me feel good," Marzia said.
The UHI project is increasing access to counseling and family planning methods, reaching women such as Marzia who want to plan their families and space births and choose a method that is right for them.
Looking to the future for Afghanistan's mothers, children and families
Jhpiego currently supports 65 health facilities in the private and public sectors, as well as 98 urban health posts along with community midwives and community-based interventions.
Looking ahead, Jhpiego's Dr. Paya said, "I hope we can expand our support to all the health facilities in the five cities where we are working, so that we are able to cover millions of mothers, children and people (who are in vulnerable situations) and ensure their access to quality services. I'm hopeful that by next year, at this time, we will witness an expansion of our work in terms of better coverage, better access and provision of high-quality services to the people of Afghanistan."
Rahmat Nabi is the communications manager in Jhpiego's Afghanistan office. Hamed Hashimi is a photographer in Jhpiego's Afghanistan office. Indrani Kashyap, Sr. Regional Communications Manager for Asia and Latin America, also contributed to this story.
Jhpiego believes that when women are healthy, families and communities are strong. We won't rest until all women and their families—no matter where they live—can access the health care they need to pursue happy and productive lives.
Donate now!