Burkina Faso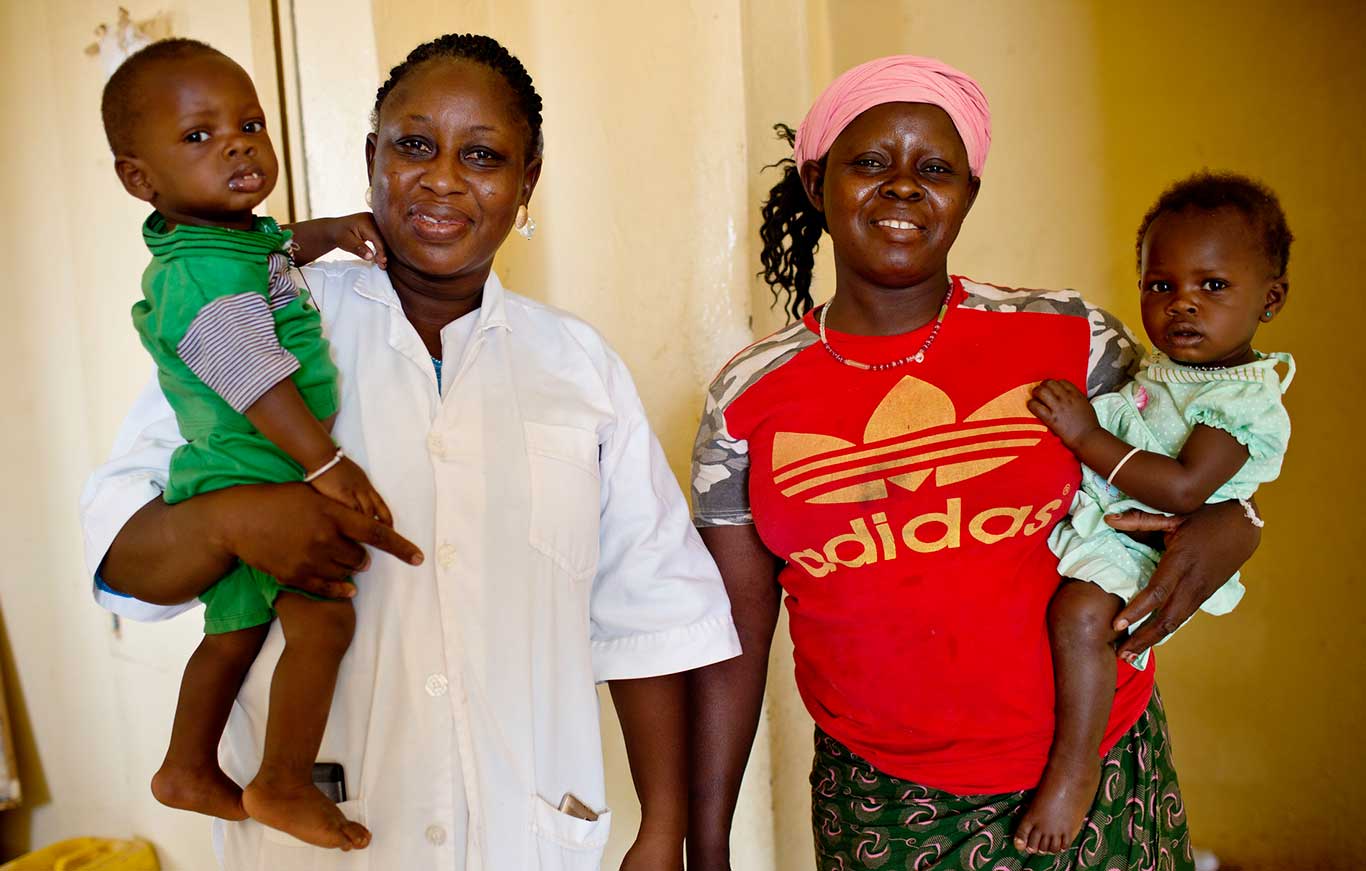 Country Contact
Mathurin Bonzi, Country Director
Tel. 226 25 34 12 44
Boulevard Ratag Rima, Porte 1045
Quartier Gounghin sud, secteur 6
01 BP 5654 Ouagadougou 01
Burkina Faso
Current and Recent Donors
Bill & Melinda Gates Foundation
CDC
Clinton Health Access Initiative
European Commission
UNFPA
Unitaid
USAID
Working to preserve the health of women and families since 1995.
Jhpiego collaborated with the Ministry of Health (MOH) to introduce and expand postpartum IUD services, resulting in more than 300 health facilities across all 13 of the country's regions now providing postpartum IUDs to women who recently delivered and want to space their next pregnancy.
From January 2016 to March 2020, the percentage of postpartum women adopting a family planning method increased from 25% to 68% and the percentage of postpartum women who adopted long-acting, reversible contraception increased from 19% to 22%. As a result, the MOH is scaling up postpartum family planning services across the country.
With the MOH, Jhpiego piloted and introduced cervical cancer prevention services at two university hospitals and subsequently expanded them to 21 additional sites with financial support from other organizations. Currently, efforts are underway to integrate cervical cancer prevention services into other health services and to adopt the latest screening and treatment technologies (e.g., HPV molecular testing and thermal ablation).
Jhpiego provides expertise to the MOH's malaria prevention, diagnosis and treatment activities. From 2014 to 2019, more than 39.7 million children and adults received prompt malaria confirmatory testing and appropriate treatment, over 1.5 million pregnant women received preventive treatment and 2.5 million insecticide-treated bed nets, and over 834,00 children received seasonal malaria chemoprevention. These efforts—estimated to have averted 17,795 deaths and 1.4 million disability-adjusted life years—contributed significantly to reductions in national malaria morbidity and mortality.
Our Work in Burkina Faso
Integrated Family Health Services Project
The Jhpiego-led, five-year Integrated Family Health Services Project (IFHS) supports the Government of Burkina Faso to increase access, equity and uptake of quality, gender-sensitive, integrated services for malaria and reproductive, maternal newborn, child and adolescent health and nutrition in 19 districts in the Centre-Est, Centre-Ouest and Sud-Ouest regions. IFHS works from the national level to the community level to empower district health management teams, facility-based health workers, community health workers and communities by providing capacity building and supportive supervision. By using a client-centered approach to respond to client preferences and expectations, especially for marginalized and vulnerable populations, the project is minimizing missed opportunities and providing timely, targeted care. IFHS is expanding use of a digital health platform at all levels of the health system in the targeted regions to promote quality integrated service delivery and improve data quality and use of data for clinical decision-making and management. The project is funded by the U.S. Agency for International Development. Other members of the consortium include Terre des Hommes, Viamo and local organizations Conseil Burkinabe des Organisations de Développement Communautaire (BURCASO) and Association Songui Manegré/Aide au Développement Endogène (ASMADE).
Enhancing Global Health Security: Expanding Efforts and Strategies to Protect and Improve Public Health Globally
Funded by the U.S. Centers for Disease Control and Prevention (CDC), this five-year project builds upon activities funded by CDC to support Global Health Security through implementation of programs and activities that focus on protecting and improving health globally through partnerships with Ministries of Health and other institutions. With an initial emphasis on addressing the COVID-19 pandemic, the project is supporting countries—including Burkina Faso—and carrying out regional work in West Africa and South America to improve prevention of avoidable epidemics, including naturally occurring outbreaks and intentional or accidental releases of dangerous pathogens, and to improve ability to detect threats early and respond rapidly and effectively to public health threats of international concern. The project is being implemented by a Jhpiego-led consortium that includes the Johns Hopkins Center for Health Security, the Johns Hopkins University Applied Physics Laboratory, Global Scientific Solutions for Health, and Johns Hopkins University Center for Global Health.
Establishing The Advocacy and Accountability Collaborative
The Advocacy and Accountability Collaborative (TAAC) is intended to serve as a facilitation mechanism for sustainable advocacy approaches to drive progress toward universal access to family planning. Ultimately, TAAC seeks to improve government accountability for family planning and maternal health commodities security through improved national policies, management systems and logistics. Under this 18-month project, financed by the United Nations Population Fund, Jhpiego is establishing TAAC "hubs" in Burkina Faso and Kenya through which local civil society organizations can effectively promote policy implementation and country self-reliance in the areas of family planning, maternal health and reproductive health. Jhpiego is working to build the capacity of civil society organizations in the two countries, foster local collaboration and recruit and mentor local champions to sustain TAAC efforts. In addition, Jhpiego is refining the TAAC model so that it can be scaled up in additional countries.
Accelerating Uptake of Expanded Method Mix
Funded by the Bill & Melinda Gates Foundation, this program promotes access to family planning choices in West African countries by supporting the introduction and scale-up of subcutaneous depot-medroxyprogesterone acetate (DMPA-SC). DMPA-SC is an innovative injectable contraceptive—also known as Sayana® Press—that can dramatically expand access and choice for women. Jhpiego is working closely with the Access Collaborative to strengthen health systems to accelerate introduction and scale-up of DMPA-SC in select West African countries, including Burkina Faso.
Performance Monitoring for Action Project (PMA)
This four-year project, funded by the Bill & Melinda Gates Foundation, builds on the PMA2020 project, which used innovative mobile technology to support low-cost, rapid-turnaround surveys monitoring key health and development indicators. PMA is enhancing this survey platform to generate high-quality data and ensure that governments, donors, managers and advocates use this data to make decisions regarding family planning programs. In addition to scaling up the survey platform for more widespread use, this project supports expanding it to include additional technical areas. Co-led by Jhpiego and the Bill & Melinda Gates Institute for Population and Reproductive Health, this project is operational in several African and Asian countries, including Burkina Faso.
Accelerating Uptake of Expanded Method Mix
Funded by the Bill & Melinda Gates Foundation, this program promotes access to family planning choices in West African countries by supporting the introduction and scale-up of subcutaneous depot-medroxyprogesterone acetate (DMPA-SC). DMPA-SC is an innovative injectable contraceptive—also known as Sayana® Press—that can dramatically expand access and choice for women. Jhpiego is enhancing ongoing efforts of the Access Collaborative by strengthening health systems to accelerate introduction and scale-up of DMPA-SC in several West African countries. This is being done in Burkina Faso through advocacy on the national, regional and local levels with officials, leaders, providers and clients, sharing of best practices among partners and the creation of a technical working group to work towards administration of DMPA-SC by community health workers and self-injection by patients.
Scale Up Cervical Cancer Elimination with Secondary Prevention Strategy (SUCCESS)
Unitaid is funding a consortium, led by Expertise France, that seeks to eliminate cervical cancer in Burkina Faso, Côte d'Ivoire, Guatemala and the Philippines through secondary prevention (i.e., detecting disease early to slow or halt its progress). The three-year SUCCESS project is designed to shift the countries from a largely opportunistic cervical cancer screening model to a systematic approach centered on innovations related to: 1) reinforced and simplified cervical cancer screening through the introduction of human papilloma virus (HPV) testing with self-collection sampling; 2) secondary prevention of cervical cancer including use of efficient methods for treatment of cervical precancerous lesions such as thermal ablation; and 3) intensified dissemination of information on cervical cancer and new preventive technologies. In so doing, SUCCESS aims to support countries to "leapfrog" to a state-of-the-art services model recommended by the World Health Organization. As the implementing partner of the consortium, Jhpiego is integrating and expanding cervical cancer prevention and treatment services into both new and existing platforms, relying on our established relationships with governments and stakeholders in all four countries. Through demand-generation and community engagement activities, the project plans to screen a total of 185,000 women, a significant proportion of whom will be women living with HIV.
Social Promotion and Family Planning: Together for better health of families, youth and adolescents in Central-East and East Burkina Faso
Under a sub-award with Plan International, funded by the European Commission, Jhpiego is helping to strengthen the supply and demand of civil and social promotion services at health center, community and school levels in two regions of Burkina Faso. Jhpiego is working closely with Plan International, the Ministry of Health, regional and district health teams and civil society organizations to help increase the supply and demand for family planning (FP) and other sexual and reproductive health services (SRH)—including services specific to youth and adolescents—at 160 health facilities and communities in the two regions. Jhpiego-led activities include: 1) support to the Ministry of Health to update FP policies and strategies; 2) capacity building of health care providers to provide a comprehensive FP package to couples and women of childbearing age, including adolescents and youth; 3) training of community health workers on community-based distribution of FP methods, including the injectable contraceptive DMPA-SC; 4) meetings with local leaders in each region by third-party nongovernmental organizations and local associations to advocate for the promotion of FP, adolescent SRH and children's rights; and 5) provision of technical assistance to targeted governmental ministries and technical departments.
Improving Sexual and Reproductive Health
This three-year project, funded by a Large Anonymous Donor through the Ministry of Health, has the objective of improving sexual and reproductive health (SRH) by strengthening the health system in Burkina Faso. Jhpiego and other implementing partners (Pathfinder and EngenderHealth) are providing technical support for the implementation of a coordinated set of project activities in five health regions of the country (Centre, Centre-Est, Centre-Sud, Centre-Ouest and Est). These activities include: 1) build and expand access to high-quality family planning (FP) and abortion services through innovative changes; 2) build the capacity of health facilities to offer high-quality FP, abortion and other SRH services; and 3) strengthen the health information system for FP, abortion and other SRH service provision.
Strengthen the Capacity of the National Laboratory Network in Burkina Faso
With funding from the CDC Foundation, this project is implementing a laboratory quality control and capacity building strategy at the national and sub-national levels. With partner GSSHealth, Jhpiego is overseeing and conducting laboratory strengthening activities through a mentoring, coaching and technical assistance model, which includes in-country laboratory training and technical assistance to the country's seven national-level laboratories. Specific emphasis is being placed on expanding the laboratories' capacity to conduct polymerase chain reaction testing to ensure rapid identification of disease in order to prevent largescale outbreaks. The project is also purchasing, distributing and managing lab supplies/equipment and specimen transfer between the national labs. At the subnational level, the project supports implementation of lab quality measures and conducts supervisory visits at district labs.
Impact Malaria
Impact Malaria is a global project of the U.S. President's Malaria Initiative to reduce mortality and morbidity caused by malaria. Implemented by a consortium of organizations led by PSI, the project is funded by the U.S. Agency for International Development. In close collaboration with the National Malaria Control Program, other sections of the Ministry of Health and various implementing partners, Impact Malaria is designed to improve malaria service delivery via the following objectives: 1) improve the quality of and access to malaria case management and prevention of malaria in pregnancy; 2) improve the quality of and access to other malaria drug-based approaches and provide support to pilot/scale up newer malaria drug-based approaches; and 3) provide global technical leadership, support operational research and advance program learning. In Burkina Faso, with Jhpiego as the technical and operational lead, Impact Malaria is partnering with the local National Malaria Control Program to plan, implement and monitor a high-quality seasonal malaria chemoprevention campaign in three regions of Burkina Faso.
Country Contact
Mathurin Bonzi, Country Director
Tel. 226 25 34 12 44
Boulevard Ratag Rima, Porte 1045
Quartier Gounghin sud, secteur 6
01 BP 5654 Ouagadougou 01
Burkina Faso
Current and Recent Donors
Bill & Melinda Gates Foundation
CDC
Clinton Health Access Initiative
European Commission
UNFPA
Unitaid
USAID