Laetitia Tagnan, a student at the Norbert Zongo University (NZU) of Koudougou in Burkina Faso, dreams of a career as a diplomat. Optimistic, full of life and determined to achieve her goals, Laetitia, 24, devotes herself to her studies and takes precautions to avoid anything that will interfere with her plans, including getting pregnant.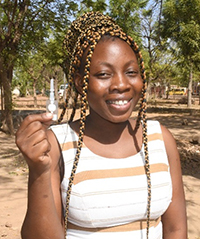 Self-injection of DMPA-SC: A well-thought-out method that meets the needs of female students.

Laetitia Tagnan
After talking with her boyfriend, Laetitia began taking birth control pills to avoid a pregnancy that could lead to, among other consequences, possible rejection by her parents, termination of her university studies, being saddled with parental responsibilities she was unprepared for and the derailing of her career aspirations.
In Koudougou, many female students have had an unplanned pregnancy interrupt their schooling and prospects for a higher education. In 2020, the Koudougou health district recorded 375 pregnancies among school girls and many others at NZU and in vocational schools—pregnancies that could have been avoided in part through appropriate family planning counseling and services.
Since 2015, working in partnership with the government of Burkina Faso and with funding from the Bill & Melinda Gates Foundation, Jhpiego has been supporting introduction of DMPA-SC as part of family planning options to meet the needs of youth and adolescents in secondary schools, universities and vocational training centers. DMPA-SC is an injectable contraceptive that can be self-administered and protects against pregnancy for three months. In addition to Burkina Faso, Jhpiego works to increase access to DMPA-SC in seven other Francophone countries that are part of the Ouagadougou Partnership in West Africa.
In Burkina Faso, Jhpiego supported the training of the midwife at the NZU medical center and more than 20 other providers in health clinics at vocational schools, high schools and secondary schools so that they could coach clients in self-injection. In addition, the program supplies DMPA-SC units, kits for training clients on self-injections and sessions for students on family planning.
Before DMPA-SC, I was using the pill that I bought at the pharmacy. It was not easy to get this product,"

Laetitia
Worried that people had a negative perception of students who publicly buy pills, she waited until the pharmacy was less crowded to discreetly order her pills.
To ensure the method's effectiveness, Laetitia needed to take one pill every day at a fixed time, which she frequently forgot to do. This disrupted her menstrual cycle and caused her to worry about getting pregnant. Some of her university friends, who had attended a session on pregnancy prevention at NZU, told her about DMPA-SC and the possibility of self-injection. They explained that the midwife provides it for free to students who select it as their family planning method.
When Laetitia visited the university medical center, the midwife counseled her on various contraceptive methods. Laetitia chose DMPA-SC. "It really meets my needs," she says with an exuberant smile. "By injecting myself every quarter, I can be sure that I will not get pregnant…. Plus, I don't have to waste time waiting in the long line of patients to get the injection. I take this time to attend my classes and learn my lessons."
"I feel empowered," Laetitia adds.
Convinced of its benefits, Laetitia thinks DMPA-SC can help students fulfill the government's vision, "Zero pregnancies in schools, universities and vocational training centers." Laetitia now has the knowledge, support and resources she needs to take control of her reproductive health and her future.
Dr. Yacouba Zanré is the Technical Advisor and Project Manager of the Accelerating Access to the DMPA-SC in the Ouagadougou Partnership Countries Project and Souleymane Zaré is the Communications Officer in Burkina Faso.
Jhpiego believes that when women are healthy, families and communities are strong. We won't rest until all women and their families—no matter where they live—can access the health care they need to pursue happy and productive lives.
Donate now!