Medical oxygen is an indispensable element of the Indian health system, vital for treating a wide range of medical conditions and foundational for establishing a respiratory care program. Recognizing its critical importance, the U.S. Agency for International Development-funded Reaching Impact, Saturation, and Epidemic Control (RISE) project embarked on a transformative journey to strengthen Gujarat's health infrastructure by enhancing the capacity of the health workforce and bolstering the oxygen ecosystem. The strategic implementation of a hub-and-spoke model yielded remarkable results in Gujarat, ultimately ensuring that oxygen therapy is administered efficiently and effectively throughout the state.
Strengthening Capacities for Optimal Oxygen Management
In India, the availability and efficient use of medical oxygen have been a long-standing challenge. Although various oxygen systems are available in public and private health facilities, the key to success lies in the proficiency of the healthcare personnel who manage and treat patients with oxygen therapy. As part of its support of governments' response to COVID-19, the RISE project recognized this critical deficit and concentrated its efforts on building the capabilities of health providers. RISE worked throughout India to build sustainable, self-reliant, and resilient health systems that could meet pandemic demands and future health crises.
Hub and Spoke Network
The project adopted a hub-and-spoke model that proved to be highly effective in reaching significant numbers of health workers across Gujarat. Under this innovative approach, the project created an interconnected knowledge network wherein the hubs were the premium medical teaching institutes, and the spokes were the peripheral secondary and tertiary care facilities that required capacity-building support. In Gujarat, the hub training facilities were strategically established in medical colleges across six zones: Ahmedabad, Bhavnagar, Rajkot, Surat, Vadodara, and Gandhinagar. To initiate this capacity-building initiative, RISE organized a Training of Trainers (TOT) program that included 39 master trainers (25 anesthesiologists and 14 senior nursing staff), all of whom were proficient in providing critical care and were working in critical care units across the hubs in the state.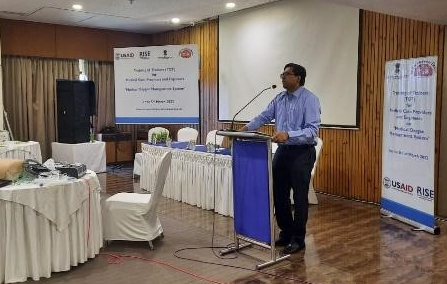 Following the TOT program, the master trainers shared their knowledge with health workers at the spoke facilities located in district and sub-district hospitals within their respective zones. The recipients of this training spanned a diverse spectrum of medical personnel, including specialist anesthesiologists, general medical officers, and nursing staff stationed at the spoke facilities.
Comprehensive Training and Learning Modules
The TOT program, held on March 5, 2022, at Sir Byramjee Jeejeebhoy Medical College and Civil Hospital in Ahmedabad, used learning packages developed by RISE and vetted by leading experts in the field of oxygen therapy in India. The trainers adeptly employed these modules to equip trainees with the requisite skills and knowledge in various facets of oxygen management. This included the proficient operation of equipment and therapy devices, minimizing oxygen wastage, accurate titration of oxygen during therapy, adherence to quality testing protocols, and other critical aspects. The training was delivered through a combination of classroom sessions and practical demonstrations, ensuring the trainees developed a holistic understanding of oxygen management.
Government Partnership and Ownership
By the end of March 2022, 169 health workers (91 doctors, 77 nurses, and one technician) were equipped with specialized training in oxygen management and all training programs were completed without any gaps or delays in implementation. The success of the RISE project's hub-and-spoke model was largely due to the Government of Gujarat's proactive involvement and ownership. Key stakeholders, including the Additional Chief Secretary Commissioner and Mission Director of the Department of Health and Family Welfare, alongside other state health officials, actively engaged in discussions pertaining to the agenda, planning, and execution of the training programs. The government played a pivotal role in providing the necessary infrastructure and allocated funds to train the health workers in spoke facilities. Timely government approvals streamlined coordination among various state departments and fostered a harmonious collaboration between medical educational institutions and public health services. The government's unwavering commitment enhanced the overall quality of the training programs and ensured the seamless transfer of knowledge and skills from the hub facilities to the spoke facilities.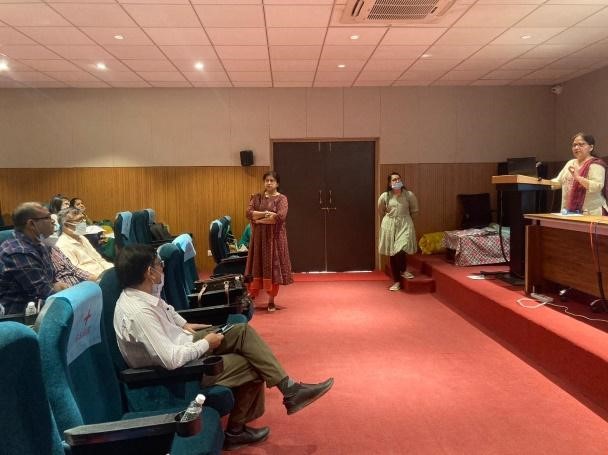 Remarkable Achievement
The success of the RISE project's hub-and-spoke model in Gujarat serves as a testament to the transformative potential of strategic capacity-building initiatives. The active involvement and ownership demonstrated by the Government of Gujarat have undoubtedly contributed to the project's remarkable achievements. By prioritizing capacity-building and fostering a conducive environment for collaboration, the state government has played a pivotal role in enhancing oxygen management capacities and, ultimately, improving health outcomes for the people of Gujarat. Throughout its work in India, RISE has strengthened the oxygen eco-system by supporting the implementation of 1,142 PSA oxygen production plants, 394 liquid oxygen sites, technical assistance for 2,054 health facilities on oxygen use, and through the training of 11,084 health professionals in evidence-use of oxygen.
RISE, a 5-year global project funded by the U.S. President's Emergency Plan for AIDS Relief (PEPFAR) and USAID, allows USAID missions to access direct service delivery and technical assistance to achieve their PEPFAR targets. RISE is ready to mobilize our in-country teams to help USAID achieve country operational plan targets across the HIV prevention, care and treatment cascade. RISE has supported over 20 countries across the globe with technical assistance, service delivery, research, and cross-cutting health system aid.
This story was reviewed by Dr. Michelle Grunauer, RISE Ecuador Project Director, Global Program Operations, Jhpiego.
Jhpiego believes that when women are healthy, families and communities are strong. We won't rest until all women and their families—no matter where they live—can access the health care they need to pursue happy and productive lives.
Donate now!