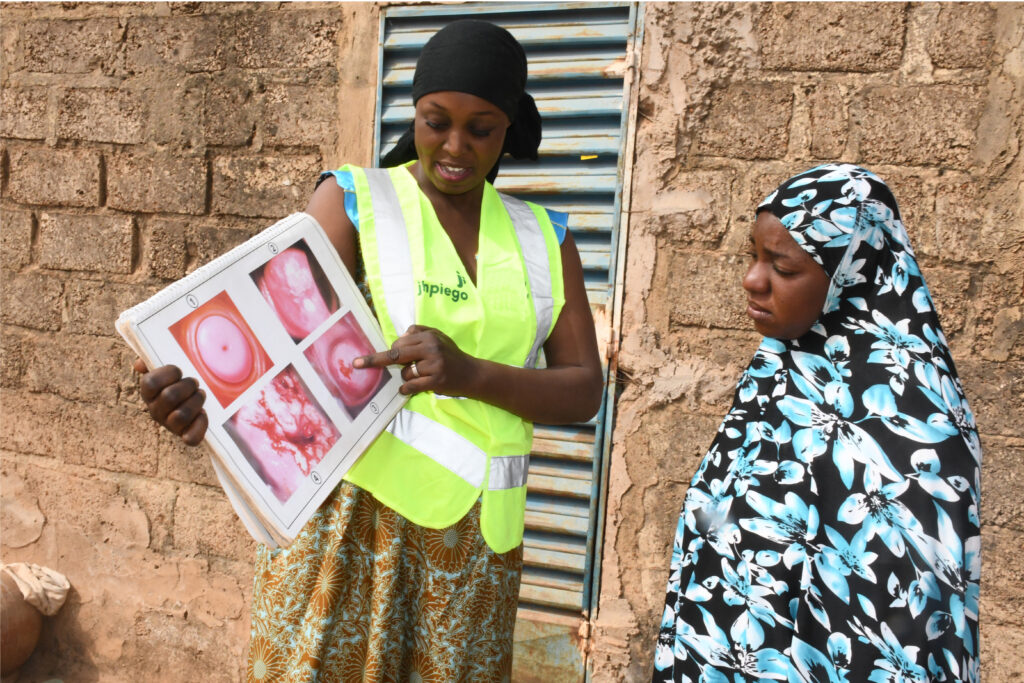 Ouagadougou, Burkina Faso – On a routine visit to her local health care provider, Martine Zoundi learned for the first time about the importance of getting screened for cervical cancer, especially for women who, like her, are living with HIV. The visit coincided with a World Cancer Day event sponsored by a nearby teaching hospital.
Martine, whose name has been changed at her request, decided to get tested right then. Since her HIV diagnosis 20 years ago, Martine has taken her antiretroviral medication faithfully and remained healthy and active while working as a laundress—all "to ensure a future for my (two) children." Now 46, she faced another potentially life-threatening disease, one that could undermine all she had worked for.
In 2020, Burkina Faso recorded 1,132 new cases and 839 deaths from cervical cancer—the second most prevalent cancer among women in the country. Women living with HIV are at six times higher risk of developing cervical cancer than women who are HIV-negative. In 2017, 8 in every 1,000 adults aged 15 to 49 in Burkina Faso were living with HIV.
During that World Cancer Day visit nearly a year ago, Martine was able to collect her own cervical sample after receiving counseling from a trained health worker. Her sample was then sent for human papillomavirus (HPV) DNA testing—the evidence-based screening recommended by the World Health Organization (WHO).
---
Read about Jhpiego's pioneering efforts to measure HPV DNA test data.
---
The screening was part of an integrated services approach to prevention and treatment of cervical cancer adopted by the Ministry of Health and Public Hygiene through the Unitaid-funded and Expertise France-led Scale Up Cervical Cancer Elimination with Secondary Prevention Strategy (SUCCESS) project. Jhpiego is implementing the four-year SUCCESS project in Burkina Faso, Côte d'Ivoire, Guatemala and the Philippines, with the goal of screening 175,000 women, a significant proportion of whom are living with HIV.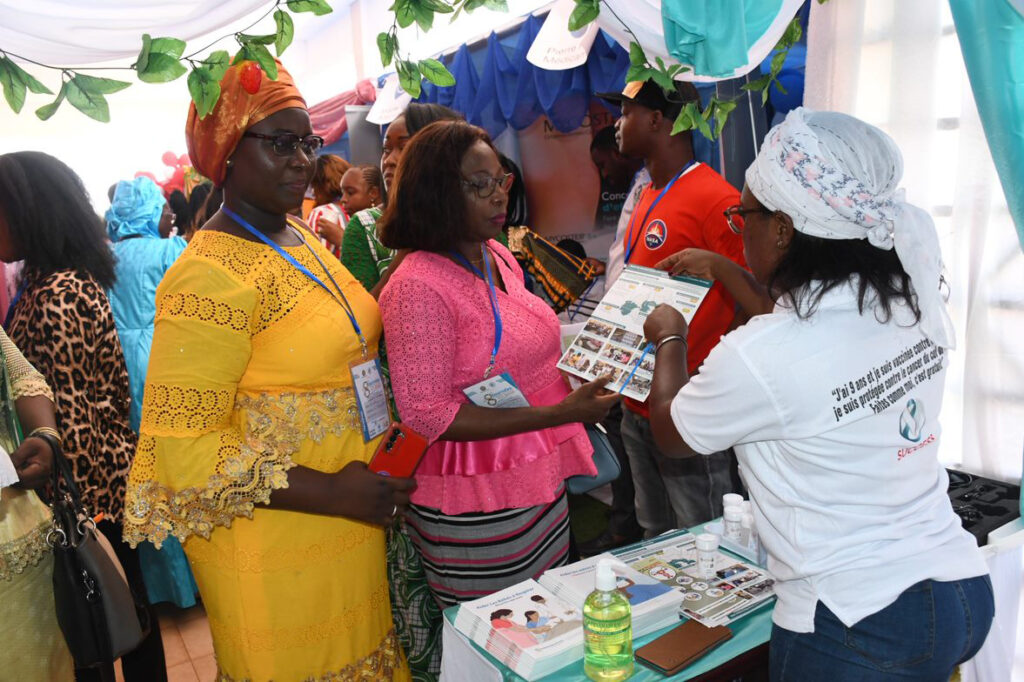 "In Burkina Faso, prior to the SUCCESS project, follow-up of HIV-positive women did not systematically include screening for precancerous cervical lesions," said Claude Linda Traoré, who leads the SUCCESS project in Burkina Faso. "This was an important challenge for us to address. The project, in close partnership with the government, works with two leading teaching hospitals as well as engages with relevant nonprofits and local organizations, to come together to collectively share information, and bring in women on active treatment of HIV for cervical cancer screening."
After Martine received her positive test result, Jhpiego and Ministry of Health-educated health care providers destroyed her precancerous lesions using thermal ablation, a WHO-recommended treatment.
Without this campaign, I (could) have developed cancer. I thank Jhpiego for saving me from a certain death."

Martine
The global strategy to eliminate a preventable cancer
Cervical cancer is the most common cancer associated with HPV, a sexually acquired infection. WHO estimated 604,000 new cases of cervical cancer and 342,000 cervical cancer deaths in 2020—about 90 percent of which are in low- and middle-income countries.
To end this tremendous loss of health and lives from a cancer that can be prevented if detected early and managed effectively, WHO has recommended a global strategy for its elimination as a public health problem. Strategy targets include vaccinating 90 percent of young girls against HPV (primary prevention) and screening 70 percent of women using a high-performance test, such as HPV DNA testing, by age 35 and again by age 45, subsequently treating 90 percent of women with precancerous lesions (secondary prevention strategy) and managing 90 percent of women found with invasive cancer.
To expand access to cervical cancer screening, Jhpiego mobilizes civil society partners and, increasingly, community health workers (CHWs) to create awareness among women in the 25–55-year age group.
"Besides training 632 health care providers, including clinicians, laboratory workers, and pharmacists, we have trained 35 CHWs to disseminate knowledge among [the] communities they serve about the importance of cervical cancer screening, and encourage women to get tested," said Dr. Traoré.
Community health workers at the ready
Belguissa Ouédraogo is one such CHW. Easily recognizable by her yellow fluorescent vest, she visits women in their homes and shares cervical cancer prevention information using simple illustrated charts. She also educates women on malaria prevention, antenatal care, compliance with vaccination schedules, family planning and child nutrition.
"I admit that I did not know much about cervical cancer. The training allowed me to understand the disease, its mode of transmission, its evolution toward the stage of cancer. But, the key message is the fact that it is a disease that any woman can avoid if she is informed and sensitized," said Belguissa, a 36-year-old mother of four.
"Convincing women to get screened when they have no symptoms, and feel perfectly healthy is not an easy task."

Belguissa
But her perseverance is rewarded when women such as Rouki Compaoré say, "I thank Belguissa for the time she took to convince me. . . . When I finally decided to get tested, the results revealed that I was developing precancerous lesions. The health center team was able to treat them and today my cervix is free of any precancerous lesions. This treatment saved my life."
By September 2022, the SUCCESS project had screened almost 20,000 women for HPV in Burkina Faso, 21 percent of whom were living with HIV. Across the four SUCCESS countries, more than 100,000 women have been screened.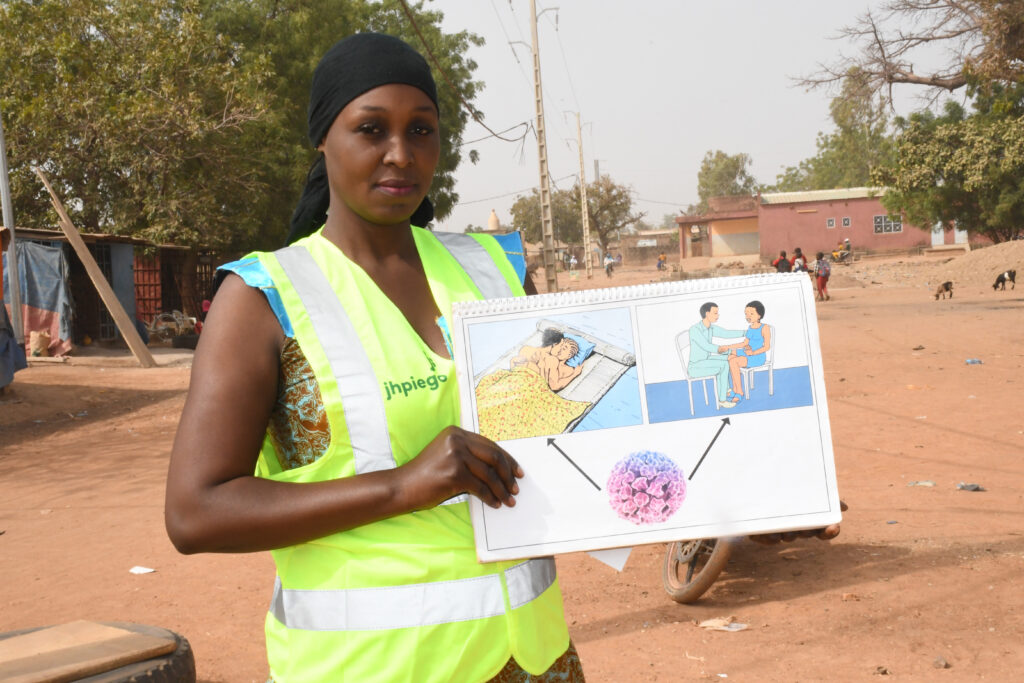 The leadership shown by Burkina Faso and other SUCCESS countries helps drive the momentum of keeping women healthy and safe from cervical cancer.
"The ministry of health understands the advantages of this approach, and that gives us the confidence that efforts to strengthen cervical cancer elimination will not just sustain, but also get scaled up in the future," said Dr. Traoré.
Souleymane Zaré is the communications specialist in Jhpiego's Burkina Faso office. Indrani Kashyap is the Associate Director of Regional Communications.
Jhpiego believes that when women are healthy, families and communities are strong. We won't rest until all women and their families—no matter where they live—can access the health care they need to pursue happy and productive lives.
Donate now!