By Maryalice Yakutchik

The latest chapter of Jhpiego's storied history in cervical cancer prevention finds us working toward global implementation of a breakthrough screening strategy allowing nearly all women everywhere to learn if they have human papillomavirus (HPV), the common virus that leads to cervical cancer, so they can get care before it progresses.
The gold standard of cervical cancer screening requires new measurement approaches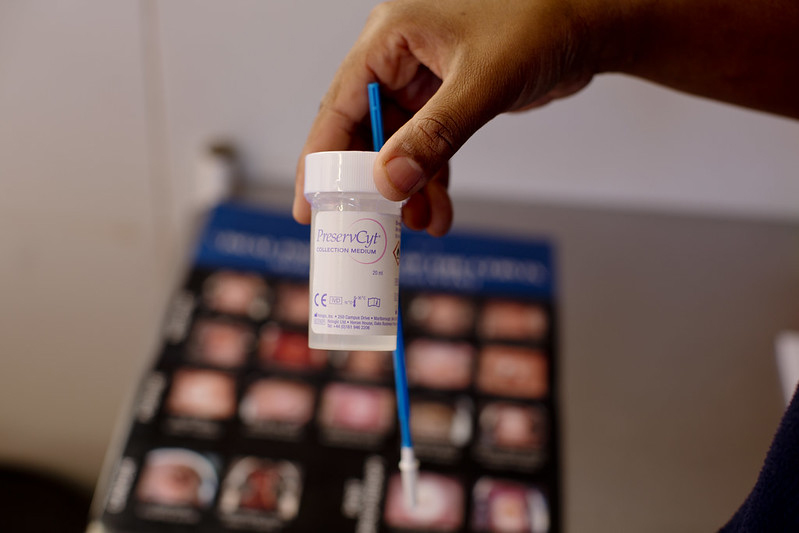 Although preventable and treatable if caught early, cervical cancer has remained a top killer in the countries where we work for far too long—globally, 342,000 women died of cervical cancer in 2020. Now, a DNA test for HPV—the current gold standard for screening in low- and middle-income countries—compels us to reexamine and adapt our data processes to pioneer approaches to measure, monitor and evaluate services to improve health outcomes.
In many countries, the standard way of measuring, monitoring and evaluating cervical cancer prevention doesn't reflect the new processes and considerations for HPV sample collection and testing. Recognizing this, as countries adopt these new processes, Jhpiego is leading efforts to blaze a new data trail, one that expedites measuring our progress to global elimination of cervical cancer.
Under a four-year project known as Scale Up Cervical Cancer Elimination with Secondary Prevention Strategy (SUCCESS), a Unitaid-funded consortium, Jhpiego is partnering with Expertise France and the Union for International Cancer Control and the ministries of health in Burkina Faso, Côte d'Ivoire, Guatemala and the Philippines to expand awareness and access to HPV DNA testing for women along with improved treatment. The new screening and treatment procedures require new measures and new data processes to ensure that countries can track implementation and assess their progress.
Evidence shows that HPV DNA testing is a highly accurate screening method for detecting HPV. No matter whether women test in Guatemala City and Abidjan or rural villages and mountain communities, they can rely on objective results, with high-performance test sensitivity of over 90 percent.
HPV DNA testing's advantage is the ability to collect samples outside of facility settings and the reduction in the subjectivity of testing, as opposed to visual inspection with acetic acid (VIA), which is still the standard of care in many countries. VIA's availability, accuracy and scalability is inextricably tied to skilled health workers being available and able to visually screen every woman. With HPV DNA testing, which allows for easy-to-administer self-sampling, only women who test positive for HPV need an exam by a health worker. This reduces the workload in clinics, as not all women need to be examined, and increases the proportion of women who will be accurately identified as requiring treatment. HPV DNA testing allows for exponentially more women to be screened—enough women, in fact, to potentially clear up a decades-old bottleneck that thwarted global elimination.
Client-centeredness is yet another major upside to HPV DNA testing. Women can choose to self-collect their sample. This is an extremely appealing prospect for many, including those who in the past delayed or outright avoided other less private and more invasive methods of screenings.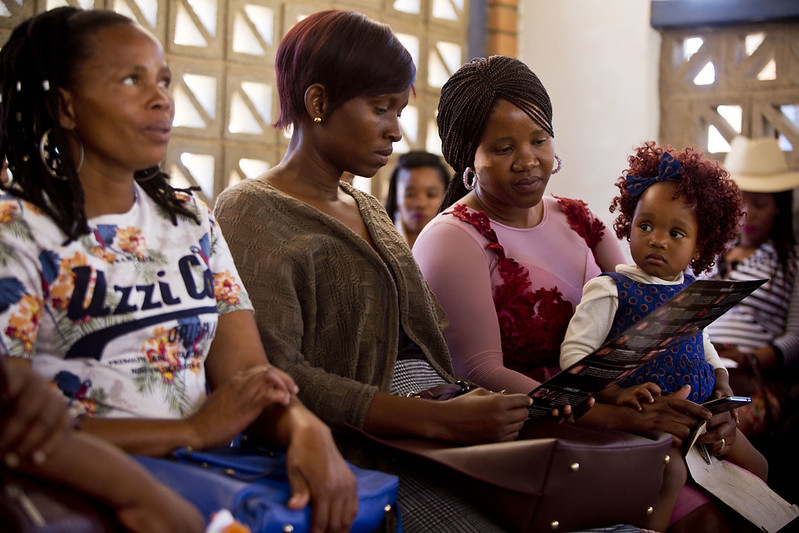 If resourced and scaled appropriately, HPV DNA testing could accelerate the solution to cervical cancer's top-killer status in low- and middle-income countries. But it raises a host of new questions, the answers to which require data—the gathering and tracking of which is now glaringly out of step with this newly recommended screening strategy.
Here, self-described data nerds Meg Bertram and Elizabeth Oliveras offer insights into Jhpiego's pioneering efforts to make data collection and analyses of cervical cancer prevention programs relevant on both local and global fronts:
Q: Let's reflect on the past before exploring the issue of cutting-edge data related to cervical cancer prevention. Can you share some big-picture context?
A: The World Health Organization (WHO) global strategy for cervical cancer elimination—endorsed in 2020 by the World Health Assembly—calls for 90 percent of adolescent girls to receive HPV vaccination, 70 percent of women globally to be screened regularly for cervical cancer with a high-performance test and for 90 percent of those needing it to receive appropriate treatment. To that end, WHO now recommends an HPV DNA-based test as the preferred method, rather than VIA or cytology (commonly known as a Pap smear) to detect pre-cancer. Recently, WHO prioritized seven screening and treatment approaches, or algorithms, designed to function with the new screening technology and guide countries on a woman's eligibility for treatment following screening. Jhpiego is working alongside health ministries in the four SUCCESS countries as they implement WHO-recommended screening and treatment models.
The new screening technique has us asking some basic questions: How do we know if this new approach is working as planned, screening more women and linking them to treatment as needed? What are we looking at when we monitor cervical cancer prevention programs, especially given multiple treatment algorithms? How do we know we're collecting good data?
We are responsible for coming up with evidence-based answers to these questions while helping ministries and departments of health to think through the ramifications of the WHO's new screening and treatment algorithms.
Q: A new screening strategy, and the related treatment algorithms that different countries—and even different facilities within those countries—can pick and choose from… WOW! Sounds like a lot of different kinds of new data to collect, sort, compare and contrast?
A: In the four countries where we're working under SUCCESS, implementing HPV DNA screening calls for brand new ways to measure, monitor and evaluate how cervical cancer prevention programs are working. It is a lot of apples and oranges.
For routine monitoring, we are sorting out how to best do it. We also have an implementation research component in our project that will help inform processes in the future. Based on each country's resources, expectations and information systems, they are taking different paths. There's a need to tailor the data protocol based on which algorithms countries use.
Q: Can you share a specific example?
A: The Philippines, which has a decentralized health information system, is using three treatment algorithms to manage women with a positive HPV DNA test. The ministry of health is leaving it up to individual facilities to decide which algorithm to use.
That looks very different from what's going on in Côte d'Ivoire, which is implementing one algorithm across all SUCCESS facilities. The data to track performance of three algorithms is much more complex than the data to track the use of a single algorithm.
Q: Data collection in the past, under old guidelines, revealed that not enough women were screened or could be screened—a bottleneck that can be resolved by HPV DNA testing. Has new data you've started collecting and analyzing hinted about remaining bottlenecks?
A: HPV DNA testing, especially through self-collection, really opens up access and increases population coverage. The number of women who do not receive follow-up care after a positive result has always been a concern, which is why there is such an emphasis on same-day visual assessment and treatment. HPV DNA screening increases the chances that women will not receive follow-up care for a positive result since they have to wait for their results. This wasn't a factor in VIA, under which, ideally, women are screened, counseled and treated on the same day, during the same visit.
With HPV DNA screening, there's a delay between screening and treatment because samples need to go to a lab for analyses. Running HPV DNA tests is not, yet, affordable at the point of care. Most women won't need follow-up care after screening. But for those who do, we need to get them back for visual inspection and treatment. That can be a challenge.
Q: Why is it challenging? Is it that women don't get test results at all, or in a timely way? Or is it that women can't/don't take the time to return for the follow-up?
A: The challenges, we have learned so far, include transportation of samples to the lab, availability of supplies and lab capacity to run the test timely; mechanisms to ensure timely delivery of results from the lab to the health facilities and then to the women; and, finally, finally the capacity of facilities to assess women with a positive test and provide timely treatment. More data are needed to help better identify and address these challenges and those that women face.
Q: Can you share some cold, hard HPV DNA screening stats?
A: SUCCESS aims to screen a total of 175,000 women over the four years of the project. A significant proportion of these will be women living with HIV, who are at greater risk of developing cervical cancer than other women. We are projecting that 70,000 women were screened across the four SUCCESS countries in 2022. In 2023, our aim is 80,000. Data will keep us on track to attain the target goal of 90 percent of women getting the treatment that they need at the right time.
Q: Any final thoughts?
As Jhpiego continues to support countries with adapting technical processes and data collection tools to measure and track cervical cancer prevention performance, our focus is on improving information systems that will last far beyond our programs. The data generated and analyzed helps health providers and managers refine quality approaches, reduce time between testing and follow up, and ensure women gain access to prevention and treatment to have life- saving impacts.
Thanks Meg and Elizabeth!