Access to health care is not always about distance, it can also be about awareness and mindset.
By Indrani Kashyap. Photos by Shivani Agrawal.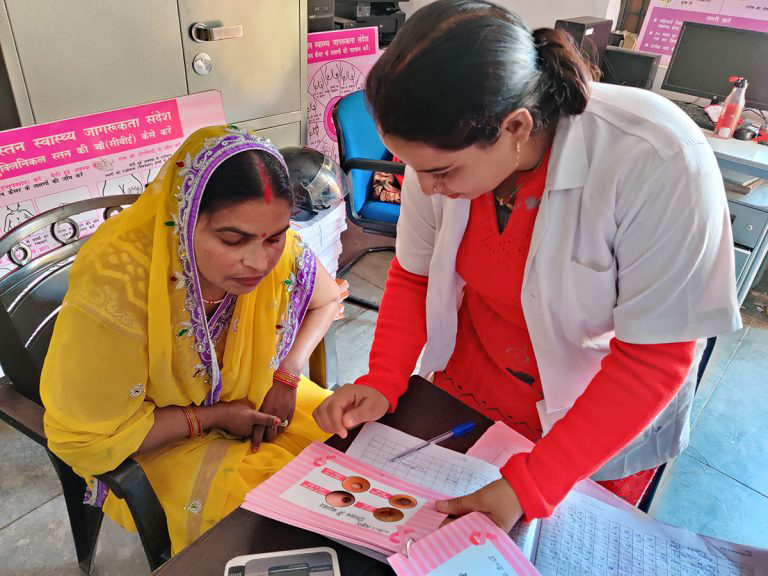 Mangrauli, India – Nurse Babli Pal's prime location in the center of the village isn't always enough to draw women and families to the potentially lifesaving services she provides. "They avoid and procrastinate coming to the health center on their own, either denying that they have any problems or hoping for their issues to resolve on their own" says the nurse, who serves as the community health officer at the village Health and Wellness center.
Not one to be deterred by such challenges, Pal, 27, works to build trust and health awareness in this agrarian village in Uttar Pradesh where she provides essential health services at the center as part of India's commitment to providing comprehensive primary health care. Since her posting a year ago, Pal has forged close ties with key village leaders in an effort to motivate community residents to engage in their health care. She and her team—one auxiliary nurse midwife and eight community health volunteers, called accredited social health activists (ASHAs)—also go door to door, counseling not just the women, but also their husbands and family elders.
"We have been working hard to motivate them to come for health checkups, receive treatment and get medicines from us. We assure them that we will make all services available to them for free. We also connect them with doctors via tele-medicine when needed," says Pal.
Expanding primary care: introducing cancer prevention services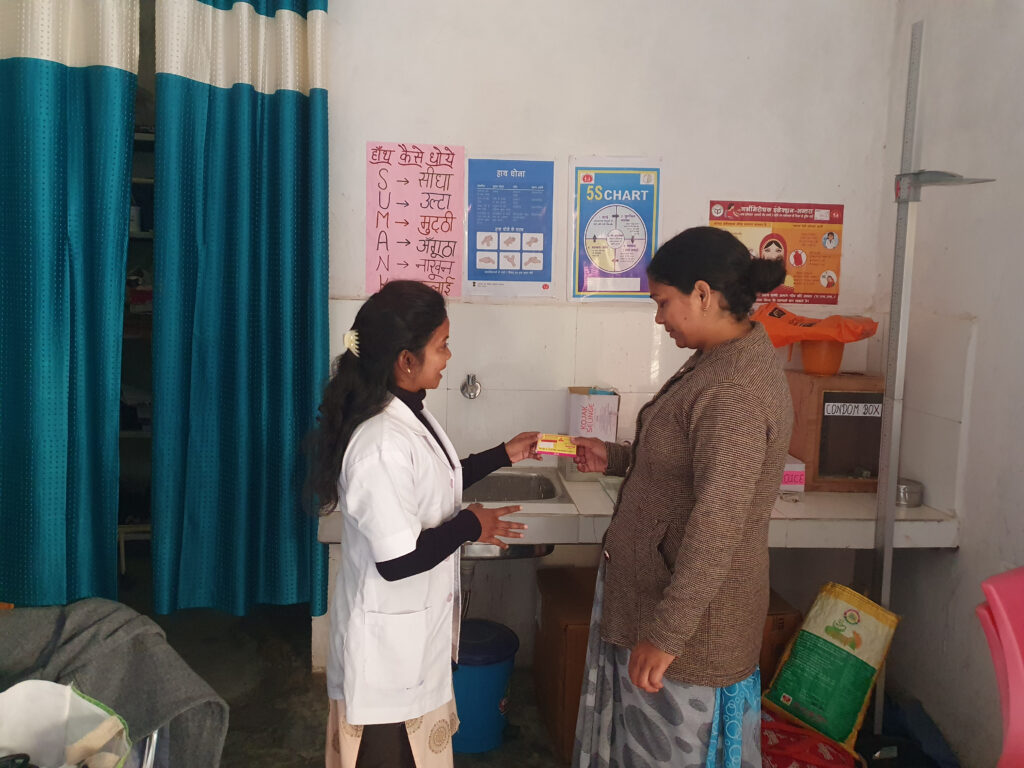 Nurse Pal knew building a relationship with the community was especially important to encourage women to come in for preventive cancer screening, even if they didn't have symptoms. Through a Jhpiego-supported training, and in partnership with the government of Uttar Pradesh, Pal learned how to create awareness about women's cancers, conduct breast examinations and screen women for oral and cervical cancer.
---
"What I liked the most was teaching women to do regular self-breast examinations and also giving them the option of collecting their own cervical samples for screening. This gives women a sense of ownership and control of their own health care."

Nurse Babli Pal
---
World Health Organization's strategies to eliminate women's cancers
Breast and cervical cancer are the two most prevalent cancers among women in India, together they accounted for more than 300,000 new cases and more than 167,000 deaths in 2020 alone. To prevent this enormous loss of life and health, the World Health Organization launched global breast and cervical cancer initiatives.
To prevent cervical cancer, the World Health Organization recommends that women ages 30 to 49 and women living with HIV ages 25 to 49 be screened with a high-performance test, such as an HPV-DNA test. (Most cases of cervical cancer are caused by long-term infection of certain types of human papillomavirus [HPV], which is a common sexually transmitted infection.)
Pal and her team are helping these initiatives gain ground in a patriarchal community where most women raise families and help their husbands on the family farm. The literacy rate is low and some women are scared to come to the wellness center without their family's permission. Pal says, "they feel their husband will not agree to them visiting the center or their mothers-in-law might object."
But, Pal's year-long health advocacy in the community has started bearing fruit.
"We have already conducted eight cancer screening sessions at our center where we have been able to screen 184 women…. We have referred a few women for further investigation for breast health," says Pal. In addition to these screenings, ASHAs distribute HPV self-sampling kits when they visit eligible women's homes. The ASHAs provide instructions for self-sampling and bring the samples back for testing. When samples come back positive for HPV, and there have been a few, women are referred to the community health center for treatment.
With support from Jhpiego, over 4,500 women have been screened for cervical cancer across the country. In addition, more than 73,000 women have undergone clinical breast examination and 225 health workers, such as Nurse Pal, have received training in women's cancers.
An ecosystem approach to women's cancer prevention
Jhpiego has worked with national and state governments in India to strengthen women's breast cancer awareness, screening, early diagnosis and management since 2017. In recent years, we added cervical cancer prevention work.
"To effectively address women's cancer, our work needs to be multi-pronged," says Dr. Parag Bhamare, Associate Director for Maternal, Newborn and Child Health at Jhpiego, who leads India's work in women's cancers. "Along with strengthening early cancer detection at the primary care level and understanding the barriers and facilitators that enable women to complete the diagnostic pathway from detection to treatment, Jhpiego is using an ecosystem approach—or a [coordinated] multi-level stakeholder approach—to women's cancers.
"We are closely working with state governments to build multiyear implementation plans to bring a coordinated and resourced response to prevention, detection and treatment. This strategy will not only help garner robust political support from international and local leaders but also help effectively mobilize human and financial resources, reduce duplication of efforts, respond efficiently to health system needs and make women's cancer a priority at all levels in the coming days."
Nurse Pal is living her dream, reaching the unreached and bringing care closer to her community, which is saving lives.
"I wanted to make a difference where it matters the most. The cities have big hospitals, medical colleges and many other health facilities. But health and wellness centers like these serve communities where health care is not that easily accessible," she says. "These centers are located deep in the villages. If a small effort on my part can make a big difference in someone's life, what can be better than that!"
Indrani Kashyap is the Associate Director, Regional Communications, based in India. Nimrit Kaur, a program officer in Jhpiego's India office, contributed to this story. Photos by a consultant, Shivani Agrawal.