Loosening TB's grip on Lesotho—where the airborne respiratory disease remains a leading cause of death—means more than treating those who show up at clinics and hospitals with symptoms of the contagion.
Ending TB by 2030 in this mountainous kingdom as well as throughout the world—the objective declared in the United Nations Sustainable Development Goals—depends on searching high and low to find "missing" adults and children living with the disease in underserved and vulnerable communities, such as those with high rates of HIV.
---
As part of Jhpiego's work to improve prevention and treatment of TB, we are participating in a three-country study that seeks to evaluate new contact tracing strategies with the goal of improving case detection. The Community and Universal Testing for TB among Contacts (CUT-TB) study is underway in Lesotho, South Africa and Tanzania, led by The Aurum Institute
---
That's why targeted contact tracing was immediately set into motion when Mamoeketsi Moerane's TB test results came back positive. The 65-year-old, who had a history of cough, night sweats, weight loss and fever, visited Scott Hospital in Maseru, the capital of Lesotho. There, she was screened for TB and started treatment the day her test results came back positive. Jhpiego-trained health care providers worked with Mamoeketsi to compile a list of family members and close contacts; then they journeyed 35 kms south of Maseru to Letlapeng village in Morija to screen them for TB.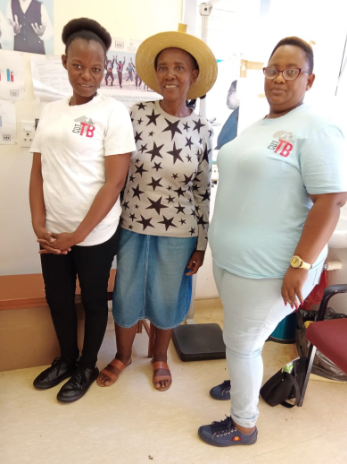 Jhpiego Lesotho's lead role in supporting the Ministry of Health National TB and Leprosy Programme to improve detection of TB cases involves the systematic evaluation of households and close social contacts of people when they are diagnosed with TB. Since 2018, with funding from The Global Fund to Fight AIDS, TB and Malaria, Jhpiego has supported the Ministry of Health to establish a national TB contact tracing program under the THEBE (Prevention of HIV and TB in Lesotho through Evidence-Based Interventions and Education) project. The project has been working in close collaboration with the Ministry of Health across all 10 districts in the country to strengthen TB contact tracing, identify new TB cases and ensure that eligible children are initiated on TB preventive therapy.
Reaching out to TB contacts in homes, schools and workplaces, such as mines and correctional institutions, allows for early identification of cases—before the disease has progressed—thereby cutting the chain of transmission. Since 2018, Jhpiego has traced and provided screening for TB symptoms for over 37,941 TB contacts. To date, more than 299 people with TB have been newly identified through the project.
At Mamoeketsi Moerane's home, the health workers screened two adults and two children under the age of 15 and scheduled a follow-up visit.
I was concerned about my grandchildren especially the youngest who was still going to school."

Mamoeketsi Moerane
Three months later, during the follow-up visit, one child showed signs of TB even though they were on preventive therapy. A sputum sample was collected for testing. The test came back negative, but the child's condition warranted a referral for a chest X-ray, which showed that the child had TB. Immediately, preventive therapy was stopped and the child started TB treatment. The other child, still asymptomatic, remained on preventive therapy for six-months, as recommended by national guidelines.
"The THEBE project has been instrumental in our efforts . . . to close the gap in finding the missing TB patients through contact tracing," says Dr. Llang Maama-Maime who manages the National TB and Leprosy Programme at the Ministry of Health and works closely with Jhpiego's advisors to provide technical support to the team in Lesotho.
Polo Matlalane Motsoari, a Senior Demand Creation and Communications Advisor, and Lehlohonolo Job Motlatsi, an HIV/TB advisor, work in Jhpiego's Lesotho office. Manthomeng Matete coordinates the Community and Universal Testing for TB among Contacts (CUT-TB) study in Lesotho. Maryalice Yakutchik is a senior writer with Jhpiego.
Jhpiego believes that when women are healthy, families and communities are strong. We won't rest until all women and their families—no matter where they live—can access the health care they need to pursue happy and productive lives.
Donate now!