What do a Basotho couple—he, a parliamentarian, and she, a public health specialist in Lesotho's Ministry of Health (MOH)—have in common with a nun in her mid-90s?
More than a few things: All had COVID-19. All were hospitalized. All recovered.
And all are praising the skills and dedication of the health care providers who treated them in a facility that offers care to all Basotho, regardless of gender, occupation or age.
"The nurses were dedicated, selfless, hardworking and very disciplined," says Monyane Moleleki, a lawmaker and the opposition leader in parliament, referring to the health care providers who cared for and treated him and his wife.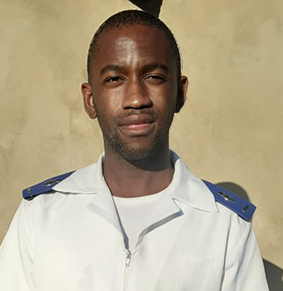 Because uncertainty, alarm and stigma were swirling around the novel coronavirus, especially during the pandemic's earlier days, the nurses knew it was vital to gain their patients' trust.
Jhpiego-trained nurse Khauhelo Monaheng, 26, exuded both confidence and competence when he met Sister Maria Fatima Rakuoane, who was admitted on August 7 to Berea Hospital.
"She needed a lot of attention because she could not do much on her own," says Monaheng, whose compassionate persistence finally won the faith of the nun 70 years his senior.
Sister Fatima had been feeling unusually tired since July. And coughing. Other sisters at Paballong ea Molimo Catholic Convent in Leribe District had similar symptoms, which led nurse Masingoaneng Leokaoke to alert the convent authority. All were tested for COVID-19, and Sister Fatima's results were positive. For a while, she received care at the convent and, despite pre-existing high blood pressure and congestive heart failure, remained content and relatively well. However, when her condition worsened, she was taken to Berea Hospital and put on oxygen.
Previously a center that offered a variety of health services, including voluntary medical male circumcision (VMMC), Berea Hospital now is one of two COVID-19 facilities admitting all people from districts throughout Lesotho. The other is Mafeteng Hospital in Mafeteng District.
With funding from the U.S. Agency for International Development through the Reaching Impact, Saturation and Epidemic Control (RISE) project, Jhpiego is providing case management support in the designated COVID-19 treatment centers. In addition to hiring new staff and preparing them to competently work alongside existing MOH clinicians, Jhpiego retrained providers of VMMC—an outpatient surgical procedure suspended due to pandemic-related restrictions—so they could be safely redeployed to sites where critical inpatient care is being provided for COVID-19.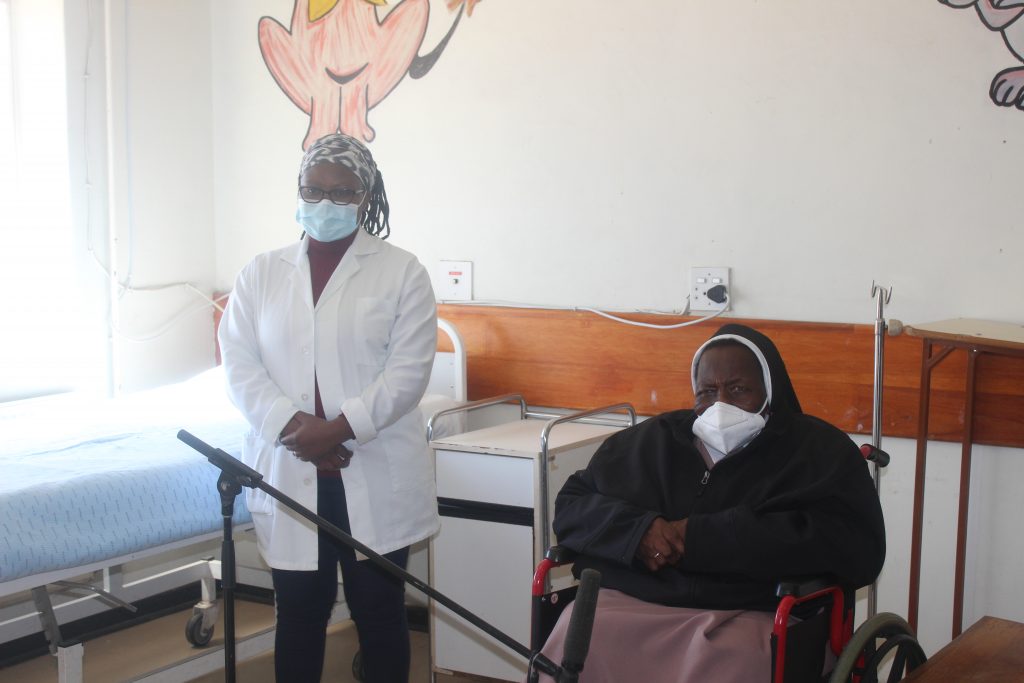 In addition to working in the two centers dedicated to COVID-19 treatment, Jhpiego continues to educate frontline providers and deliver information, education and communication materials on the novel coronavirus at 15 additional hospitals across the country. Notably, through RISE, Jhpiego is supporting COVID-19 risk communication for Lesotho's health care workforce.
"Working with COVID-19 is not as scary as it may seem," says nurse Nthatisi Mokhobo, 27, a Jhpiego nurse who previously worked as a VMMC provider in Berea Hospital. "One only has to be cautious and follow all the protocols provided.
"As a nurse, I feel fascinated and lucky because I'm always challenged. I learn new things every day and get to develop my skills. It also gives me great satisfaction to see patients go back home after recovering [from COVID-19]."
Patients like Sister Fatima. After four days on oxygen at Berea Hospital, her breathing improved, and she was released to continue recuperating at the convent.
"Sister Fatima's recovery should encourage everyone to go to facilities to get tested whenever they feel sick," says Dr. Lefokase Khasooane, who cared for the nun. "Her story should give all Basotho, young and old, hope and belief that if they seek health services on time, they too [may] be cured of COVID-19."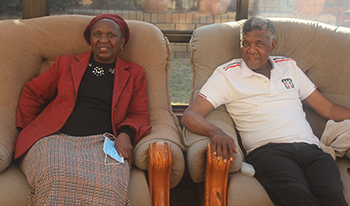 Although Berea Hospital lacks an intensive care unit, which presents a major challenge when caring for the critically ill, there are enough oxygen tanks and medications to help all who are admitted to breathe better and recover fast, she assures.
Like Sister Fatima, Dr. Thabelo Malimpho Ramatlapeng, a public health specialist in the MOH, felt lethargic in July. Her head was pounding, and she was coughing. A test confirmed she had COVID-19. At the time of her admittance to Berea Hospital on July 17, Ramatlapeng was in distress and struggling to breathe, recalls Mokhobo, a Jhpiego nurse who noted that her patient's oxygen saturation level was well below the desired threshold.
Meanwhile, Ramatlapeng's husband, Moleleki, and the couple's oldest daughter, Limpho, were feeling ill. Tests confirmed they too had COVID-19. Both were admitted on July 19 to Berea Hospital. There, all three family members were treated for the illness for almost two weeks before discharge on July 31.
Despite staff shortages, Moleleki says that he, his wife and daughter received high-quality care from workers like Puseletso Chaba, a nursing assistant, who he describes as "very empathetic and helpful."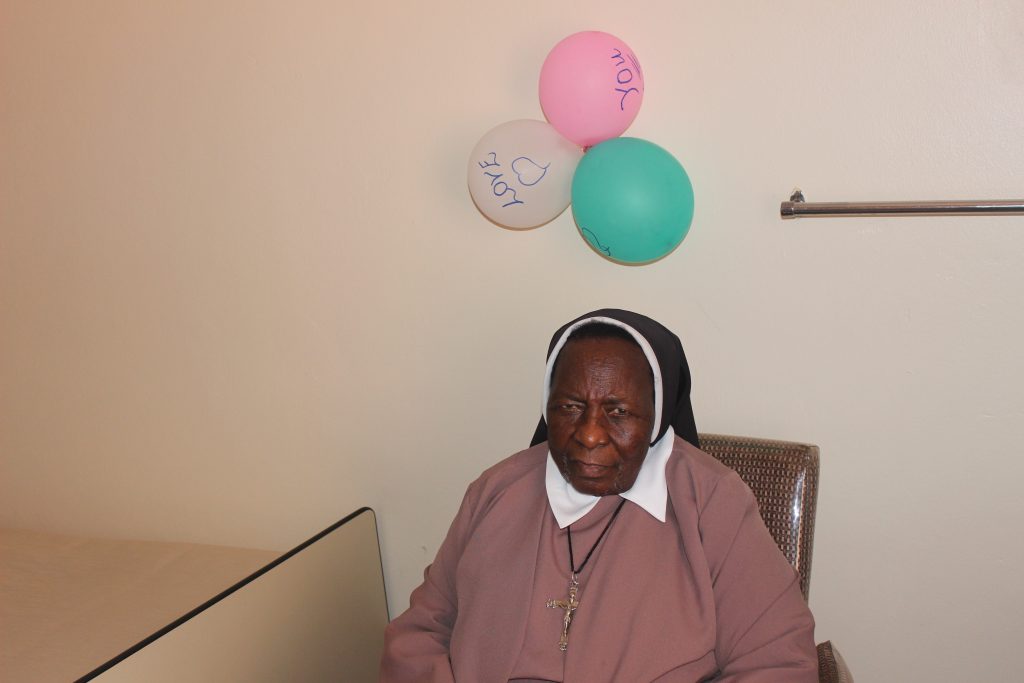 Moleleki adds that he feels lucky to have been treated at a facility and provided with service available to all Basotho.
When he has an opportunity to share his experiences with Prime Minister Moeketsi Majoro and Hon. Motlatsi Maqelepo, the minister of health, he intends to express his hope that the hospital will be developed into a fully functional treatment center capable of providing high-level care for patients with severe COVID-19 disease and other complex illnesses.
Polo Matlalane Motsoari is the communications manager for Jhpiego in Lesotho.
Jhpiego believes that when women are healthy, families and communities are strong. We won't rest until all women and their families—no matter where they live—can access the health care they need to pursue happy and productive lives.
Donate now!