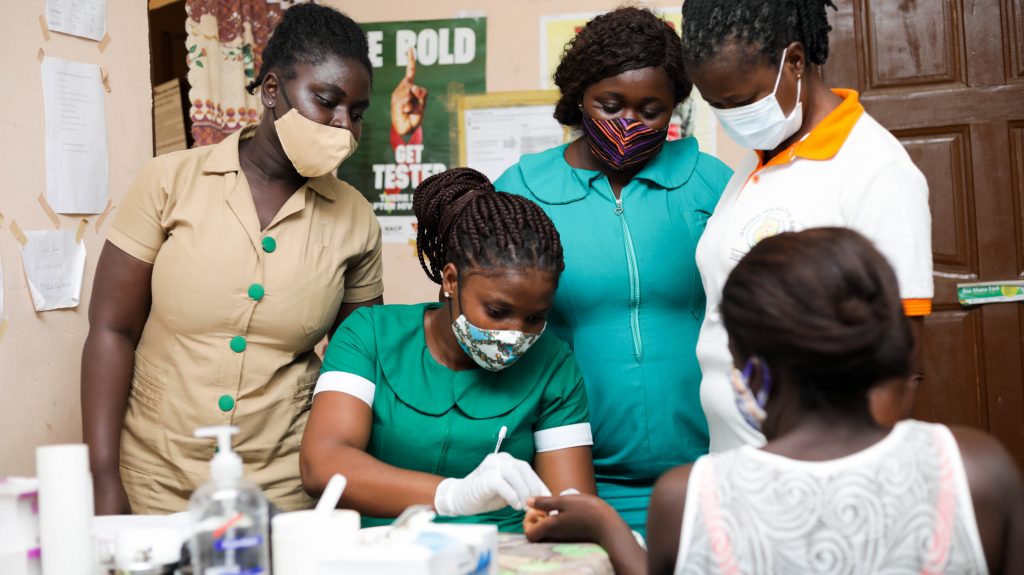 Within weeks of the first Covid-19 cases being confirmed in Ghana in March, Community Health Officer (CHO) Gertrude Doku was alarmed by the lack of clients seeking preventive, treatment and referral services for malaria at the Tinkong Community-Based Health Planning and Services (CHPS) Compound.
Having worked for five years at the compound, which serves about 5,000 residents, Doku knew that malaria took a heavy toll, especially on pregnant women and children under five years. Despite the fact that Ghana has made big gains in the fight against malaria, elimination remains a distant reality. Toward that end, Doku and others are charged with delivering care to the doorsteps of people living in hard-to-reach and deprived communities.
Located in the Akuapem North District of the Eastern Region, the center where Doku is based normally drew at least 50 clients a day. Then the pandemic hit, and fewer than half that number were showing up.
"I noticed that people in the community were scared to come to the facility for fear of contracting the virus, and the health workers were also worried since we did not have (adequate) personal protective gear," said Doku, a nurse.
Immediately, she implemented precautionary guidelines from the Ghana Health Service (GHS) to sustain service delivery during the pandemic. The GHS supplied personal protective equipment. Health care workers began taking turns at the entrance of the facility to encourage clients to wear masks properly and maintain a distance of at least one meter apart while waiting to wash their hands with soap and running water at the Veronica Bucket—named for scientist Veronica Bekoe, its Ghanaian inventor.
Just inside the facility, a health care worker at a triage table screens clients for Covid-19. Any suspected to have contracted the novel coronavirus are referred to the Tetteh Quarshie Hospital in Mampong, about an hour's drive away.
Doku appreciated that clients cooperated to wear masks, practice social distancing and wash hands with soap and running water, she said, "without any hesitation or complaints."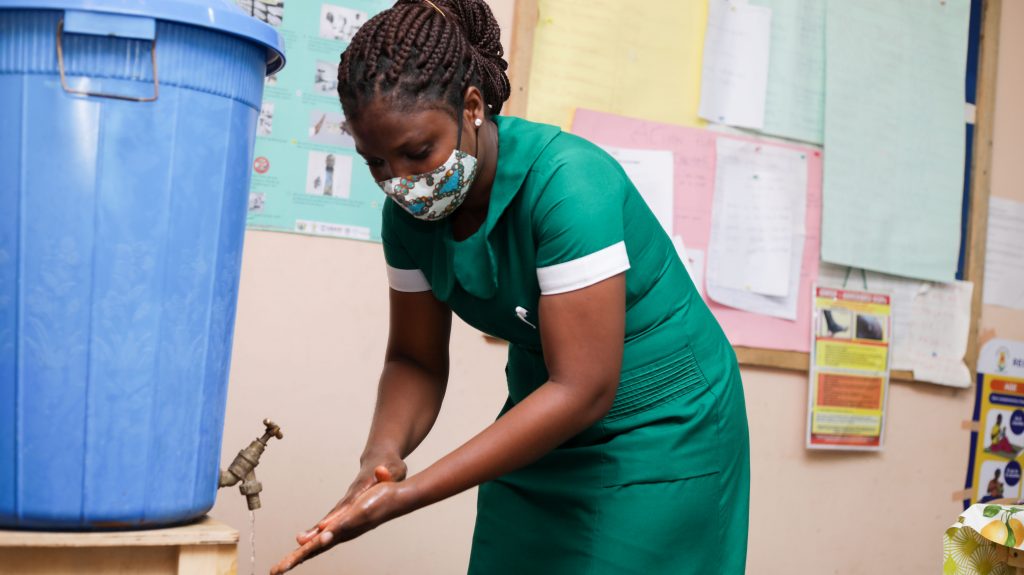 The precautionary measures and community sensitization worked; they served to convince increasing numbers of Tinkong residents to again visit the facility for essential care. Doku was not surprised that a significant number presented with symptoms consistent with malaria.
She was ready for them, feeling competent and confident in her ability to help.
In October 2019, the U.S President's Malaria Initiative (PMI) Impact Malaria project, in an effort to improve the quality of malaria service delivery at peripheral facilities, supported the GHS to organize a five-day internship program for CHOs selected from 60 CHPS Compounds in the Eastern, Ashanti, Ahafo, Bono, Bono East and Upper West Regions.
During the internship program, Doku and other CHOs learned history taking and examination skills. They received instruction on the management of malaria and febrile illness according to recommended guidelines, including compliance to the Test, Treat and Track (T3) approach and Malaria in Pregnancy (MiP). Referral of cases and proper documentation of malaria indicators were also covered.
The CHOs were then attached to their district hospitals to be further trained and mentored by senior medical officers through coaching, simulation and practical demonstration on the management of patients in various units, including antenatal care, as well as out- and in-patient.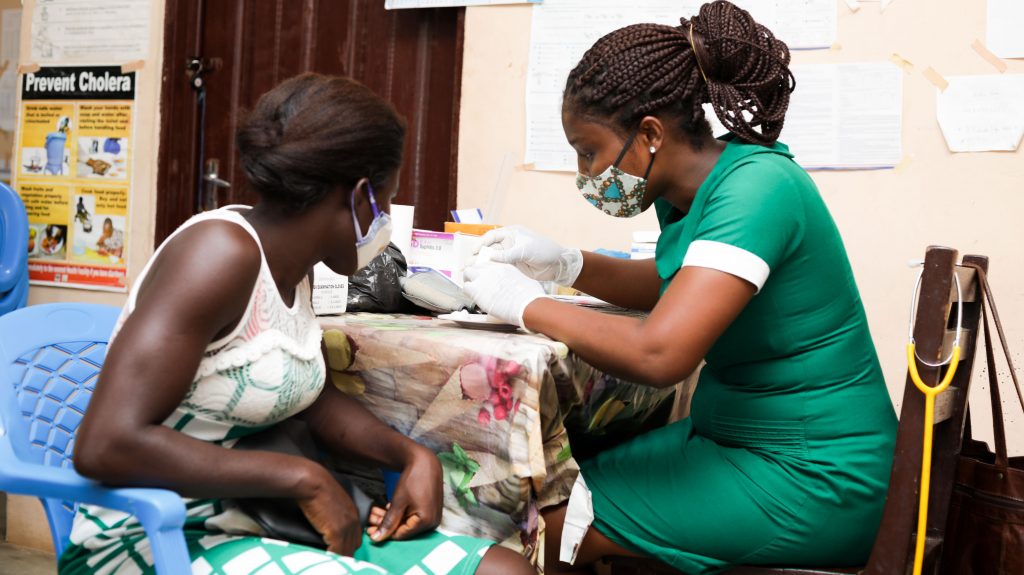 PMI Impact Malaria also worked with the Regional Health Directorate to conduct two post-internship follow-up visits and, more recently, a remote mentoring series in the wake of the Covid-19 pandemic to ensure that quality health care was sustained at the peripheral facilities.
With job-aids distributed during the internship, Doku shared what she learned with other providers at the Tinkong CHPS Compound. Today, the facility's entire staff of five can conduct Rapid Diagnostic Tests (RDT) and reconstitute parenteral artesunate and administer dose according to body weight as pre-referral medication for severe malaria.
Doku describes her and her colleagues' improved approach to clinical practice: "Before the internship, sometimes clients with fever were treated as (having) malaria without testing, but now all suspected cases of malaria are tested before treatment," she noted, adding that this practice contributes to a more judicious use of antimalarials and ensures availability for those who need them most.
The percentage of suspected uncomplicated malaria cases not tested but treated as malaria was reduced from 40.2% in September 2019 to 0% in June 2020 at the Tinkong CHPS compound. Recent GHS data suggest that the percentage of suspected malaria cases tested before treatment in all 60 CHPS compounds has increased from 92.9% from September 2019 to 99.9% in June 2020, indicating increased adherence to T3 guidelines and a reduction of the irrational use of antimalarials.
Prior to the internship, Doku spent a maximum of five minutes examining clients, she said, contrasting that with the 15 minutes that she now spends with each person.
"I now patiently talk to clients," Doku said, "asking a series of questions about how they are feeling from their heads to their toes."
Emmanuel Attramah is the knowledge and communications officer for PMI Impact Malaria Ghana. PMI Impact Malaria is led by Population Services International in partnership with Jhpiego, Medical Care Development International and the Malaria Elimination Initiative at UC San Francisco.
Jhpiego believes that when women are healthy, families and communities are strong. We won't rest until all women and their families—no matter where they live—can access the health care they need to pursue happy and productive lives.
Donate now!